Hailey Bieber X Vogue Eyewear Season II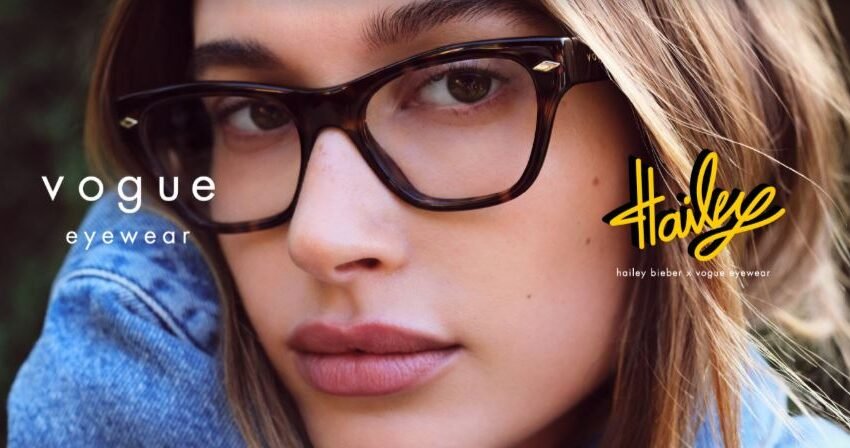 Giving statement style go-to attitude, Hailey Bieber frames the hottest trends of the catwalk season in her second collection for Vogue Eyewear.
Following on from the edgy angles and playful facets of the first drop, Hailey embraces the last rays of the summer sun as it fades into the shimmering tones and soft silhouettes of Fall and Winter, choosing curved contours and earthy opal colors to bring out the natural beauty of four empowering new shapes – think classic with a bold, fashion-focused twist.
Designed to elevate everyday looks with her signature style, semi-bold profiles and high-polish finishes go with anything from the trendiest party-ready looks to chic monochrome co-ords, unexpected angles make sure they're set to become year-round essentials, one look at a time.
Are you ready to Vogue with Hailey? Discover the new collection at vogue-eyewear.com.
0VO5444S
Ready for every shade of the season, glowing opal colors and unexpected angles step up the profile of day-to-day sun style with a dash of glam. Semi-bold with a soft side, this signature Hailey Bieber sun frame makes trendy chic in shimmering opal sand or opal green with ton-sur-ton shading sun lenses, black or Havana give it high-definition style with the evergreen appeal.
0VO5445S
Refreshing A-list glamor with a laid-back undertone, high polish metal diamond rivets, and soft slants give this breakfast-to-cocktails sun style a playful edge, and trend-topping opal green or sophisticated opal brown capture the shimmering allure of celeb style. Plus, classic black or dark Havana with tone-matched lenses never fails when it comes to the perfect Passepartout look.
0VO5446
Preppy, but never prim, this statement-come-staple is all about sublime silhouettes with 100% Hailey Bieber style. Playing up its polished profiles with metal diamond rivets and chic opal grey or brown color options, the semi-bold acetate cat-eye upgrades everyday looks with irresistible attitude, signature temples and dedicated packaging add exclusive appeal.
0VO5447
Personality-packed with a stylish angle, this is the look that every wardrobe needs. Highlighting sculptural silhouettes and eye-catching slanted brows with translucent color, this optical frame goes from statement to classic in a wink. Trending opal sand or opal green color options or classic black and dark Havana classics make it the star of this, and many seasons to come.
About Vogue Eyewear
Luxottica Group S.p.A. Luxottica is a leader in the design, manufacture and distribution of fashion, luxury and sports eyewear. Its portfolio includes proprietary brands such as Ray-Ban, Oakley, Vogue Eyewear, Persol, Oliver Peoples and Alain Mikli, as well as licensed brands including Giorgio Armani, Burberry, Bulgari, Chanel, Coach, Dolce&Gabbana, Ferrari, Michael Kors, Prada, Ralph Lauren, Tiffany & Co., Valentino and Versace. The Group's global wholesale distribution network covers more than 150 countries and is complemented by an extensive retail network of approx- imately 9,200 stores, with LensCrafters and Pearle Vision in North America, OPSM, LensCrafters and Spectacle Hut in Asia-Pacific, GMO and Óticas Carol in Latin America, Salmoiraghi & Viganò in Italy and Sunglass Hut worldwide. Additional information on the Group is available at www.luxottica.com