15 Donut Party Ideas That Will Blow Your Mind
The world is becoming a social trendy hub where everyday trends come in, and everyone starts following them. This is where the themed parties come in. Nowadays, themed parties are the center of attraction, and people worldwide are really into them. Different themes are used, and other ideas are implied to make the part more attractive and enjoyable. One such theme is donut party ideas.
The donut party theme is quite popular nowadays and is used for a variety of events; thus, whether you are a student who wants to throw a graduation party or a kid or adult who wants to celebrate a birthday party, the donut party idea is there to make it more lively and suits to every event.
However, finding ideas for the party has been challenging. Most people need help deciding the party ideas and accessories; hence, here in this article, we will explore and suggest some of the best  that will blow your mind and help you make your donut party so memorable. So, let's start exploring the ideas!
Exploring The Donut Theme Party
The donut themed parties are nowadays in trend. This theme mainly revolves around the donuts and gives off warm yet delicious vibes, and hence is considered to be the fun-filled treat that can bring a life full of excitement into the party. So, if you are planning to throw a themed party, this donut theme is the best for you.
However, finding the best ideas for the party is always tricky and time-consuming and often annoys the hosts. Thus, to resolve this, we have come up with an exciting guide where we will discuss the top 15 best donut party ideas that will add value to your party and help save you time.
15 Donut Party Ideas
There are an array of things that you can do if you are up for the party, and that makes your events so memorable yet representable. Below are major donut-themed birthday party ideas for adults and teens, so let's have a view!
1. DIY Donut Wall
The DIY donut wall is one of the best donut party ideas as it is one of the most iconic ways to show the donuts to the guests. Moreover, with the front wall, the guests can choose the donuts according to themselves, and everyone will get something they love.
The way to build the donut wall is quite simple. All you need is foam board or pipes with cardboard to build the wall. Once you finish the walls, assemble all the donuts with frosting and beautiful contrasting colors to make them attractive.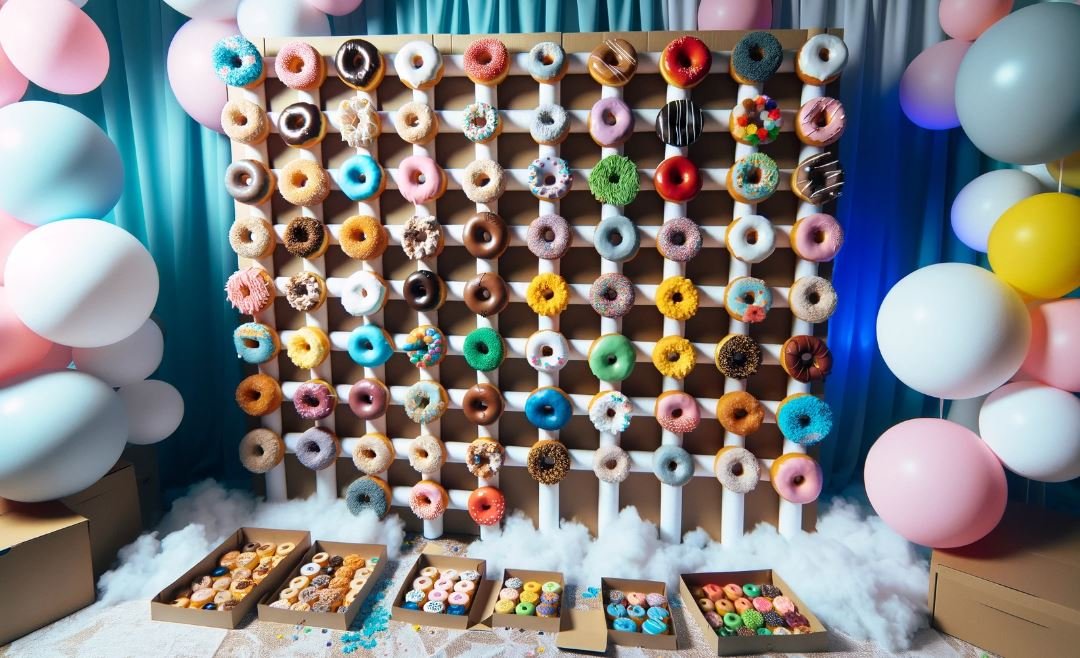 2. Make A Donut Decorating Point
The donut decorating point or station offering frost, sprinkles, etc., is often considered to be the guests' favorite spot as it allows the guests to decorate their donuts according to their likes. Moreover; apart from that, it is regarded as a healthy and great activity too.
3. The Seasonal Donut Games
Another exciting donut party idea is the donut theme gaming with a game like a donut bowling and eating contest, and more these things will surely make your party stand out for others and add a real fun factor in, too.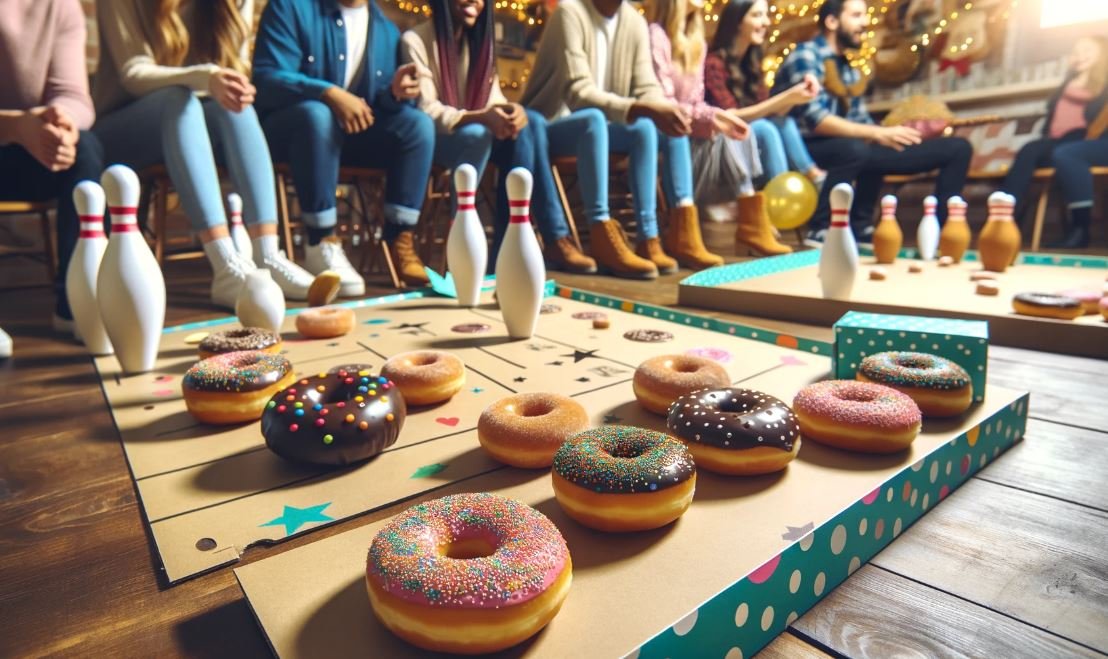 4. Donut Pots
The donut pots are an impressive way to turn your party into a super party. Fill the pots with candies, toys, and chocolates, and a break-in turns the guests into crazy surprises. Thus, it is considered a good surprise and a practical, healthy activity.
5. Donut Gifts
The donut-favored souvenirs or gifts are considered to be memorable and long-lasting ideas for your guests. A keychain or photo frame of a donut shape would work.
6. Donut Booth For Photos
It is another exciting way. Setting up the photo booth according to your theme will be the source of many memories and the best spot for taking pictures and videos.
7. Donut Accessories
Providing donut accessories to the guests, such as donut-designed hats or bands that give out proper donut-themed vibes, is much recommended. As for the clothing, always choose a color theme of a donut-like pink, white, or light brown.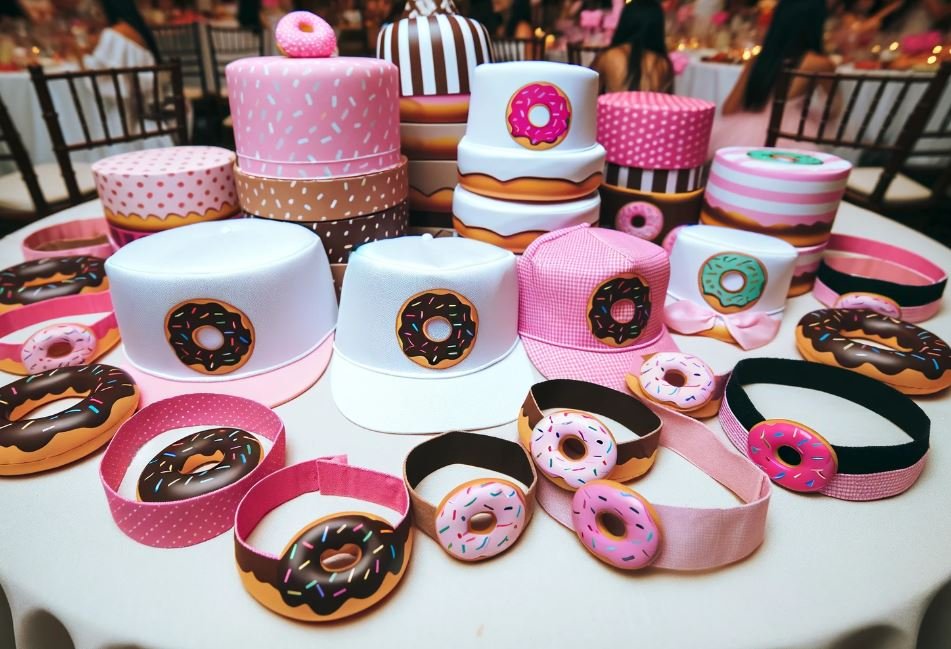 8. Donut Cake
If it's a donut-themed birthday party or a celebration party, then surely cake will be a must to go. Hence, it is recommended to design a cake in a donut shape using the donut color frosting to make it according to your theme.
9. Donut Music
Donut music is one of the most fantastic donut party ideas and nowadays is in trend too; hence, playing donut-themed music such as I want to dance with somebody who loves donuts or the donut hole by hinder are few types of music which you can consider in your party and make your party much more enjoyable.
10. Donut Themed Drinks
Having themed drinks is one of the fantastic ideas for making the party much more successful. Hence, it is suggested to use theme drinks like milkshakes or lattes. Also, you can serve it with donuts as a treat for your party.
11. Donut Crockery
It might sound weird, but if you want to make it much more memorable, you can even go for the serving in the crockery specially designed according to your theme, like donut-shaped plates or glasses.
12. Decoration According to The Theme
Decorating the space of your party is one of the best ways to bring out the perfect vibe. Hence, it is much recommended to decorate the space well according to your donut theme, full of balloons and party poppers, to create an exciting atmosphere.
13. Go For The Donut Truck
For serving the guests, you can even hire a donut truck that is decorated with donut colors and serve the clients well with all types of donuts from chocolate to jelly and more
14. Donuts Eating Competition
Games and contests at the parties are always much appreciated. Hence, arranging a donut contest to see who eats more donuts in less time will be fun. This activity brings lots of fun and laughter to your party and is considered one of the best donut party ideas.
15. Donut Pizzas
It's weird, but it is a unique donut party idea. Make a separate station in space where you can offer the recipes and stuff and offers guest the chance to make donut pizzas themselves, or you can even offer them the cooked donut-shaped pizzas as a savory.
Conclusion
Everyone wants their party to be the best, and of course, it requires time to decide which theme is best and what to include in this theme. Well to resolve your problems here we have mentioned the 15 best donut party ideas, from donut pizza to the donut wall. These ideas will blow your mind and will make your party fabulous. Try to implement these ideas at your party and take your party to the next level with many unforgettable memories.