The Life and Death of the Artist Remington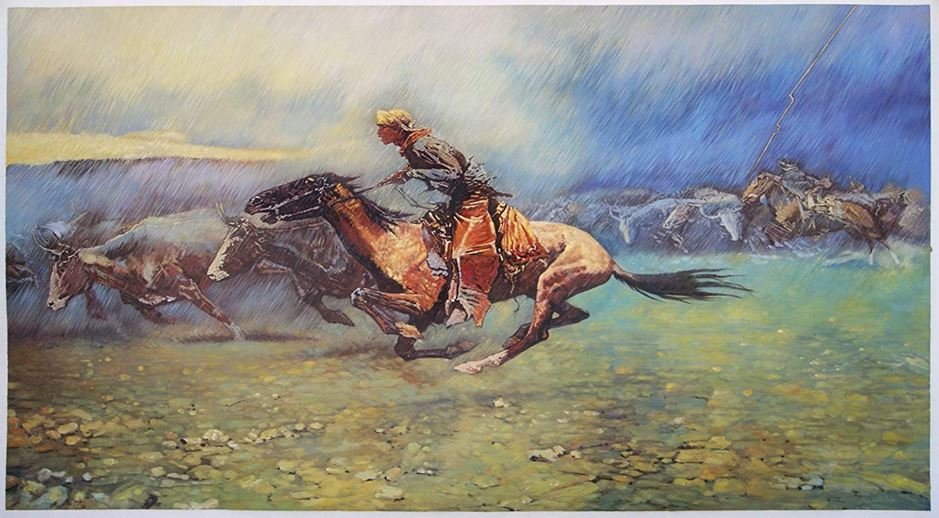 Frederic Remington (1861 – 1909) was an American painter and illustrator who specialized in depicting scenes from the American wild west. He is internationally regarded as one of the most credible and successful illustrators of Old West paintings in American history.
In addition to being a successful painter and illustrator, Remington was also an accomplished writer and sculptor. During his career, he completed a multitude of novels and magazine art features and a host of cowboy-themed sculptures, which greatly added to his fame and legacy as a prominent artist.
His life as an artist proved to be exciting, taking him all over North America, Mexico, and Cuba. From his time working as a war painter to his tumultuous death, Frederic Remington's life, death, and paintings are the stuff of cowboy legend and Hollywood dream.
[lwptoc]
Attack on the Supply Train (1885)
Attack on the Supply Train is one of Remington's first paintings to gain notoriety in the public's eye, and for a good reason. It is reminiscent of a scene from straight out of a Spaghetti Western movie and is most likely based on real-life events, as attacks like this were fairly common at the time.
It is a painting of action and high drama that would be sure to catch your eye if you saw it hanging on a wall in an office or home. Painted in a semi-Impressionist fashion, the characters featured within simply jump out from the canvas with life and personality.
Featured in the foreground of the painting are seven men of different ethnic origins and backgrounds standing together as they defend their wagons and livelihoods from an unseen threat. This cultural diversity and willingness to work together built America and made it the power it is today.
The Lookout (1887)
Although not precisely a Romanticist, Realist, or Impressionist painter, Remington still achieved incredible emotion in his artwork. His ability to capture the ruggedness and rawness of life in the Wild West is one of the reasons why he is considered one of the best.
Having had experience as a writer also lent itself to Remington's artwork as there is a degree of poetic beauty within his portrayals of frontier life. The Lookout is the perfect example of this poetic poignance and is one of the famous Frederic Remington paintings.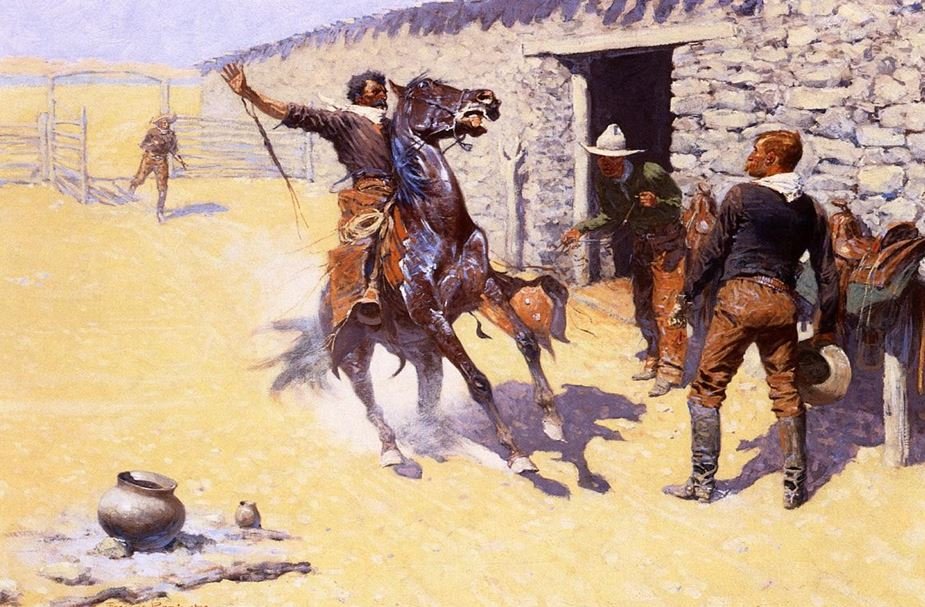 In the painting, a lone cowboy sits on horseback while looking out to the horizon from a rocky plateau. Whether scouting for enemies or surveying the uncharted expanse ahead, it acts as a pragmatic symbol for the unbreakable human spirit in the face of the harsh challenges of life.
Coming Through the Rye (1902) (Sculpture)
One aspect of Remington's artwork that was especially appreciated by art critics of the time was his ability to reenact the glory of a horse in motion. In both his paintings and sculptures, this act is masterfully depicted and is arguably Remington's most outstanding overarching achievement as an artist.
Remington was privy to all the sights and fantastic historical events in his career, and it seemed he had a particular affinity for the majestic animal. It is worth mentioning just how important horses were to people at this time, and the significance of this fact might be somewhat lost on us today.
In the sculpture Coming Through the Rye, four riders gallop their horses proudly with their guns raised triumphantly in the air. Like much of Remington's work can be viewed as a deeply symbolic image representing how the West and America were forged.
Ridden Down (1906)
As well as depicting life and events from the 'American' side of things on the western frontier, Remington also spent much time paying homage to the other lifestyles and cultures present, such as the Mexican and the Native American.
As a historical and military chronicler, he was present for some of the period's significant events and turning points. He witnessed the Battle of Wounded Knee and the Assault on San Juan Hill, just two. Yet, despite his important role as a historian, Remington was adamant that he never used a camera and painted all his work from memory.
His 1906 painting Ridden Down perfectly encapsulates the plight of the Native Americans during this time. A lone Indian, known as Fire Eater, stands stoic in a desolate plain after the defeat of his tribe. The painting symbolizes the end of the native people's way of life and the beginning of a new era in America.
The Cowboy (1908) (Sculpture)
By 1908, Remington's health was failing him, and his life of adventure was long behind him. Suffering from an assortment of ailments, he knew he didn't have much time left in this world. Interestingly enough, when artists know they are close to the end, they often produce their best work, and Remington was no exception.
The last couple of years saw the completion of some of Remington's best and most famous paintings. It seemed to be a time of deep self-reflection and reminiscing. As a result, his work is even more poetic and ethereal, especially concerning the native Indian.
The last decade of his life was also when Remington focused more on sculpturing, and his sculpture of the Cowboy is arguably his finest. It is a fitting tribute to Remington the Cowboy, who would pass away from peritonitis and appendicitis the following year. However, the giant sculpture still stands in Fairmount park in Philadelphia, Pennsylvania.
Conclusion
These are but a few of Frederic Remington's art and sculptures. There are so many more not featured here that deserve your attention and appreciation. It is wholly worthwhile for you to learn more about Remington's art and Remington, the artist; if you are in any way inclined, you won't be sorry that you did.
Check out: RIP Julia Fox - Julia Fox Art Gallery