Shocking Update on Pillow Fort from Shark Tank: You Won't Believe Where They Are Now!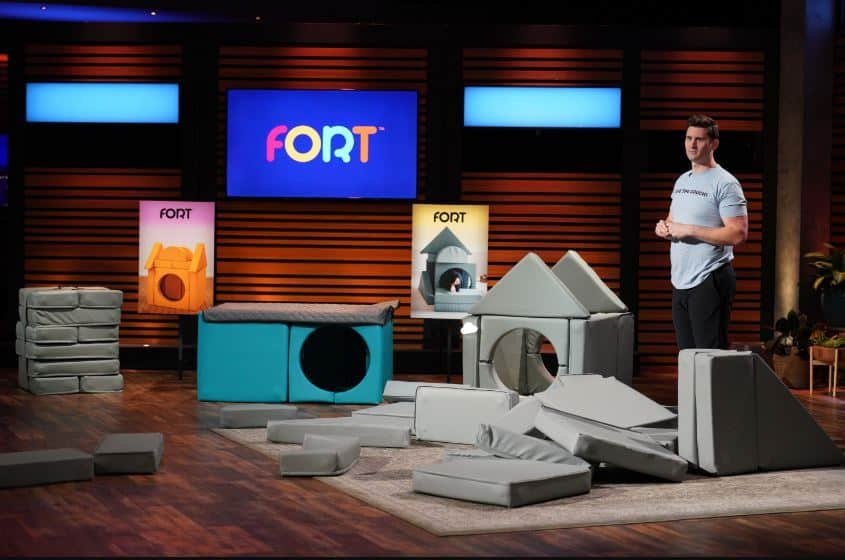 Hey there, reader! Do you recall that mind-blowing product from Shark Tank? The one that effortlessly turned couch time into fort time? I'm talking about FORT, the magnetic pillow phenomenon. Today, I have an exclusive scoop that'll leave your jaw on the floor. Stick around; you'll want to hear this.
Conor Lewis: The Man Behind FORT
Conor Lewis is not just an entrepreneur, but a visionary. A graduate of Western Kentucky University in Graphic Design, his journey meandered through various roles, from directing poignant documentaries to roles in marketing. However, it was the blend of his artistic background and fatherhood experiences that birthed the groundbreaking idea of FORT. His passion and determination are evident in every magnetic pillow.
His Background and Inspiration
A graphic design graduate with a penchant for innovation, Conor's path wasn't always clear-cut. His professional journey saw stints in directing and producing, with a standout documentary under his belt. However, it was a simple observation—his family's struggle with unstable pillow forts—that sparked the idea of FORT.
From Idea to Reality: The Launch of FORT
Losing his job during the pandemic, Conor stumbled upon his old notes about a magnetic pillow. Instead of wallowing, he turned adversity into opportunity, birthing FORT in 2020.
FORT's Magnetic Appeal
Why did FORT become a sensation overnight?
Product Features and Innovations
The secret lies in the powerful neodymium magnets. But it's not just about magnets. Stain-resistant materials, stackable designs, and a dual-purpose approach (hello, comfy couch cushions!) set FORT apart.
User Experience and Testimonials
Ask any FORT user, and they'll rave about its ease of use. From parents to kids, the feedback is unanimous: building forts has never been this fun!
The Big Moment: FORT on Shark Tank
The atmosphere was electric as Conor stepped onto the Shark Tank stage. Every entrepreneur dreams of this spotlight moment, and Conor seized it brilliantly. With confident strides and a captivating presentation, he introduced the sharks to FORT. Their intrigued expressions and barrage of questions underscored the product's potential. This wasn't just a pitch; it was a turning point for FORT, propelling it from a homegrown idea to a national sensation.
The Pitch and Initial Reactions
Conor, with his magnetic charisma (pun intended), wowed the sharks. His ask? A cool $500k for a 10% stake. Sharks like Mark Cuban and Lori Greiner were all ears.
Outcomes and Takeaways
Although the show undoubtedly provided a massive platform, the real win for Conor was the validation of his idea and the immense public support.
FORT's Explosive Growth Post Shark Tank
Shark Tank's magic touch worked wonders for FORT.
Sales Surge and Customer Base Expansion
Post-show, FORT's sales skyrocketed. Parents flocked online, making it the must-have play accessory for kids.
New Additions and Product Extensions
Conor, always the innovator, introduced additions ranging from suede covers to fancy lamps, further enhancing the FORT experience.
Where Is Pillow Fort Now?
Pillow Fort, post-Shark Tank, has soared to incredible heights. Not just a fleeting sensation, it's become a household favorite across the country. Beyond its booming sales, the brand is innovating, with talks of international expansion and new product lines. It's a success story in the making!
Challenges and Triumphs
With highs come lows. Stock management, quality control, and delivery expectations posed challenges. Yet, resilience and customer-centricity ensured FORT weathered the storms.
Future Predictions and Anticipations
If its trajectory is anything to go by, FORT is poised for international fame, potentially revolutionizing playtime globally.
Conclusion: A Lesson from Pillow Fort's Journey
So, what's the takeaway here? FORT's journey is a testament to the power of innovation, resilience, and, most importantly, believing in one's idea. And hey, if you're dreaming of creating the next big thing, let FORT inspire you. After all, if pillows can change playtime, imagine what your idea can do!
Phew, that was a rollercoaster! If you're intrigued by FORT (and who wouldn't be?), head over to their official site and grab your set. Until next time, keep those creative juices flowing! ????????