How Do You Select the Best Camping Swag?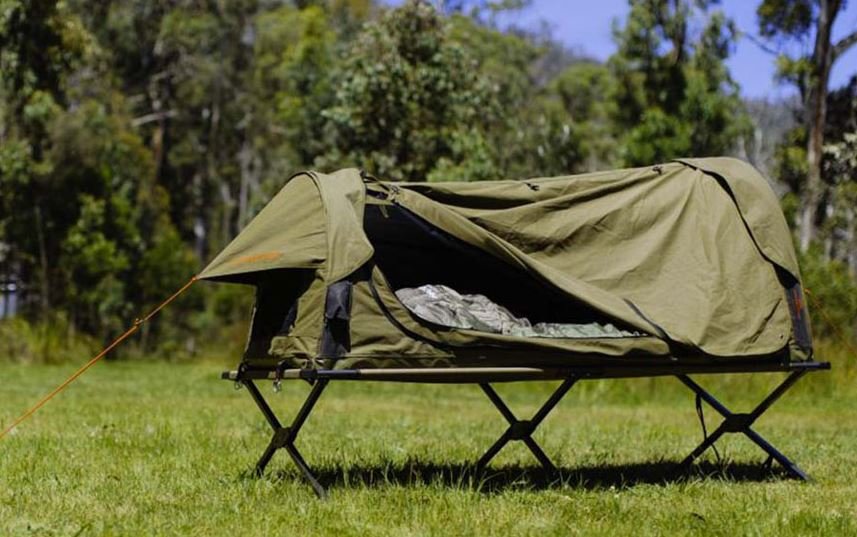 Australia is one of the planet's top camping destinations, thanks to its gorgeous rainforests, pristine coastlines, and breathtaking outback landscapes. It's an experience worthy of the top spot on your bucket list, with native animals for company, starry skies to sleep under, and campgrounds surrounded by natural wonders.
Then again, nothing is worse than planning a big camping trip only to discover that you don't have camping swags. All of the wires, cables, and heartache that come with purchasing or building a new tent is something that most people would not prefer. The easy-to-assemble, lightweight, and ultra-durable piece of camping equipment checks all the boxes for both novices and experts. However, choosing suitable swag tents for camping is no easy task.
What Is a Camping Swag?
A camping swag is the most straightforward and most comfortable way for the uninitiated to get out and about on an adventure. The swag tent, a famous Australian creation, is a conventional canvas bedroll that houses a thin mattress. In general, a swag tent is a more sophisticated sleeping bag that provides weather cover.
The long, thin apparatus resembles a one-person tent, zips up, covering the entire body, including your head. The humble swag tent is a true camping innovation, being waterproof, wet, and bug-resistant. The most significant advantages of a swag tent are convenience and comfort. A swag tent can be the perfect way to explore the outdoors because you can practically drop shop and set up anywhere. You will get an unrivalled first-hand view of your chosen camping area by completely immersing yourself in the scenery.
Before you go and purchase a new King's swag or Darche swag tent, do some research. Consider what you're looking for and what you want to find in the wilderness. For e.g., if you are travelling with a companion, you might need a double swag. Here are some things to think about while purchasing a swag tent:
Fabric
Fabric is the most critical thing to consider when purchasing a new swag tent. High-quality cotton or poly-cotton canvas milled precisely for making swags is suitable because they are naturally water-resistant. Some manufacturers will apply waterproofing material on their fabric of choice, so keep an eye out for the proofing choices.
Design
Some camping swags look fabulous but don't perform well. Pay special attention to the creation of your swag tent, especially the drainage and ventilation. Your swag, like any good tent, should be built so that water drains down and away from any openings. Examine the region where the body of the swag tent meets the surface, as this is often a source of water leakage.
Maintenance
As with any significant purchase, you should be prepared to spend some time on its maintenance; after all, the swag will be exposed to the elements. Make an effort to keep your camping swag clean and clear of dust and debris. Most importantly, before folding and storing your swag tent, make sure it is fully dry. The last thing you might want to do is open your swag tent for a new adventure to discover that it is mouldy.
Because of the heavy material and form of canvas used, swags are generally warmer than tents. Hence, a  swag could be a better choice than a tent if the weather isn't too bad.
Read more: The Benefits of Having Outdoor Camping