Who Is The Top Thoroughbred Racehorse In The US Right Now?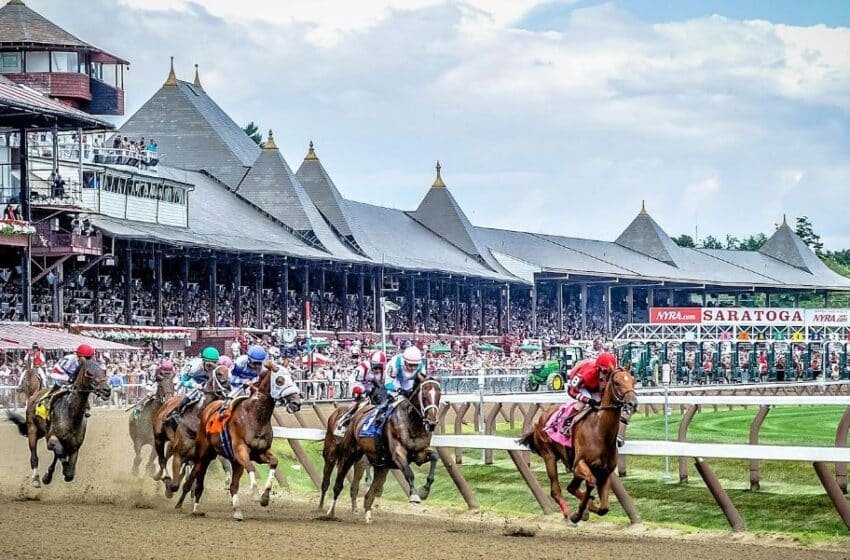 We are in the second half of the year 2022, and while there are certainly many questions left to be answered, most Thoroughbred divisions are certainly solidifying. The cream is starting to rise, and many horses who were hailed as potential champions in January and February have been written off after dull performances.
The National Thoroughbred Racing Association (NTRA) conducts polls each week ranking the top Thoroughbred racehorses. You can see these beautiful creatures on the best racetracks in the country, such as the Saratoga Racetrack.
Prior to the Belmont Stakes, three-year-olds have their own separate poll; however, with the close of the Triple Crown comes the looming expectation that three-year-olds will compete against their elders, and so they are ranked together.
Let's take a look at the most recent NTRA poll as of this writing, which was made public on June 29th.
Honorable Mentions
No three-year-olds have made the top 10 as of June 29th, but several received votes in the poll. Sitting at 11th place in the poll is the extremely talented and blindingly fast three-year-old sprinter Jack Christopher, who is undefeated in four-lifetime starts and this year won both the Grade II Pat Day Mile and the Grade I Woody Stephens Stakes. Although the son of Munnings has yet to attempt two turns, trainer Chad Brown indicated that the Grade I Haskell Stakes at Monmouth Park was a possibility for his brilliant star's next start.
The top-rated female on the NTRA poll, placing at number 6, is Clairiere, a four-year-old daughter of Curlin and multiple Grade I winner Cavorting, who rebounded from a second place finish in the Grade I Apple Blossom Handicap to win the Grade I Ogden Phipps Stakes. The latter race attracted a small but talented field that included prior divisional leaders Malathaat and Letruska. Clairiere dueled with Malathaat throughout the stretch, proving best by a head after a tough battle. She is likely to make her next start at the Saratoga meet.
Olympiad
According to the NTRA, the fifth-best horse in the country is Olympiad, winner of the recent Grade II Stephen Foster Stakes. The son of Speightstown is five-for-five in 2022, winning first an allowance race and then exploding onto the national scene with wins in the Grade III Mineshaft Stakes, Grade II New Orleans Classic Stakes, and Grade II Alysheba Stakes before his most recent start.
He has yet to win in Grade I company, his only attempt being a fourth in last year's Grade I Cigar Mile, but his Stephen Foster win came at the expense of that race's winner American revolution as well as official Kentucky Derby victor Mandaloun. The Stephen Foster is a Win And You're In race for the Breeder's Cup Classic, meaning that Olympiad will receive automatic entry into that race should his connections choose to pursue it.
Jackie's Warrior
Like Jack Christopher, Jackie's Warrior was a brilliant two-year-old who blossomed as a sprinter in the early part of his three-year-old year. Instead of attempting to stretch him out, trainer Steve Asmussen kept him at sprint distances, a decision that proved profitable when Jackie's Warrior was named Eclipse Champion Sprinter of 2021.
This year, Jackie's Warrior has continued his dominance over the open sprint division, winning the Grade III Count Fleet Sprint Handicap, the Grade I Churchill Downs Stakes, and the Grade II True North Handicap. A son of Maclean's Music, he looks to make his next start at Saratoga, where he won the Grade II Amsterdam Stakes and the Grade I H Allen Jerkens Memorial Stakes last year.
Life Is Good
Life is Good began 2022 with a brilliant win in the Grade I Pegasus Stakes over 2021 Horse of the Year Knicks Go. He disappointed as the favorite in the Dubai World Cup, running fourth. However, a return to American soil appears to have led to a return of brilliance for the son of Into Mischief, as he defeated Grade I Carter Stakes winner Speaker's Corner by five lengths in the recent Grade II John A. Nerud Stakes. Trainer Todd Pletcher has indicated that he will return Life is Good to route races following this triumph, with the next target being the Grade I Whitney Stakes at Saratoga.
Country Grammer
Dubai World Cup winner Country Grammer has not raced since his March 26th triumph. Most of Bob Baffert's top horses were transferred to other trainers when Baffert began serving his nationwide 90-day racing ban, and Country Grammer was officially trained by Sean McCarthy during that time, but he spent much of his time recovering from his trips to Dubai and Saudi Arabia. Country Grammer returned to the worktab at the end of May and possible next starts include the Grade II San Diego Handicap and the Grade I Pacific Classic, both in California.
Flightline
The top-rated Thoroughbred in the United States (at least according to the NTRA) is the undefeated Flightline, a fantastically fast undefeated son of Tapit out of the Grade III winning mare Feathered. Having only had four lifetime starts by the middle of his four-year-old year, he is certainly lightly raced, and there are legitimate questions about his durability and lack of experience.
There are no questions, however, about his talent. Flightline became a nationally regarded competitor with an 11 ½ length win in last year's Grade I Malibu Stakes as the favorite. A series of minor health setbacks delayed his 2022 debut until the Grade I Metropolitan Handicap, but he once again dominated, winning by six lengths. Trainer John Sadler stated that Flightline will train up to the Pacific Classic, with the ultimate goal of the year being the Breeder's Cup Classic.
Read more: Reasons Why People in Ireland Love Sports Betting