Bathroom Design Ideas That Will Transform Your Smallest Room!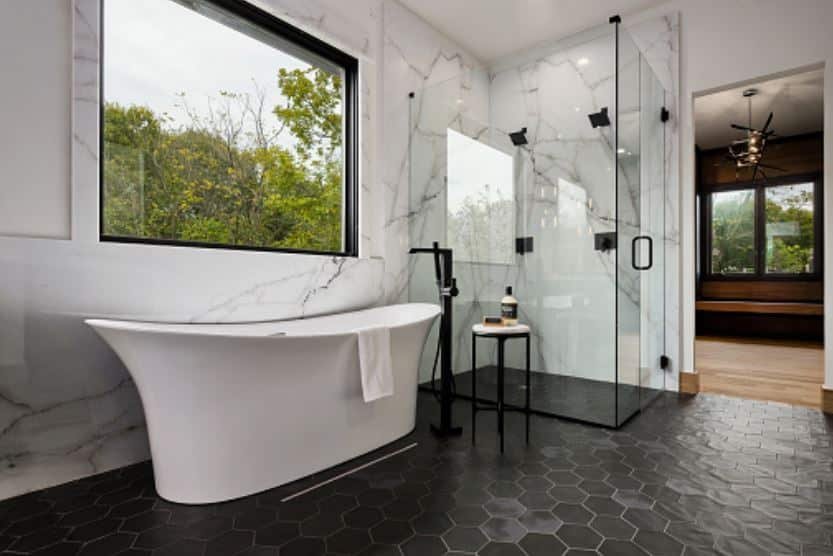 When it comes to designing a bathroom, there are endless possibilities. Whether you're looking for a complete overhaul or just a few simple updates, there are many ways to transform the space.
If you're not sure where to start, take some time to browse through different bathroom design ideas. You can get inspiration from magazines, online sources, and even your friends' homes. Once you have an idea of what you want, start planning your project and gathering the necessary supplies.
Whether you're tackling a major renovation or simply making a few small changes, these bathroom design ideas will help you create the space of your dreams.
[lwptoc]
Smart Lighting
Lighting is one of the most important elements in any room, and the bathroom is no exception. Good lighting can make all the difference in how your bathroom looks and feels, so choosing wisely when selecting fixtures and bulbs is essential. One trend gaining popularity lately is smart lighting, which allows you to control your lights using a smartphone or other device. This can create different moods or ambiances in your bathroom and save energy if you use it properly.
Towel Rails
A heated towel rail is the perfect way to top up the heating in the bathroom while also ensuring that you have a lovely warm towel to dry yourself off with. There is a wide range of sizes and designs available, so there will be one to fit the space available in your bathroom.
Twin Basins
Two separate basins are a great way to maximize your bathroom's potential if you have the space. These allow each person from a couple to have their own sink stopping those irritating waits in the morning when they're both trying to get ready for work.
Floating Vanities
If you're looking for a truly unique look in your bathroom, floating vanities are a great option. These vanities are mounted to the wall, which gives the impression that they're "floating." This creates an open and airy feel in your bathroom, perfect for small spaces. Plus, floating vanities make cleaning easy since there's no baseboard.
Glass Shower Enclosures
A glass shower enclosure is a great way to add value to your home while increasing overall aesthetic appeal. These showers are very popular in new construction and remodeled homes alike. You can select a frameless option that gives your bathroom an open and airy feel or a semi-framed model, perfect for those who want just a bit more privacy. There are also fully-framed enclosures that offer the most protection from water leaks and drafts.
Shower Tile Designs
This is where your artistic side can really come out! There are so many different possibilities here that you can really stamp in your own style.
One popular option is to use a subway tile in a herringbone pattern, and this creates a classic yet modern look that can be customized to fit any space. Another popular trend right now is using geometric shapes or large format tiles in your shower design. This can add an interesting focal point to the room and make it more visually appealing.
No matter what design you choose, consider the function of your space when planning your tile shower. Make sure the design you select will work well with the layout of your bathroom and the amount of traffic it gets. Also, be sure to choose durable and easy to clean materials so that you can enjoy your new shower for years to come!
A Designer Basin
Are you looking to add some pizazz to your powder room? A bold basin is a way to go. Statement sinks are becoming increasingly popular in bathroom design, as they add a touch of luxury and can enhance the space. If you're not ready to commit to a full-on statement piece, don't worry – there are plenty of ways to incorporate this trend into your décor.
For example, try pairing a more subdued sink with a colorful or patterned backsplash for an eye-catching contrast. Or, opt for a basin with unique detailing, like scalloped edges or an attractive shape. Whatever route you take, ensure your sink is paired with equally impressive hardware, such as ornate faucets or sleek, minimalist fixtures.
Use waterproof wallpaper
Wallpaper is a great way to add personality and style to your bathroom. But, finding the right wallpaper can be tricky. You want something waterproof, durable, and easy to clean. Luckily, there are a few options out there that fit the bill. A popular option for waterproof wallpaper is vinyl wallpaper. This type of wallpaper is made from PVC, so it can stand up to moisture and humidity without peeling or bubbling.
Plus, it's easy to wipe down if it gets wet or dirty. If you're looking for something a little more stylish than plain old vinyl, there are tonnes of patterned options available that will still hold up in the bathroom. Just choose one with a nice tight seal, so water doesn't seep through.
Use vivid color
There's no need to be afraid of color in your bathroom, and a vibrant, bold hue can make a statement in this small space. And, because bathrooms are typically smaller than other rooms in your home, it'll be easier and less expensive to paint the entire room one color. If you're unsure which shade to choose, take inspiration from nature or your favorite clothing colors.
Softer shades of pink and purple are popular choices for bathrooms, and they help create a calming and relaxing atmosphere, perfect for unwinding after a long day. But if you want something with a bit more energy, consider painting your walls yellow or orange. These cheerful colors will help wake you up in the morning and give you an extra energy boost before starting your day.
Whatever color you choose, make sure it coordinates well with the rest of your bathroom fixtures like towel racks, toilet paper holders, and shower curtains. You don't want these elements to clash or stand out too much from the rest of the room.