Beauty Trends Rocking Market in 2021
Undoubtedly skincare has taken a massive seat in 2021, as our home became the entire world. People avoid booking an appointment in the spa, inserted they prefer to turn their living space into a beautiful space. Self-care has become more vital than ever, helping prospects treat themselves; various beauty trends have gained popularity in 2021.
Judging by Google Trends, which has revealed its search data, the research shows that if there is a various question like:
How to cut hair?
Which are the best beauty and skincare products?
There are many questions that prospects browse for on Google. They even search for a beauty trend to stay updated with the current trend. Hopefully, few beauty trends enable you to fall back in love with the Twenties, as it frankly doesn't count.
Top Beauty Trends to Look into 2021: Check Every to Stay Updated!
[lwptoc]
2020 was the year of lockdown and social distancing rules, covid 19 outspread our beauty and skincare regimens to a great extent. It seems that it would not remain the same anymore as the beauty trend is changing with the changing needs of beauty lovers worldwide.
The global cosmetics market size was valued at $380.2 billion in 2019. And it is projected to reach $463.5 billion by 2027, registering a CAGR of 5.3% from 2021 to 2027.
Image: (Source)
Gone were the days of a rigid skincare routine; it includes serum, creams, and many more. But it seems that beauty trends will evolve continuously with the changing time; hence it becomes vital for people to stay updated with the changing beauty trends.
Image: (Source)
It's found that 4 out of 5 American women regularly follow the latest beauty industry trends. While the CB Insights report also shows that the average spending on cosmetics in the U.S. has reached around $3000, it is estimated to grow higher in nearby future.
The beauty sector is competitive compared to other industries; its revenue in the United States reached around 49.2 billion U.S. dollars in 2019, whereas it's estimated to grow higher in 2020.
Image: (Source)
Beauty brands are constantly reinventing themselves to work better than their competitors. They are trying to offer the best services to beauty lovers, especially women. If you're unaware of the current beauty trend and want to know everything about it, then we are here to help you out. Read the article ahead to know which beauty brands are rocking the market in 2021.
Related Topic: Top Fashion Trends You Must Know in 2021
Acid Toners, Peels, & Resurfacing Products
"Acid toners, resurfacing products, and peels are going nowhere these days," says Sarah Meadows. She further added, "The beauty trend has just started creating a buzz right now and will continuously strengthen with the modern formulas hitting the beauty market."
Acid toners and exfoliating products help you eliminate dead cells and settle block pores and fine lines simultaneously. It enables you to get your clean and glowing skin back without making many efforts for it. It helps to speed up cell turnover, tackle excess oil & breakouts, and retain moisturizer.
Use of Products with Vitamin A & C
Most beauty lovers search for beauty and skincare products that provide you with visible results in no time. And 2021 is the year of ingredients at the forefront with vitamin A & C. Men and women are likely to purchase makeup and perfume from perfume shops only if they find that it has been manufactured to benefit their skin with rich ingredients helping them to improve their natural complexion.
Enhanced Sunscreen Technology
"There is a drastic change in sunscreen technology," Dr. Anjali Mahto, a dermatologist, predicts. She explained that "Ultraviolet sun lights are a primary player for skin aging and cancer." The report also shows that more than 30 Australians are diagnosed with melanoma each day. Whereas around 1,200 die from the disease each year.
The same report explains that a small number of UV rays are required for generating Vitamin D in your body. It helps your muscles and bones to become healthy and robust, but an excess amount of UV rays can result in skin exposure. Even 15 minutes of summer sun exposure can damage your skin.
Image: (Source)
Moreover, a large population suffers from pigmentation; it's most familiar with darker skin tones. The UV rays affected body parts can be blocked with the use of iron oxide that contains sunscreens. Such products' market is limited and thus has enormous demand in the market in the present time.
Natural-looking Skin
The year 2021 indicates a rise in "natural-looking skin" and "sleep care" tactics on the web. Its holistic approach to skincare has raised the demand for alternative skincare ingredients like honey, papaya, yogurt, and many others. Natural skincare methods gained massive popularity due to the shut down of beauty soap and saloons.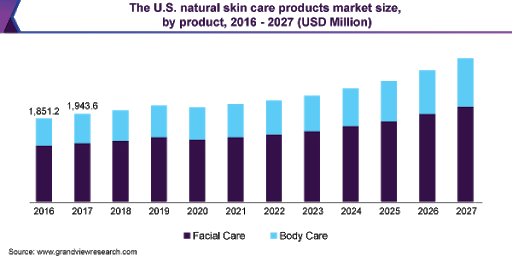 Image: (Source)
The global natural skincare ingredients and product market is estimated to reach around USD 10.84 billion in 2019 and is predicted to grow at a 5.0% compound annual growth rate from 2020 to 2027. Natural products use increased due to increasing concerns regarding the side effect of chemical products on the skin. High use of chemical products can cause allergies, skin irritation, dullness, etc.
At-home Devices
The year 2020 has shown a drastic shift towards home-based beauty and skincare solutions. The use of hashtags such as #lockdownskin, #homespa trending, and #selfcare became trendy on social networks. People are spending more time and care on treating and maintaining their skin health. It has increased sales of hair removal products, skincare tools, and other at-home use devices, a trend of at-home devices is no more showing signs of slowing in 2021.
People are ready to invest in beauty tools to leverage spa-like treatment right at their doorsteps. Modern skincare technology has become sophisticated and led to drive towards incorporating tools into a daily skincare routine. Whether it's non-mechanical tools, facial tools, or any other, people want to deliver sophisticated results as per their desire.
Bold & Smokey Eyes
The face mask has undoubtedly become a new norm, but its eye makeup helps you turn the focus to what little can be seen. It's bolder and more prominent this year. You can choose to opt for brighter eyeshadow, bigger lashes, colorful liners, and much more that help you drive significant moments in 2021. You can vamp up lids with navy shadows or deep grey to make your eyes look amazing.
Minimal Routines
Turn your natural glow in 2021 even by wearing less; simplify your routine with highlighting, contouring, heavy foundations, etc. It can help you have breathable and lighter coverage, with cream balms and concealers resulting in glowing skin.
Blue Light Protection
As discussed above, every individual needs to wear sunscreen to protect their skin from harmful UV rays. But are you aware of the effect of blue light on your skin? Blue light is emitted from many electronic devices such as TV, smartphones, etc., it affects your skin more deeply than UV rays. It might damage your skin and result in an aging sign like wrinkles, fine lines, etc.
Hot Red Lips & Brow Fun
Red hot lips are the evergreen and timeless trend; it is going nowhere. You can consider opting for any of the red shades for your lips at your convenience. Brow fun has also helped you become the center of attention at any event or shows. If you are looking to make a fuller blow, then eyebrow slits are the best option; feature up the brows as it is a great way to add texture.
The '80s Look
Playing with the more polished side of the color spectrum is enormous in 2021. You can opt for pinks, oranges, or other shades that suit your overall makeup. Add shimmers, glosses, mattes, and much more to have glowing and beautiful-looking skin.
Under-Eye Sparkle & Feline Liner
It's time to change your glittering solution. 2021 is the year where glitter is rocking under the eyes, apart from the lid. It helps you give a unique and trendy look to your eyes with ease. You can also choose to opt for a cat-eye look as it's a big fashion and beauty trend in 2021. Make sure not to stick with black shadow; it's the year to try different shades on your eyes. Apply blue, pink, orange, purple, or other shade as per your dressing and makeup.
More to Come in Fashion & Beauty Trends in 2021
2020 has undoubtedly given us numerous reasons to try new makeup and fashion trends, but 2021 has come up with more fashion and beauty trends to try to get a gorgeous and beautiful look. The year has made us more excited to play with beauty regimens. Hair, makeup, and other fashion trends are more creative; you can also choose to make part of your daily beauty routine.
Also, make sure to keep your skin fresh by considering a skin and beauty care regime that will not waste. The most significant trend which is predicted in 2021 is hydrated, natural, and uncomplicated skin. You can choose to go with minimal makeup along with a natural finish as it's proving that less is more. Focus on making your skin perfect by improving what you already have instead of changing and manipulating asserts.
Read more: Body Suits are the ultimate source to enhance your beauty