How To Effectively Combine Print Marketing with Digital Marketing
Print marketing is one of the oldest forms of marketing. A lot of people have already been acquainted with it and find it trustworthy. But with recent events, digital marketing has been taking the market by storm. With this in mind, what are ways on how to effectively combine print marketing with digital marketing? Is it worth it?
Let's find out!
[lwptoc]
Mail and Digital Marketing
Direct mail may not be as popular as it used to be because most of the mail we get is now emails. But then again, how often do you open an email when you know it's an ad? Direct mails are somewhat more preferable because there's no pressure in opening it or reading it. People can read it when they're ready.
Despite popular belief that direct mail, or snail mail, is not effective anymore, statistics show that it still is. According to studies, 41% of Americans of all ages check their mail each day, and they even look forward to it. Statistics also show that 59% of Americans report that they even enjoy receiving promotional mail about new products from brands.
You may think that older generations comprise the majority of direct mail users, but a significant 36% of Americans under 30 still enjoy it.
Direct mail targets its own unique demographic. A niche demographic offers less competition, fewer expenses on an advertisement, and more brand loyalty.
To make direct mail even more effective, consider crafting a creatively designed envelope that comes with your mail. This way, your envelope alone becomes a marketing tool the minute your audience's eyes land on it. It helps boost brand awareness which ultimately leads to more sales and ROI.
Digital marketing can be incorporated into this by making sure that your online platforms are included in the design of the envelope. Make sure that your website is easy to spot and that other means of contacting you online are visible.
You can also include a QR code in your printed material. When users scan the QR code, they'll be directed to a special landing page on your website. You can tailor fit this landing page to be an extension of the content of your direct mail. It's also an excellent opportunity to measure the analytics of your print and digital marketing campaign.
Hashtags on Printed Marketing Materials
Hashtags are generally used for identifying content online. It's a very efficient way of finding conversations online that revolve around the hashtag. It also helps content go viral because the more people use a certain hashtag, the more people get exposed to it.
Using hashtags on your printed materials motivates your consumers to share them online and be a part of the conversation. This strategy becomes even more powerful if the hashtag has a significant story behind it.
Take Coke's #ShowYourHeart packaging as an example. This campaign happened in 2013. It was Diet Coke's 6th year in supporting The Heart Truth® campaign. This national campaign was dedicated to raising support for heart health research and programs.
Image from cocacolaunited.com
Diet Coke used the hashtag to spark a social conversation. Consumers were encouraged to "share their hearts" on Twitter and Instagram with the hashtag. Along with this, they were also encouraged to share The Heart Truth®'s message to help the campaign gain more attention.
The combination of printed and digital marketing became effective because they complemented each other. The printed material was featured in their digital marketing, and it sparked conversations between other consumers. It also revolved around a worthy cause, so people felt more compelled to show their support.
Venue Campaigns
Venues are a great opportunity to release printed marketing materials. There are tons of people who might be interested in your product or service. It's even more effective to do so if the venue is somewhat connected to your business. You can then use digital marketing to help them learn more.
Let's take concerts as an example. Printed materials like posters, flyers, and banners can contain QR codes that encourage people to sign up. When they finally scan the QR code, they'll get directed to a landing page that will ask them to sign up to a mailing list. This mailing list will then send them direct mail of promotions of upcoming concerts in the area.
Printed marketing and digital marketing work well together in this scenario. They both become an avenue to promote content to consumers continuously.
Augmented Reality with Printed Materials
Augmented reality has been a promising technology for multiple industries for years now. It has flourished in the gaming industry and the medical field. Marketing is also starting to catch up.
An exciting way of merging printed materials with digital marketing is through AR. The printed materials can be something as simple as a photocard. There are tons of K-pop groups that release their official photocards featuring the members of the group. This method, on its own, is one of their marketing strategies, and it also acts as official fan merchandise.
But there are K-pop groups that have AR photocards. What happens is that when fans scan the photocard with a special app, it brings the card alive with AR. This is a video of how the cards come alive with the fan's favorite members.
Screenshot from SQ K-pop YouTube video
Another great example of this one is the AR catalog from Ikea.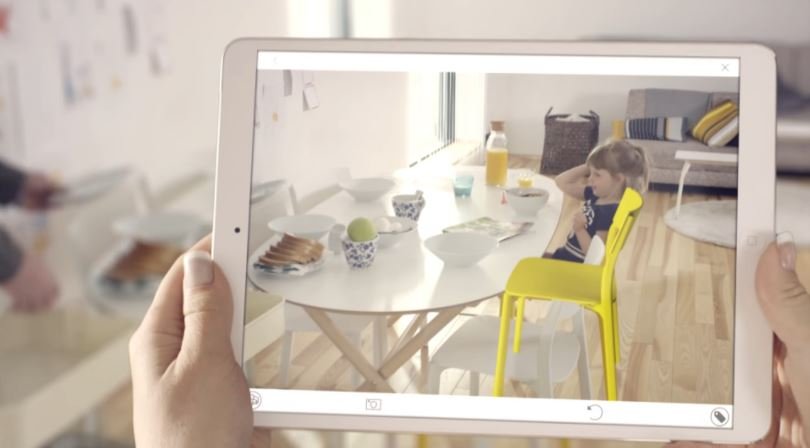 Screenshot from Ikea Australia YouTube video
The catalog is just like any other home furniture catalog. It has a series of products that are arranged in collections and per room. What makes this catalog special is that users can scan the pages, and they'll be able to see a model of the furniture.
Users can then place this model in their existing space. They'll see if the furniture fits the room where they would want to place it. They will have a better idea if it's worth getting or not.
This excellent use of technology creates a beautiful and innovative way of bridging print marketing and digital marketing. Print marketing becomes your initial contact with the audience. It sets the mood and helps your audience connect better because the ad is something they can hold.
Digital marketing then takes the experience a step further by letting users experience the items through AR. It provides the users such a functional and unique experience. It also makes shopping for furniture fun and interactive.
Advantages of Combining Print and Digital Marketing
Combining print and digital marketing can be a pricey investment if your business hasn't invested in them separately yet. But is it worth the trouble to find campaigns that merge these two strategies together?
Expanding Market Reach
Being able to expand your market reach by combining both methods of marketing is a great motivator to do so. You get to target a demographic who might have ignored your advertisement if it was sent over email. You also get an edge over competitors because how many other companies take the time to curate ad campaigns through direct mail?
You also get to reach out to a demographic who might have never heard of you before. The online space is a very big domain. There's a huge chance that certain demographics don't catch wind of who you are. Sending them direct mail that has ways to discover your presence online lets you introduce your brand to them.
Print marketing also offers a certain personalization that helps your company leave an imprint on potential clients. Take packaging for example. Printed material on interactive packaging gives a certain charming experience for clients and customers. The unboxing itself becomes a lasting good impression for your product.
You can then include on the packaging that you'd like to see their reaction online. This is where using a hashtag to start a conversation with a targeted demographic becomes effective. You can also use a QR code to lead them directly to your website.
The experience of opening the packaging with print marketing becomes digital because it's worth sharing online. It's a clever way of partnering with print marketing and digital marketing.
Assisted Buyer's Journey
Combining printed and digital ads provides an experience that caters to every stage of a buyer's journey.
Printed ads are easier to spot and more eye-catching. Compared to being bombarded with digital ads, printed ads are more attention-grabbing because it has a tangible form. This aids in the awareness stage of the buyer's journey. The goal is to grab their attention and get them interested.
Including a QR code or any other means of finding your brand online on your printed ads helps with the consideration stage. As the buyer gets hooked and interested, they would want to learn more. Helping them find you online where you talk more about your business is how printed ads assist digital ads.
When the buyer gets to the website, they'll learn more about your product or services. It's easier to help the buyer learn more about the product here.
Finally, when the buyer is ready to make a purchase, digital marketing makes it easy for customers to find the call to action button. This may be in the form of a "Buy now" button or an "Add to Cart" button. Digital marketing makes the decision stage fast, easy, and convenient.
Key Takeaway
There are multiple ways on how to combine print marketing with digital marketing effectively. As a recap, these are the following ways to do so:
Mail and Digital Marketing
Hashtags on Printed Marketing Materials
Venue Campaigns
Augmented Reality with Printed Materials
Combining print marketing with digital marketing opens up your business to a much larger market reach. It also helps you curate a marketing campaign that follows your consumers in their buyer's journey. Being with them every step of the way increases the chance of conversions.
At the end of the day, combining multiple strategies will help you attain your goals better. This is because if one strategy fails, then the other can pick up the slack. It creates numerous touchpoints to help encourage and motivate consumers to give your business a chance.