DesignCap – A Free Application to Create YouTube Banners Online
Have you ever wondered how important it is to create YouTube banners for your YouTube channel? Banners give dynamism to our YouTube channels, highlighting products, services, or information to have easier access to them. But, how to create attractive and visual banners, and what free applications can we use?
The importance of a banner
Let's talk about its importance first. Often, we focus on emerging things or innovations that make many daily tasks evolve or create new functions that had not yet been contemplated. It changes the way we undertake our online designs' daily work.
However, some things are never changed within any YouTube channel. One thing for sure that you and everyone will have on YouTube is YouTube banners. These banners are images that we use on our YouTube to highlight products, services, or information that we want to highlight.
They are instrumental and influential communication, which dedicated beautiful pictures on their channels to promote or highlight certain things. Despite their rudimentary operation and are something superfluous, a banner is one of our main ways of communicating with our public. People, in general, process images quicker than lengthy text. Therefore, beautiful banners are vitally essential to attract them.
But how to create YouTube banners if you do not know any technical skills? Then find an easy and handy tool. Here I'm going to introduce you DesignCap YouTube Banner Maker. I'll call it DesignCap in the following article.
What is DesignCap?
Before learning how to create YouTube banners for your channel with DesignCap, let's see what DesignCap is. It is an internet classic, and a safe bet if you start focusing on your banners for social networks. DesignCap gives you access to templates with pre-configured designs, specially intended for social networks and Twitter, Tumblr, or emails. One of the best thing I love is its simplicity, since all you need is to choose images, fonts, and colors that you like, and it will take care of everything else.
The banners are automatically adapted to the correct dimensions for each platform. With the best selection of banner designs from across the web at your disposal, DesignCap makes it easy for you if you want to keep your digital profiles up to date.
How to create YouTube banners
Clicking the "Get started Now" button, you will see that you have a wide variety to choose a template. You can even create a banner from scratch with a blank template. For this, you should type the dimensions of your banner first. I always select a template and follow it!
Choose a template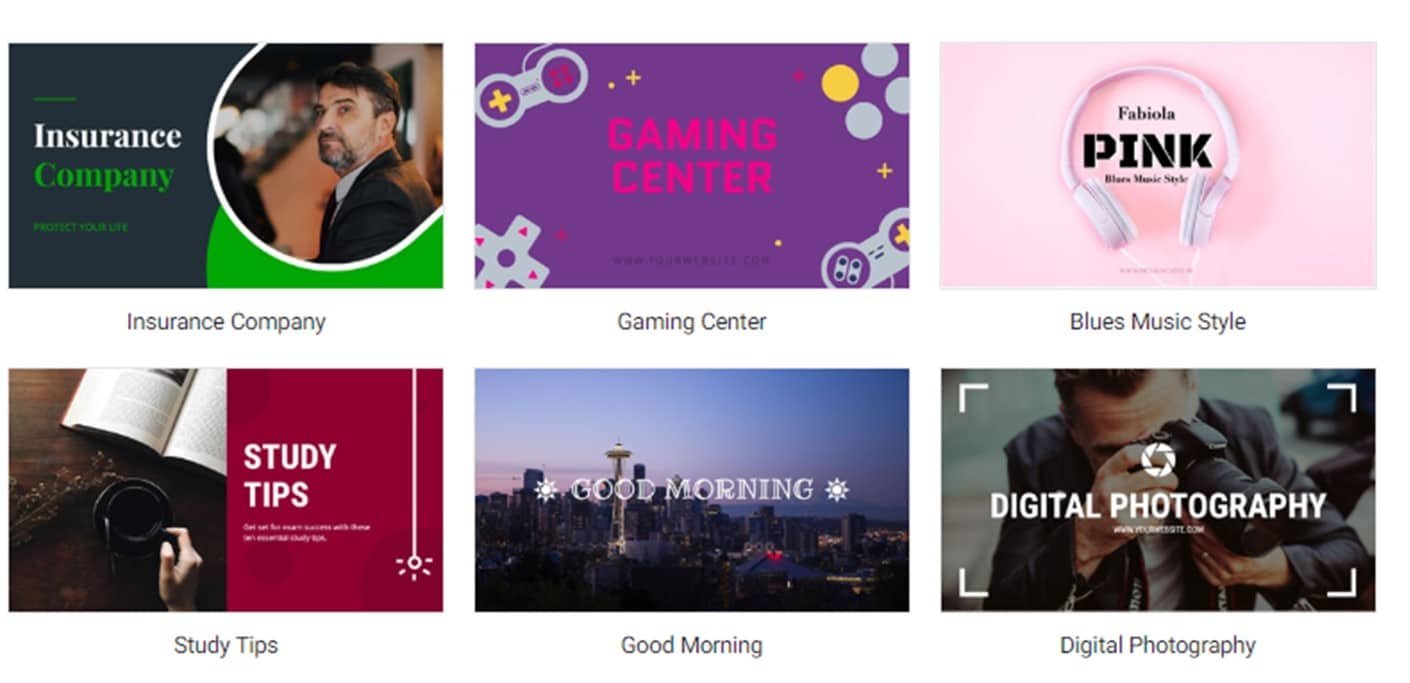 Once you have selected the template category, click the "TEMPLATE" tab, and a gallery opens, where you choose the design you want. And there are many different topics and themes for different YouTube Channels.
Make adjustments
In the sidebar, we will find different tabs to perform, precisely, different actions.
In the ELEMENTS tab, you can search for different icons online or use the preset shapes to decorate your banner. Or you can upload the one you need, for example, the logo of your company.
For the PHOTOS tab, you can find the desired image since it has an integrated search engine where all the images you use will be free. DesignCap offers more than a million of stock photos online. Choose a picture and apply an effect and make some adjustments like hue, brightness, contrast, etc.
The CHART feature would be a great advantage for making a visual image to show data clear. DesignCap allows you to add data directly from different formats like XLS, CSV, and XLSX. You can able to add dynamic maps by merely searching the country name.
You can also select the TEXT tab to include different formats, which we can edit later.
In the customize tabs, you will also select between several options and place icons, shapes, backgrounds, and modules.You have many options that I advise you to investigate!
You can create images/logos with transparent backgrounds.
The options are very varied. With this summary, I hope it helps you a little.
Get to design your YouTube banners
As you can see, DesignCap is a versatile YouTube maker at your fingertips, and above all, for free. Why not make your banners that enrich your YouTube channel visually.
Now you have to start designing and improving your banners. Keep in mind that its numerous templates can always inspire you. It will help you build a more complete and robust YouTube channel at a visual and communicative level. Start designing your YouTube banners now.
Also check: Logo Makers to Try Out for Your Business!