How to Decorate a Dining Room
Transforming a dining room into a stunning yet functional space requires a combination of creativity, aesthetic insight, and an understanding of design principles. Whether your style is traditional, contemporary, or eclectic, decorating your dining room can be a delightful journey of self-expression. No matter your preferred aesthetic, there are some universal decorating tips that can make your dining space shine. If you need inspiration, read on to uncover these tips.
Elements to Consider for Decorating Your Dining Room
The dining room may be a single-purpose space, but that doesn't mean it should lack appeal. To decorate it well, consider various elements like wall paint, flooring, furniture, window treatments, and lighting fixtures. While choosing the paint color, consider the size of the room. Light colors can make a small room look spacious, whereas darker hues can make a large room feel cozier. Similarly, when selecting flooring, consider comfort, aesthetics, and durability.
When it comes to furniture, upholstered dining chairs can enhance the room's look and functionality and complement a well-chosen table. Unlike wooden or metal chairs, upholstered chairs provide a cushioned seat and backrest, making them ideal for those long, leisurely dinner parties or family gatherings. Whether you prefer a classic, traditional look or a more modern and contemporary feel, there are countless upholstery options to suit your taste. This versatility allows you to create an inviting atmosphere that reflects your home's aesthetic.
Selecting the Perfect Dining Room Table
Choosing the dining room table can be a daunting task due to the variety of styles, materials, sizes, and shapes available. However, considering your dining room's size and the number of family members primarily using the table can make the selection process easier. Note that rectangular tables fit easily in long and narrow rooms, while round ones are ideal for small square spaces. Also, the table's material should align with your decor style: rustic wood for a farmhouse look, sleek glass for a modern appeal, or marble for a luxurious touch.
The placement of the table is another essential factor. Ideally, it should be in the center of the room, away from the walls and any obstructing furniture. This placement gives an illusion of space and allows for easy movement around the room. Bear in mind that the dining table isn't merely a place to eat; it's also where memories are made. Therefore, comfort and style should go hand in hand when selecting it.
Choosing the Right Lighting for the Dining Room
Lighting is a vital element in any dining room. It creates an inviting atmosphere and enhances the room's aesthetic appeal. Proper lighting can create a calm and relaxed mood for casual dining, or a formal and polished atmosphere for special occasions. An overhead chandelier or pendant light positioned above the dining table can serve as a stunning focal point. The fixture's size and style should complement the room's decor and the size and shape of the table beneath it.
For added versatility, consider installing a dimmer switch to adjust the light intensity as needed. Meanwhile, accent lighting, such as table lamps or candles, can add warmth and charm to various corners of the dining room. Do not overlook the potential of natural light, which brings a feeling of freshness and has many health benefits. Large windows, glass doors, or a skylight can introduce plenty of daylight into your dining room.
Creative Ideas for Dining Room Wall Decor
When it comes to dining room wall decor, the possibilities are endless. One can use art, mirrors, shelving, wallpaper, and even architectural elements to add personality and interest to their space. Artwork, for instance, is always an excellent choice and can be customized to the room's color scheme and style. For a modern dining room, abstract pieces might be a good fit, while traditional spaces can benefit from more classic works.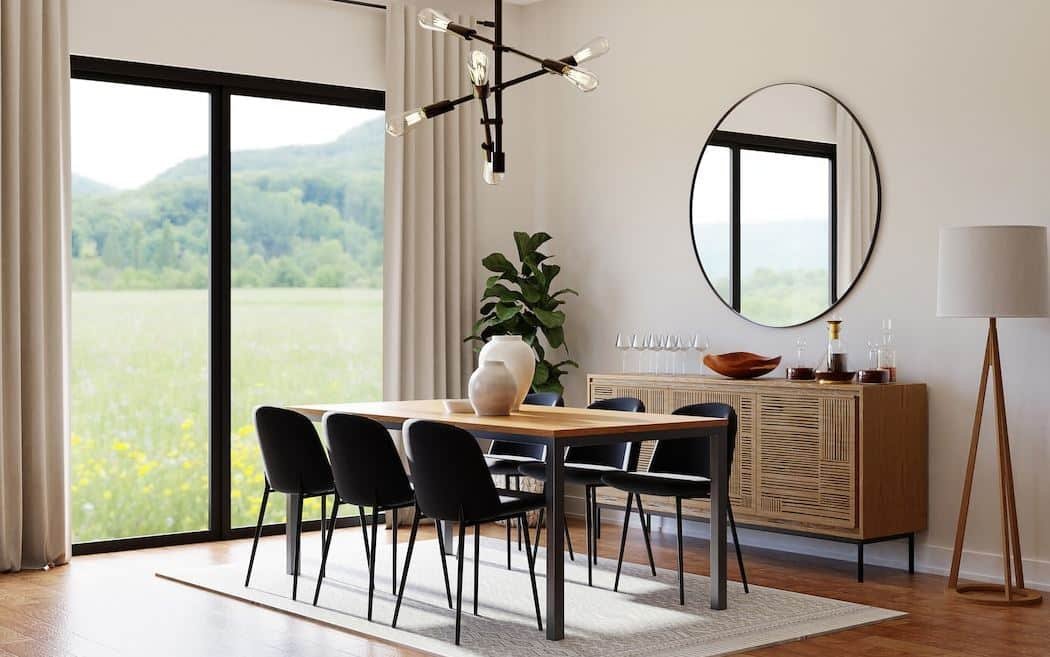 A large mirror can make a small dining room appear larger, reflect light, and enhance the room's style. Meanwhile, attractive shelving can display collections, books, or plants, adding a unique touch. Indoor plants in particular come with several practical advantages. Wallpaper, too, can have an astounding effect. A vibrant wallpaper can transform a plain wall into the room's star feature, and even an accent wall can introduce exciting contrasts. On the other hand, architectural elements, such as wainscoting or crown molding, add elegance and sophistication to a basic dining room.
As you can see, investing in the decoration of your dining room is important because it enhances the ambiance and functionality of your home. It creates a welcoming space for gatherings and allows you to showcase your style. So, take the time to carefully plan and invest in the decoration of your dining room, and you will be rewarded with a visually appealing and inviting space that will be enjoyed by all.