7 Best Food Catering Ideas at Your Office to Keep Staff Involved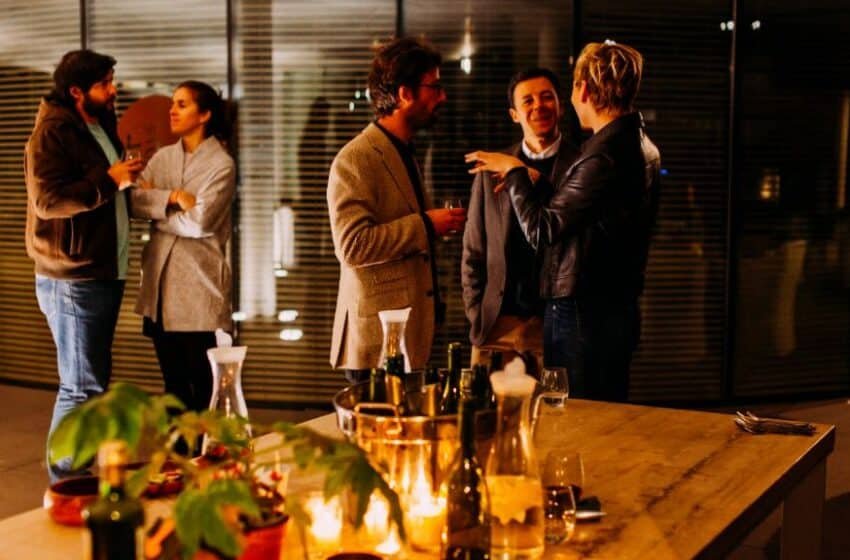 Catering is a great way to keep employees involved in group outings and events. In 2022, 30,559 caterers are operating in the US; therefore, plenty of options are available. Whether it's a holiday lunch or a summer barbecue, catering will ensure everyone has something yummy to eat and enjoy. Here are some of the best food catering ideas for your office:
Plan for an Office Happy Hour on Fridays
Happy hours are a great way to end the week, and they can be even better when you bring in food catering. You don't have to take your team out for drinks at a bar or restaurant; you can host a happy hour in your office.
Even though Fridays are when most businesses go out for a happy hour, it's not always easy for everyone to assemble at once. It also holds for teams that want to celebrate together but aren't always able to come together in person or through video chat.
You probably think this isn't feasible if you work in a small space in a shared workspace, but it works well. It is a terrific approach to celebrate the accomplishment with your employees at the end of the week by having the best get-together party. A tasty snack and fulfilling food will do wonders through happy hour catering. The key to the best happy hour catering use is to select food options that can be easily transported from one place to another without creating too much of a mess.
Some suggestions include the following:
Appetizers such as bruschetta bites or mini quiches.
Sandwiches on baguettes with several types of cheeses plus sliced tomatoes for garnish.
Seafood platters that feature shrimp cocktail skewers with sauce. Crab cake sandwiches on brioche buns served with tartar sauce and lemon wedges.
Breakfast Bar
A breakfast bar is a great way to include various healthy and filling options for your staff to start their day. Include fruits, nuts, and yogurt, so your employees have healthy alternatives to greasy morning sandwiches. Coffee and tea are also essential items at the office because they help keep people focused throughout the day. These breakfast bars should generally have the following:
Breakfast sandwiches: Choose from a wide range of choices like bacon, egg, and cheese; sausage patty; or even plain toast with butter or jam.
Pastries: For something sweet in the morning, consider muffins or scones, made fresh daily.
Healthy Lunch Buffet
You can also launch a healthy lunch buffet in your office. It is one of the best ways to keep your staff involved and interested in changing their eating habits. A healthy lunch buffet can be easily customized for any food catering needs, whether you prefer vegetarian or non-vegetarian lunch options for the office.
The key to success here is selecting healthy ingredients and preparing them to taste amazing. You could also include some desserts made with fresh fruits or nuts and some puddings or custard-based dishes.
Cocktail Catering
Cocktails are very popular. In 2021, the worldwide market for cocktails was valued at US 86 million dollars. Thus, cocktail catering is a fun way to bring the team together. It can be at your office or an offsite location for adults. You can also use Cocktail catering to celebrate a special occasion and help make it memorable.
There are many ways that cocktail catering can be done. It could include:
 A full-service bar with bartenders who serve drinks or walk around serving guests directly, depending on the size of your event.
A cash bar, meaning everyone buys their drinks using cash, where you provide various types of alcohol, or even nonalcoholic beverages, for guests to purchase on their own.
Depending on what type of cocktail party you have in mind, different kinds of food would go well with it. These may include appetizers such as chips & dip, cheese platters, and crackers that pair well with wine tastings.
Food to Fit the Season
Consider what's in season. The best seasonal food is fresh and local, so look at what's available in your area and choose accordingly. For example, if you live in California and it's January, you might consider using oranges as a garnish for your salad or salmon as the main dish of your lunch buffet.
Keep things simple. If you're serving a sit-down meal or just a buffet, keep things simple by focusing on quality over quantity when it comes to the ingredients of each dish. It means that you'll need fewer ingredients overall because they will be better quality than their processed counterparts. It means that your employees won't be left feeling ill after eating at work.
Pizza and Italian Food Day
Pizza is a great food to share with others. An exciting fact is that Americans consume 350 slices of pizza every second, or around 100 acres of pizza every day. It's easy to make and can be customized to suit everyone's taste. Pizza is versatile and can be made in many different ways. You can have something simple like pepperoni or more adventurous with toppings like sun-dried tomatoes, artichokes, and spinach.
Pizza is also a perfect option for lunch parties or events because it's convenient. All you need are some pizzas, preferably readymade, some drinks, and some plates/cutlery, no need for any cooking skills.
Mediterranean Meals
Mediterranean meals are a great catering option. Mediterranean food is delicious, diverse, and healthy. It includes food from countries around the Mediterranean Sea, including Greece, Italy, Spain, Lebanon, and more. Mediterranean meals include many dishes that you can share with your entire staff. Some of these dishes include:
Greek salad.
Hummus or chickpea dip.
Pita bread is used as wraps for falafel/seared halloumi with chicken, including tomatoes, olives, feta cheese & onions.
Dedicate a Day Every Month to Cultural Cuisine
Employees are more likely to be engaged in their work if they are also involved in social activities. Catering is a great way to unite employees and make them feel a part of the company and the team.
One easy way to do this is by dedicating one day every month to cultural cuisine. Then, when you choose a different country or region each month, you will expose your staff members to new experiences. In addition, it will allow them to explore things outside their comfort zone. For example, suppose an employee does not usually eat that food but tries it for the first time during your international lunch event. In that case, they will be able to learn about new customs and traditions worldwide while enjoying delicious food.
The benefits of having these events include the following:
Increased productivity.
Improved morale.
Increased communication between colleagues.
Increased revenue generation due to higher customer satisfaction levels through greater engagement among employees/customers.
Catering is a Great Way to Involve Employees in Group Outings and Events
Catering is a fantastic way to get staff members involved in team activities and events. It's an excellent way to keep employees engaged, as you can use it for many different occasions. Catering is also a great way to bring people together and create team bonding time, which is essential in any office environment.
You should consider catering for events like meetings, especially if guests or clients are present. You want to welcome new team members or celebrate someone's birthday in lunchtime gatherings. And you can also have catered at the annual company picnic or summer barbecue parties.
Read more: Flavorful and Healthy Weeknight Dinner Recipes for Two