Healthy Muesli Breakfast Options to Kickstart Your Day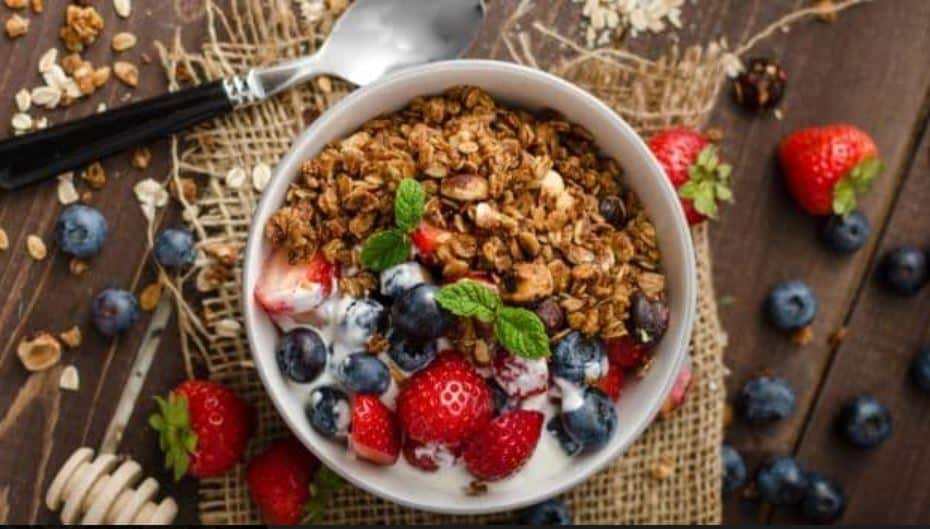 Are you planning to focus on your health after a long time? Well, then it's time to cut off unhealthy junk food from your diet and switch to a healthy bowl of Muesli!
If you aren't much aware of Muesli, here's what you need to know!
[lwptoc]
What is Muesli?
Muesli is a delicious, classic, and popular European breakfast that packs tons of nutrition in it. In several cases, muesli is available in packs with low sugar, high protein, high fiber, and several other breakfast choices. In the cereal family, Muesli is one such cereal that undergoes fewer processes, thereby providing complete nutrition. However, the question here arises, is it even healthy?
Let's look into it.
Is Muesli healthy?
Muesli is generally an oat-based cereal that comprises a mixture of dried fruits, oats, and nuts. To be more precise, Muesli contains tons of healthy protein, fat, and fiber compared to the rest of the cereals. In fact, it tends to be less processed as well.
Apart from tasting super delicious, there are huge benefits of consuming Muesli in breakfast. Although Muesli holds a potential amount of added sugar (through dried fruits), it is also rich in good fat and fiber and added minerals and nutrients.
If you are wondering about Muesli's benefits, you need to look into these benefits right away!
Benefits of having Muesli
Muesli is an excellent source of fiber that is efficient in Kickstart your day. Let's look into the benefits that it provides.
Containing a rich source of fibers, Muesli help your digestive system to stay healthy
It provides you with energy for your entire day This is another reason why you must start your day with a Muesli Breakfast
It is excellent to lower bad cholesterol levels
It keeps heart diseases and potential attacks away
It is a great option for people with blood sugar or blood pressure issues
It contains a rich source of minerals, protein, iron, vitamins, antioxidants, and omega3 fatty acids. These help your immune system to stay fit and healthy.
Muesli V/S Granola:
There isn't a lot of distinction in the dietary and nutritional benefit of the two solid breakfast choices. The essential distinction between them is that granola is a combination of solid & healthy grains and nuts that have been backed after adding sweeteners and oil while muesli is heated. So on the off chance that you need to take nutrition in raw structure you can go for muesli rather than granola.
Healthy Muesli Breakfast Options To Kickstart Your Day
Muesli is such a breakfast that you can have in various forms. You can consume a Muesli recipe for your entire week and still not get bored with having it for breakfast.
Here are a few healthy Muesli packs to keep in your breakfast options and kickstart your day.
Bagrry's Crunchy Muesli Oat Clusters:
This Muesli pack is rich in raisins and almonds. It has the goodness of honey as well, which makes it an excellent pack to go for. This pack contains 100% crunchy wheat, whole oats, golden cornflakes, and fiber-rich bran. If you consume this pack regularly, you can gain a proper amount of protein. Additionally, this will add an excellent change to your weight management goals. You can either have it like a snack or mix it with yogurt/milk.
Apart from this almond, honey, and raisin variant, there is another pack available in chocolate flavor and mixed fruit flavor. You can grab anyone according to your preference!
Yogabar Wholegrain Breakfast Muesli:
This is important. If you are a fitness freak, you might have come across the term – yoga bar protein bars. This pack of Yoga Bar Muesli is an excellent choice that you can consider. It consists of brown rice, oats, and quinoa, making the breakfast option extremely rich and nutritious. In addition to it, this pack is rich in chia seeds, apricot, flax seeds, raisins, pumpkin seeds, cranberries, and almonds to add phenomenal flavors along with rich nutrition to your bowl.
Apart from this pack, there are several other packs that you can consider. Yogabar offers Muesli in dark chocolate cranberry packs, turmeric+ginger packs, and almond+quinoa packs.
True Elements No Added Sugar Muesli:
This brilliant jar of Muesli by True Elements is another mind-blowing breakfast option for people who have diabetes or are trying to keep a check on their sugar levels. Apart from lowering your sugar levels, this jar is enriched with iron, protein, fiber and adds zero unnecessary carbohydrates to your body. If you don't like unflavoured Mueslis, True elements have another great variant of Muesli rich in berries. You can try that for a flavored breakfast.
Well, let's admit, Kellog's has been offering huge options for healthy breakfast consistently for years. Apart from cornflakes, Kellogg's is a famous brand for Muesli as well. Kellogg's Muesli pack is loaded with the goodness of iron, multiple vitamins, and fiber. The best part is, this pack is entirely free from cholesterol. Moreover, the extra fruits added to it enhance the taste of your meal and turn your boring bowl into a healthy bowl. You can have Muesli with yogurt applesauce, fresh fruits, peanut butter, and many more! If you wish to try DIY, we have listed a few DIY recipes for Muesli below.
This pack of Muesli provides you with a rich combination of ragi, foxtail, oats, quinoa, bajra, and jowar to help you Kickstart your day with a dash of a healthy meal. You get a brilliant flavor with this pack as it contains nuts and honey. Apart from these, the pack is filled with the goodness of nutrients and essential minerals.
You can either have it with curd or cold milk only after you soak it in milk or hot water or, later, refrigerate it.
DIY Muesli Recipes that you can try today!
Well, apart from these, you will be excited to know that you can even try DIY recipes using Muesli into your breakfast, thereby turning it healthy. Let's have a look at it!
Toasted Oat and Coconut Muesli: In this version, you need to toast both coconut and oats until the time it turns golden. Try it today to get a lavishing breakfast bowl.
Fruit and Oat Muesli: Similar to almost all the Muesli recipes, this option is simple too. Prepare this a night before and you can have a healthy, sweet, and delicious dish ready in front of you to kickstart your day healthy and bright!
Apple Muesli with Goji Berries: You can make this by adding a few good old apples, goji berries, and all your super favorite fruits into the meal to turn your bowl into a healthy and sweet meal!
Toasted Pumpkin Muesli: Well, is it necessary for pumpkin flavors to stay limited to autumn? Nah! Here's the twist. You can add some pumpkin pie and pumpkin seeds to your bowl. The more you add seeds, the more nutrition you get.
The bottom line
With this, we end this discussion. Besides being trendy, Muesli is highly healthy. Hence, if you are searching for healthy Muesli breakfast options to kickstart your day, this guide says it all.
Muesli is an ideal meal to put in a Mason jar, freeze it overnight, and have in the morning. Not only will you have a modern, rustic and trendy way of having breakfast, but Muesli will keep you full all day long with its nutrition and benefits!
Read more: Lamb Meat vs. Chicken? Which One Should You Get?