Here's Why Every Indian Household Needs a Wall Mount Fan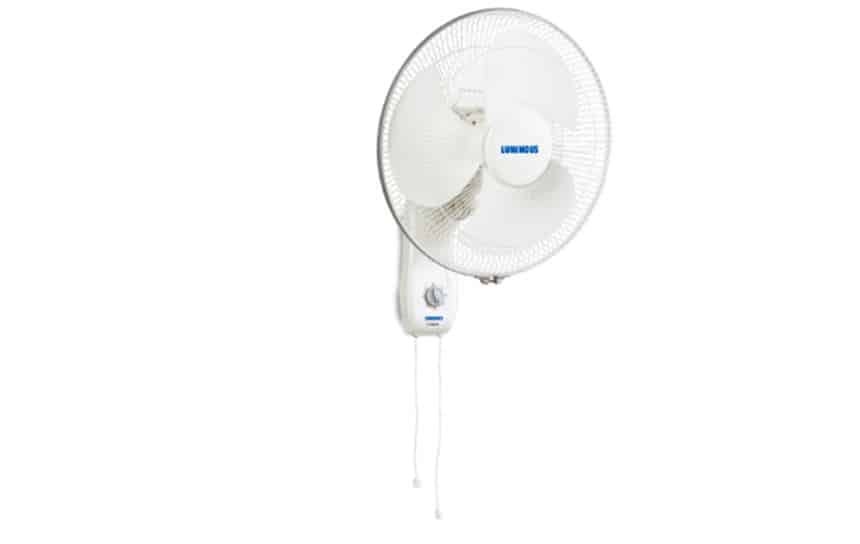 India is a country that faces extreme summers. This is why, almost every home in the country has some or the other cooling device. While ceiling fans are the most popular cooling devices, sometimes they're just not enough to beat the heat. In this situation one of the most efficient and cost-effective solutions is a wall mount fan.
Not only are wall mount fans incredibly effective, but they are also highly economical. This is one of the main reasons why this traditional fan design, continues to be immensely popular in the country. Let's look at a few other reasons that prove that every Indian household needs a wall mount fan.
[lwptoc]
Compact Size
If you're looking for a fan that wouldn't take up much space in your room, a wall mount fan is your best choice. These fans do not consume any floor space and can be neatly tucked away in the corner of the room. In addition to this, there are many compact but powerful wall mount fans available in the market that can be installed in rooms where space is at a premium.
Cost-Effective
As mentioned above, one of the main reasons that make wall mount fans a great option is that they're incredibly cost-effective. Not only are these fans available at attractive prices in the market, but their low maintenance costs and power efficiency also make these fans even more pocket-friendly. Another reason why wall mount fans are considered an economical choice is that due to their effective air cooling, they can significantly reduce our AC usage and cause a significant dip in our electricity bills.
Powerful and Effective
There are some fantastic wall mount fans available in the market that are powered by some of the most powerful and effective motors. These fans easily can circulate air in significantly large rooms, creating a cool and comfortable environment. One example of an efficient and powerful wall mount fan that you can go for is the Luminous Mojo Plus Wall Fan. This fan features a compact design but comes complete with a highly effective motor that makes this fan a perfect fit for bedrooms, drawing rooms, and commercial spaces alike.
Low Maintenance
This is also one of the biggest perks of a wall mount fan. These fans require almost no maintenance and can last you for years on minimum upkeep. All you need to do to keep your wall mount fan in mint condition is to wipe its blades and cage with a dry cloth every few weeks.
Perfect for Those Odd Corners
We all have that one corner in our homes that's shaped slightly oddly. If the ceiling is too crooked or the corners are too close, it gets hard to install a ceiling fan is such spaces. A wall mount fan works as a blessing for these corners and can be used to make them breezy and comfortable
Can Help in Ventilation
Are you looking for a way to make your storeroom or garage less stuffy or suffocating? A wall mount fan is an excellent solution. This fan is great for rooms that lack windows and can help increase ventilation in stuffy spaces.
Make a Smart Choice
A wall mount fan is undoubtedly one of the best choices for Indian homes. These cost-effective and practical cooling appliances can be used for homes that have limited space as they consume no floor space. From bedrooms to storerooms, these fans are an excellent choice for every room of your house.
But there's one thing that you need to keep in mind while shopping for wall mount fans and that is the brand. While there are a bunch of different brands to choose from, one of the best names that comes to mind is Luminous. Luminous is known for offering some of the best wall mount fans at the most affordable prices. So, if you're looking for a wall mount fan for your home, check out the Luminous website today!
Check this one too: Why Install a Ceiling Fan?