Mikkelsen Twins: Who Are They & Are They Legit?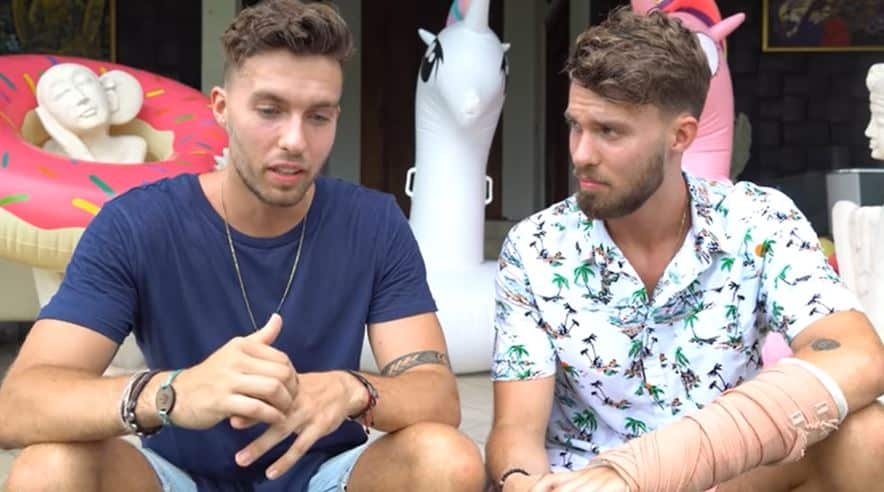 Christian and Rasmus Mikklesen, popularly known as the Mikkelsen twins, are two internet personalities best known for their Audiobook Income Academy Course.
They are true believers in making passive income and for them, the best way to do that is through selling audiobooks. That's what their main course is all about and what they preach via their YouTube channel.
In this piece, we will take a closer look at the Mikklesen twins to help you determine whether you can trust them enough to buy their Audiobook Income Academy course. By the time you finish reading this, you should also have answers to questions like: are they great at what they teach? and can audiobooks earn decent passive income? among other questions. Keep reading to find out more.
[lwptoc]
Who are the Mikklesen Twins?
Christian and Rasmus Mikkelsen are the twin brothers behind The Publishing Life (review on NoBSIMReviews.com) They sell a course called Audiobook Income Academy which teaches you how to make passive income through selling audiobooks on Amazon.
Rasmus Mikkelsen and Christian Mikkelsen always tell people that they were not the high-achievers they are these days.
Underachievers in School
When they were in school, they were both incredibly shy. They didn't engage in many meaningful activities and, therefore, were largely unnoticeable. They stayed quiet in class and hated being called on by the teacher.
At the time, they couldn't even entertain the thought that they would in future be earning a living by placing themselves in front of a camera talking to millions of strangers on the internet.
Living in Denmark
When they graduated high school, they felt as though they were destined to be losers. They packed up their stuff and moved to Denmark where they lived for a couple years. During their time in Denmark, all they did was get high on weed and work odd jobs to sustain themselves.
In 2015, it hit them that they were not living a good life. They had effectively hit rock bottom.
Going Back to School
Therefore, they decided to move back to their home state of New Jersey to live with their parents. All this time, they kept asking themselves what their life purpose was. They had no idea how could they contribute to society and felt like they were an embarrassment.
It was while they were in this state of self-reflection that they each paused to have a genuine internal conversation. They each vowed to change their lives and they would start working hard to achieve that.
The first step they took was to enroll in a local community college. This time they approached school differently because they worked hard and got straight As.
It was a much-needed confidence booster because now they knew that they were not total losers; they realized that if they put their minds into something, they could achieve greatness.
While they were in in school, they took up a job to deliver Chinese food to earn money for sustenance. While they were driving around delivering the food, they'd each listen to audiobooks and self-help podcasts.
The message that those podcasts and books hammered home was one of getting rich. Therefore, they decided to drop out of school and work on becoming rich. So, they started looking up ways to make money online.
Dropshipping and Self Publishing
After doing their research, they tried out various business models to see which one would carry the day.
Rasmus ventured into dropshipping while Christian started a self-publishing business. A year in, Christian was making more money than Rasmus as a self-publisher so Rasmus decided to join him.
In those early days, they did Kindle publishing where they would have eBooks ghostwritten and sell them on Amazon. After working on that for a while, they decided to look for narrators to narrate those books and turn them into audiobooks, which they would then sell on Audible.
The one model that worked better than others was self-publishing books. This model is straightforward: carry out market research to identify a topic that has a higher demand than supply.
Then create an outline based on competitor analysis and research. After that, write the book or find yourself a ghostwriter. The last step is to hire a designer to create your cover and format.
The main reason they insist on outsourcing some of the work is that doing everything by yourself is not always the most efficient way of running an Amazon publishing business.
Why create something that is substandard when you can hire someone who's more skilled to produce quality work.
Success in Self-Publishing
It worked like a charm because by January 2017, Christian had made his first one thousand dollars in a month. By December of that year, he was bringing in ten thousand dollars a month.
The books they publish were on topics like the keto diet, CrossFit, Python programming, BBQ recipes, how to get good grades in college, and other topics they liked.
Having created a successful online business, they decided to live as digital nomads. So they moved to Thailand and lived on fifteen hundred dollars a month, which gave them a pretty decent life.
Then they started traveling the world, visiting places like Croatia, Spain, Bali, Australia, Japan, Egypt, Italy, Hawaii, and Mexico.
The publishing business sustained them throughout their adventures and in hindsight, they admit that it was one of their wildest experiences. All they did was travel, make money, and do whatever they wanted. It was a life of freedom.
However, it almost all went away because Christian got greedy. You see, the mistake he made was that he translated one of his books into a couple of languages to make more money.
The problem was that the translations were sub-standard and his account got many poor quality strikes that eventually led to a total ban.
Online Coaching
With their reliable source of income gone, the Mikkelsen twins had to make a tough choice: either go back home to live with their parents or find another way to make money.
They chose the latter. Their new business idea was making YouTube videos talking about their self-publishing journey hoping to help other people achieve the kind of success that they had gotten. That was how Audiobook Income Academy and Publishing Life were conceived.
They now claim that you can make as much money as you want if you have the right model.
YouTube Channel
Christian and Rasmus run a successful YouTube channel with around 62,000 subscribers as I write this. It gives them a platform to share their ideas on self-publishing, mindset, and lifestyle.
The kind of videos they publish varies and they regularly get several thousand views per upload:
Out of all the videos on the channel, the one that caught my eye was the featured video titled: "Make $1,000/month by publishing ONE book on Amazon (without writing the book yourself)"
In this video, one of the twins goes all in on why he thinks there is no better way to make passive income online than self-publishing a book on Amazon. He insists that you don't even have to write the book yourself because you can hire a ghostwriter.
The video is essentially a crash course on the steps you need to take to publish your first book and start making money.
Publishing Life
Publishinglife is an online education business that teaches people how to create income online on Amazon and Audible.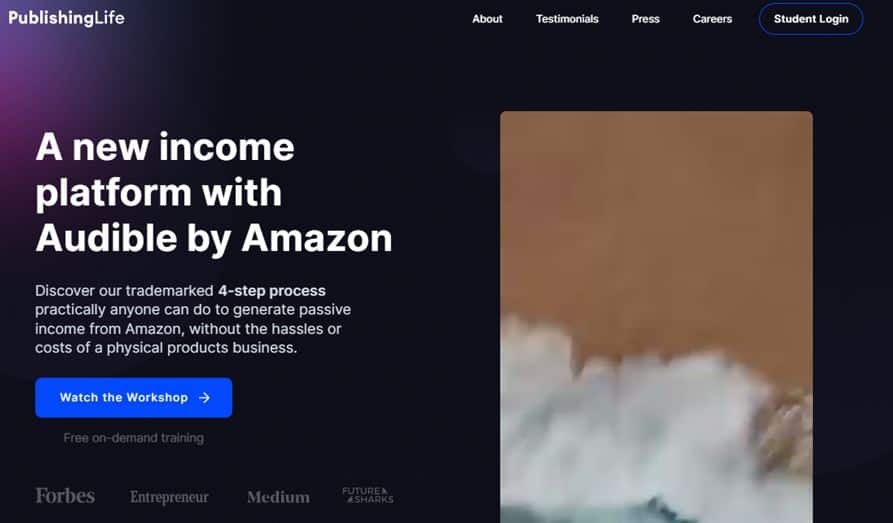 The main course offered on the platform is Audiobook Income Academy (formerly Audio Income Academy), a global program with over 20,000 students and counting where the twins teach their unique method that makes self-publishing the fastest and most effective way for you to earn passive income from anywhere.
The Mikkelsen twins are pioneers in the Audiobook publishing space.
They insist on turning your books into audiobooks. Rasmus has been quoted saying:
"If you haven't had your book professionally narrated and published as an audiobook, you are leaving so much money on the table. I think many believe it's expensive to hire a professional narrator so they don't even try, but Audible has a database of over 100,000 narrators you can hire with just the click of a few buttons. You can get professional talent to narrate your audiobooks for less than $180,"
The course boasts students from all backgrounds where they enjoy personalized, hands-on programming to achieve financial independence. This is all backed by the power of Amazon.
Social Media
The Mikkelsen twins have an Instagram account where they share their ideas on how to make passive income on Amazon.
They also use the platform to promote their courses on Publishing Life and their books.
The Freedom Shortcut
The Freedom Shortcut: How Anyone Can Generate True Passive Income Online, Escape the 9-5, and Live Anywhere is a book written by the twins where they share their formula for achieving financial freedom and living a good life.
To their credit, the twins openly admit that like most people, they used to believe that the best way to live life involved going to college, getting a job, then retiring at 65. They followed this path but about a week into working their first full-time jobs, they found that they hated their lives.
They realized that they would not be happy living a life where they spent the majority of their time working hard at a job to help someone else achieve their dreams while all they got was a paycheck to cover their rent, food, and other bills.
They decided that they'd never settle for a life like that so they decided to find an income stream that would be making money online thus allowing them to live a life of freedom.
The Freedom Shortcut is their step-by-step guide to earning an income online so that you never have to work in an unfulfilling job to get paid. They insist that the tips they offer in this book do not also get you working 10 hour days behind your laptop to make a little bit of cash. They insist that with their help, you will be earning the kind of income where you don't have to open your computer all the time and you get to travel all around the world. Meanwhile, deposits hit your bank account every month bringing you passive income.
It details exactly how they escaped the rat race and how they've helped other people do the same.
The Freedom Shortcut has 6 modules:
The Foundations – Here, the twins discuss passive income and how their business model works.
Choose – Here, they walk you through the process of choosing your niche
Outsource – You learn how to outsource the hard work to experts
Launch – You cover how you can optimize your business launch for maximum sales
Multiply – How to multiplying your income streams
Discoveries – They detail the lessons they have learned after helping 10,000+ Students
They claim that the insights in this book make it the equivalent to a college degree, but instead of accumulating debt, it takes you months to start making money.
Net Worth
By some estimates, the Mikkelsen twins' net worth is at three million dollars each.
Christian and Rasmus Mikkelsen make most of their money from The Publishing Life. Through it, they sell a course called Audiobook Income Academy that teaches people how to make passive income through audiobooks.
The course costs $1,997 if you pay for it in one payment. Alternatively, you can pay for it in three installments of $797.
Since the Mikkelsen twins no longer publish their books, they earn the majority of their income from course sales.
Are the Mikkelsen Twins Legit?
The Mikkelsen Twins are legit. They have been teaching people how to self-publish for the past few years through their Audiobook Income Academy course.
The only blemish to their record is that if you search the Mikkelsen twins on Audible, you won't find any titles by them. There are no books by either Rasmus Mikkelsen or Christian Mikkelsen.
Does that mean that they are scammers? Well, they have a good explanation as to why they are not on Audible. First, as we mentioned earlier, Christian's account was banned a few years ago when in an effort to make more money, he translated one of his books to multiple languages.
Those translations were poor and it led to his account getting banned. Therefore, he and his brother decided to teach people how to publish new audiobooks without doing so themselves after the ban.
On top of that, when they started offering the Audiobook Income Academy course, they were too busy to publish their own books. They spent more time focusing enrolling students and addressing their concerns and answering their questions. They sacrificed their publishing side of the business to take better care of their students.
And finally, they no longer publish because what worked for them a few years back still works today. They figured that if they teach their students well enough to get great results, that's all that mattered. To them, it's like how a football coach that was once a great player now teaches his players how to be great players. The coach doesn't have to run around on the pitch but they know what it takes to succeed.
On top of that, they have hired other people who are running successful audiobook businesses that they are actively working on. If students want examples of current successful businesses, they can get that from those coaches.
Conclusion
Rasmus and Christian Mikkelsen are the founders of PublishingLife, an online education and coaching company that teaches people how to create income online on Amazon and Audible.
While many people think that the only way to make money on Amazon is by selling physical products, they discovered a different way back in 2016 when they each wrote a short book and published it on Amazon as an ebook and a print book. The first two books did not become bestsellers but they sold a few copies thus providing them a bit of income. This proved that this model worked and so they went all in.
They dedicated the following years to learning the ins and outs of this newly-discovered business model. They learned how to create books and audiobooks that produce life-changing income for a long time. They decided to launch their YouTube channel and a few online programs to show thousands of people how to make money on Amazon using their methods.
The Mikkelsen twins have been showing people how to publish audiobooks over the past few years. Their AIA course has been a hit and people have attained success by implementing the lessons in the course.
According to the twins, you have to put in a lot of hard work to build a successful publishing business. Although they talk about the trappings of running a successful business (like the income claims of making $1,000 or more a month), they don't shy away from talking about the hard work and sacrifices it takes to succeed.
They've said countless times that they are not running a get-rich-quick scheme. They want you to build a successful business and that will require hard work and time to see the results. They see it as a skill that requires honing over many months to master.
Therefore, if you sign up for any of their courses, do not expect to publish your first audiobook and start making money instantly. It will take time to get things nailed down and, ultimately, there are no guarantees that you will make money because sometimes, businesses fail.
Check out: Jonsson Protein Review: Is The Hair Treatment Worth Getting?