The Most Popular Online Casino Games in 2022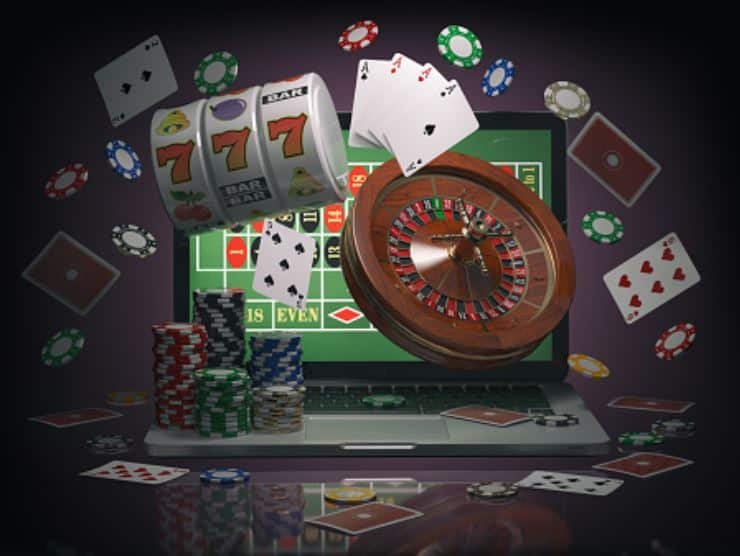 Have the itch to play a few rounds of cards or spin some slots for some cash? If the nearest casino is a long drive away, you're in luck. Online casino games are more popular than ever, and they may even be legal in your state.
Let's break down the state of online gambling, plus go over some of the most popular online casino games of 2022, right now.
[lwptoc]
What Are Online Casino Games?
In a nutshell, online casino games are digital versions of the same gambling activities you can enjoy at a casino in Vegas, Atlanta, or anywhere else. The only difference? You play them on your desktop or mobile device like a smartphone.
Online casino games are available in many different varieties. Many of the best titles have fantastic, super fun graphics and engaging gameplay options. These days, there are dozens of high-quality online casino game creators and operators, including full-on online casinos.
Are Online Casino Games Legal?
Technically, no. But the situation is a bit more complicated.
At a federal level, online gambling is still flatly illegal. More specifically, gambling operators can't legally provide online gambling activities if they're based in the US. That hasn't stopped a lot of operators from basing their operations in Canada, Mexico, and overseas!
Furthermore, it's not illegal to place an online bet. So, for instance, if you find a trustworthy online casino site and you want to play a few slots or rounds of cards, you can do that completely legally, provided that your state says it's fine.
Each state in the US has its own gambling laws. Most states allow some form of legal gambling online – the only two exceptions are Utah and Hawaii, which don't allow any online gambling whatsoever. Nevada is the opposite; you can gamble practically anywhere in this state both in person and online.
Can You Play Online Casino Games for Real Money?
If your state says it's legal to gamble online, you can gamble for real money. But keep in mind that most states also differentiate between slots or table games and online poker. Some states, for instance, might let you play online slots for money, but not online poker or vice versa.
Best Online Casino Games
If you're not sure where to start your online gambling adventures, good news – there are plenty of fantastic online casino games to try. Here are just a couple of options. And do not forget to read more information about online casino games before to start playing your own money.
Blackjack
Blackjack is a staple both at in-person casinos and at online casinos, and for good reason. Also called 21, blackjack is easy to jump into and super popular since you can play a few rounds in a matter of minutes. You can usually find blackjack at all online casinos, both for real-world money and for online or sweepstakes currencies like gold coins.
Poker
Online poker is also popular, but most states only let you play sweepstakes online poker legally. Regardless, Texas Hold 'Em is the most popular version of poker in the US, but you can find a few other variants here and there.
Regardless, lots of people like online poker since it's a chance to test your cunning and skill against other players, not just against a computer. Many of the best online poker sites even include regular online poker tournaments!
Slots
Slots are a massively popular category of online casino games. These are quick to enjoy and cheap to play, but they often have big potential payouts (especially if you play progressive jackpot slots). Some of the most popular 2022 online slot titles include:
7 Fortune Frenzy, which has a 96% RTP or return to play or percentage
Book of 99, which has an even higher RTP percentage of 99%!
Cleopatra's Gold, a progressive jackpot slot that has 20 different pay lines, a graphically stunning ancient Egypt theme, and a maximum bet of $100
Live Casino Games
Then there are live casino games, which live streams footage of a dealer handling cards or moving chips around at a real casino in real-time when you play! Live casino games are rare, but they are exceptionally popular and becoming more common at online casinos all the time. Most live casino games include roulette, blackjack, and occasionally poker.
Bingo
Finally, is online bingo, which is particularly popular among older adults. Online bingo is simple yet endlessly entertaining. Most online bingo games let you click on a screen if you get a line or a full house rather than using a pen or pencil to cross out numbers on a physical pad.
Conclusion
These games just scratch the surface of what you can find online. As the industry expands, we'll likely see ever better offerings with live dealers, better graphics, and even more engaging gameplay.
Check out: Different Types of Online Casino Games You Need to Know About