3 Basic Cloud File Managers to Help You Manage Your Data
The recent European Cup has finally come to an end. As a big fan, you must have taken many interesting and loving pictures by your cameras or phones. Imagining that you have shot or screenshot a lot of precious pictures that you won't delete, but you are running out of your local storage, so you may start to upload them to cloud drives such as Dropbox, OneDrive, and so on.
However, it is tedious to manage a great deal of data in different cloud drives. For example, if you want to transfer photos in different cloud drives to one cloud drive, most of you may download those photos from cloud drives first and then upload them to another one, which just makes you exhausted.
So, is there any technical tool that can help you? The answer is yes. Cloud file manager can make it easier to manage files efficiently. This article compares3 different cloud file managers showing you the pros and cons of 3 basic tools. If you are interested, keep reading!
[lwptoc]
What is Cloud File Manager?
Cloud file manager is a professional tool that helps you to manage various cloud drives in just one place. If you have more than one cloud drive, you must have experienced this: when it comes to transferring files from one cloud drive to another, you will be annoyed because of account shifting.
However, with the help of a cloud file manager, you can easily transfer from one cloud drive to another: migrate Dropbox to OneDrive, for instance. Also, it can help sync data from one cloud drive to another, aiming to meet users' demands to the greatest extent.
Is it Possible to Manage Your Cloud Drives by Third-party Tools?
Now, let's take a look at those third-party tools and figure out whether they can help manage your cloud drives better.
MultCloud:
If you are looking for a tool to help you transfer your data from one cloud drive account to another with a bad network connection, you could ask MultCloud for help. With this feature, you can still transfer your files even if the connection is interrupted. On top of that, it also provides you functions such as "Remote Upload" and "Cloud Sync".
WondershareInClowdz:
If you have two different Google Drive accounts and want to manage your cloud files without account shifting, you can use WondershareInClowdz to help. With this feature, you can easily manage your cloud files from different accounts in just one place. Apart from that, it offers features including "Transfer" and "Sync".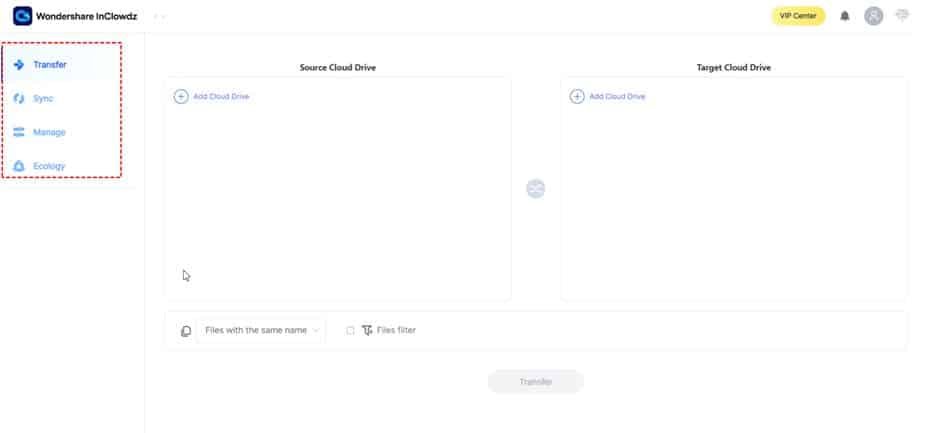 CloudFuze:
If you have a large size of data to migrate and do not want download-and-upload since it is tedious, you could try this technical tool. It provides two forms of service: one is for "Individuals", the other is for "Businesses".
Thus, as you may see from the description above, those third-party tools can help manage your cloud drives when you encounter different problems. You can use them to transfer files, sync data, and share to others.
In this case, it is important for users to know which one suits them best when handling cloud files. In the following part, there will be some comparisons among those 3 basic cloud file managers. You can choose the best one for you after reading it.
First of all, let's have a look at the similar features of those three.
Similarity:
Secure: Those three cloud file managers will not save your data in your cloud drives.
Convenience: Users can manage many cloud drives in just one place.
Easy Cloud Migration: There are just a few simple steps before you transfer your files.
Various Functions: You can transfer files, sync data, and share with others.
Judging by similarities might not help you make a choice. So, now, let's focusing on the differences among them.
Comparison:
Price: MultCloud supports 30GB of data traffic per month for free and 150GB data traffic per month for $9.9. It is the cheapest one among those three. WondershareInClowdz is a little higher than MultCloud, charging $9.95 per month for 150GB. Compared to others, CloudFuze is the highest one:50GB per month for $9.99.
Scheduled Transferring: For MultCloud users, they can set scheduled transferring and syncing no matter you are a free user or not. However, it is not accessible for free users of WondershareInClowdz and CloudFuze. For your information: even if you buy a basic plan of WondershareInClowdz, you cannot use this feature and you have to pay more for the annual bundle than you could use.
Offline Transfer: Among those three tools, only MultCloud can transfer files from one cloud drive account to another even when the computer turns off suddenly.
Application Installed: You can download WondershareInClowdz to your PC, while MultCloud does not have a mobile or PC application.
Amount of Cloud Drives: MultCloud supports more than 30 popular cloud drives in the market both for free users and paid users. In contrast, WondershareInClowdz only supports 5 cloud accounts for free users.
In the End
In a word, MultCloud offers scheduled files transfer and sync, offline upload and supports more cloud drives for free users. So free users can use more features compared to the other two.
While for paying users, MultCloud offers the same amount of data traffic as WondershareInClowdzat at the cheapest (monthly) price.In addition, CloudFuze is slightly more expensive and not suitable for individual use compared to other two. On the other hand, companies can try CloudFuzeandfindthe plan that works best for them.
Read more: Cloud Consulting Services for Business Enhancement