5 Best iPhone Tracking Apps You Should Know About
Monitoring apps are seeing growing popularity as they answer many of the questions we ask ourselves about our loved ones. What's more, they are always at hand, giving us the confidence and peace of mind we need to continue our daily activities. So let's take a look at the list of the best iPhone tracking apps available right now.
[lwptoc]
How Do Tracking Apps for iPhone Operate?
Despite the differences and competition between the brands, gadgets running on iOS can be easily monitored from, say, Android. In the modern market, there are two ways to install and use iPhone tracking apps:
One method is to purchase a subscription, create your online user account, and install an iPhone tracking app on the target device to view activities remotely. Thus, the target device will be jailbroken and will need your direct access for configuration.
The second method also involves subscribing and creating an account, but you can avoid the step with the target gadget tampering. What you need to do is simply input the target user's iCloud credentials to link with their iPhone and view collected data as it comes in.
What Is the Best Tracking App for iPhone?
In just recent years, the online monitoring landscape has changed a lot for the better, while the ranks of tracking applications have replenished with names with a good reputation. However, you are unlikely to be able to click on the first product you see on Google and land on the best tracking app for iPhone. Therefore, you can rely on this review and choose a spy app depending on your purpose.
If you just want to know where family and friends are, you'll probably be fine using Google Maps or Apple's Find My; if your reasons for tracking someone require more stealth and discretion, you may find one of the apps listed below more suitable. GEOfinder, SpyBubble, FamiSafe, XNSPY, and iKeyMonitor often make the top list of the best iPhone tracking apps.
The 5 Best iPhone Tracking Apps of 2022
When choosing an application, the future account holder should consider whether it meets their needs for features, as well as prices and availability of customer support.
SpyBubble – Track Your Cheating Partner with a Hidden Tracking App for iPhone
SpyBubble is one of the top iPhone tracking apps that aims to dispel suspicion and uncover cheating in a relationship by offering state-of-the-art tracking features. These include social app tracking, contact lists and call logs, GPS location tracker, access to photos and videos, reading outgoing and incoming emails, monitoring internet browsing history, etc.
Price
$49.99/1 month
$89.97/3 months
$149.88/12 months
Pros
Deleted data monitoring
Keylogger
Secret app installation alert – discover hidden apps installed
Users can remotely control spy app settings without physical access
Cons
The website and dashboard look outdated
FamiSafe – Is It the Best App for Tracking iPhone?
FamiSafe maintains its position as the best iPhone tracking app that prioritizes concerned parents, giving them peace of mind by tracking their children's digital space. Its features include detailed screen time monitoring, a recap of daily app activities, remote scheduling of app usage and duration, web browsing history tracking including deleted websites, word and picture filters, driving habits tracker, etc.
Family Plan price:
$10.99/1 month
$20.99/3 months
$60.99/12 months
Pros
Informative app for parents on teen sexting and other potentially harmful activities and apps
Ability to lock and block age-restricted, inappropriate apps from your teen
YouTube and TikTok tracking
Cons
Can easily be uninstalled by the device owner
GEOfinder – Anonymous Location Tracking Made Possible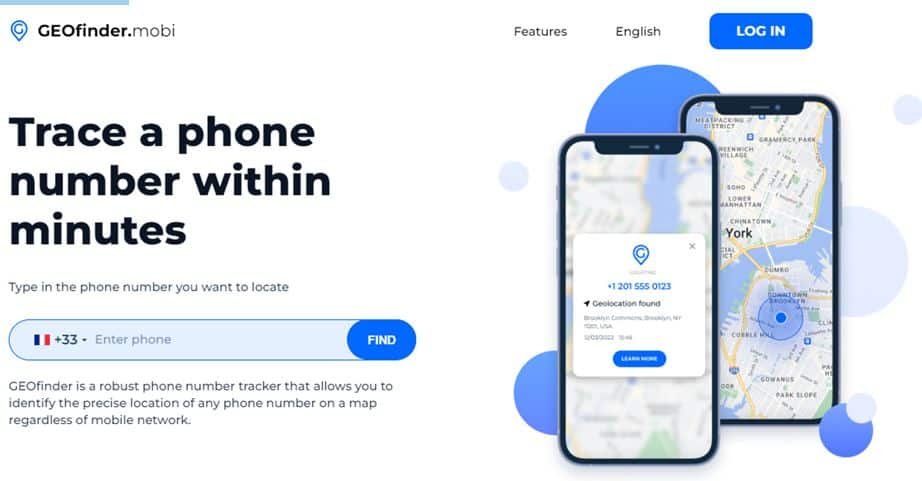 GEOfinder is a remote GPS tracking tool that only needs a telephone number to track a location and allows you to spy on iPhone without Apple ID and password. No installation is required, so no physical access to the target device is needed. It's completely anonymous, locates any phone by telephone number with just a text, and works with all cell phone networks.
Price plan
$39.99 for a one-month subscription.
Pros
Compatible with all smartphone models
Track Android or iPhone location in a few minutes
One of the best apps for tracking iPhone with no physical access
The account holder's identity remains hidden
Cons
High price just to track location activity
SMS can be sent every 3 hours
XNSPY – An iPhone Tracking App to Meet Your Tracking Needs
XNSPY is another iPhone tracking app focused on helping parents monitor their children for safety reasons. This product offers to track specific activities, contacts, words, or locations with the help of watchlist alerts. Besides, you can:
read their iMessages, SMS, emails, or social media messages,
follow their social media use,
track location without permission,
view date and time stamped incoming and outgoing telephone calls,
access lists of contacts and caller IDs, etc.
Price
1 month/$35.99
3 months/$20 per month
12 months/$7.50 per month
Pros
Extensive social media monitoring, including dating apps such as Tinder
Set instant alerts for things that matter to you, such as contacts, areas, keywords, etc.
Cons
Needs jailbreaking to access some monitoring features
It's not possible to set screen time limits
iKeyMonitor – Your Best Free iPhone Tracking App
iKeyMonitor is a free tracking app for iPhone and Android phones offering free basic features and a fee-paying upgrade on demand. Its free plan incorporates call history, SMS logs, and GPS location tracking displaying the last 20 data entries, while add-ons include features such as websites visited, messenger tracking, keystrokes in the native language, remote photo reports, etc.
Price
Free basic features with upgraded add-ons
$9.99/3-day add-on upgrade
On-demand 1-month upgrade – from $16.66
Pros
The basic free plan is comprehensive
The on-demand option gives the option to try upgrades without committing to a lengthy contract
Cons
The upgrade is pricey compared to some tracking apps' subscriptions
Can I Track the Target iPhone Without Using an App?
It's possible to track an iPhone without installing an app, but the features will be limited to location tracking only. If everyone involved is using Apple devices, they can be linked, for example, by using Find My, but this does require an app, albeit not a spy app specifically.
Find My iPhone – Universal Free Tool for iOS
Find My (iPhone) is undoubtedly one of the best iPhone tracking apps, free to download from the Apple store and made exclusively by Apple for Apple users. Any adaptations and workarounds aren't needed for it to work on iOS. However, you'll need to enable permissions on your and the other device so that the monitoring process runs smoothly, and with a stable internet signal, tracking can begin immediately.
Besides being one of the best tracking apps for iPhone, Find My can also spot a lost iOS device as long as it's linked to the main account. Furthermore, Apple's Air Tags can be attached to any phone, person, and item, and when linked to the main account, they track just about anything.
GPS Tracking with Google Maps Accessible to Anyone
With Google Maps Timeline, the geography of your target device throughout the day can be disclosed in a matter of seconds. GPS tracking with Google Maps is a practical – and free – option if you want to find out someone's location. This is how it works:
Access Google Maps online or via the app, and add the email of the target person(s) to your contacts.
Go into your Google account, find Location Sharing in the drop-down menu, and choose the contact from your contacts list.
They will receive a Location Sharing request which they can choose to activate or not. Location sharing can work one-way or both, depending on the permissions approved by the users.
Provided you have an internet connection, location updates of other phones will regularly show on the map. The downside of this method is that all parties involved in Location Sharing can choose to opt out at any time.
How to Use Tracking Apps for iPhone
After researching, be sure to read the instructions on how to install tracking app on iPhone before purchasing a subscription. Remember that it is better to opt for one of the best spy apps for iPhone that offers a stealth mode and will help you hide the icon if necessary to make the whole process invisible.
Determine how much you want to know and decide whether you need to install software or just enter the iCloud credentials to get it started. Once you have completed a set-up, the information collected is uploaded via the internet to your private user account, where you can see it on the dashboard. After that, no extra action is required from you!
FAQ
Is it legal to use an iPhone tracking app?
Yes, it's legal to use it if the device user is aware of it and has given permission. In certain jurisdictions, monitoring your underaged children is allowed, so it's better to consult before enrolling in a subscription plan.
Do I need to jailbreak an iPhone to use tracking apps?
If you are using an Apple-powered app, then you won't need to jailbreak your iPhone. Free tracking apps for iPhone are available on the Apple store, for example, Find My. If it concerns a non-Apple tracking app, you may need to jailbreak your phone to use some of the advanced features or use the iCloud credentials to set it up.
Can I use iPhone tracking apps without iCloud details?
Yes, you can, but the accessible information will be somewhat limited. With GEOfinder, you only need the target's telephone number to track their location. Google Maps and Find My require the contact's email address. If you are looking for a hidden tracking app for iPhone, you are recommended, though, to get hold of iCloud credentials.
Final Words
Before committing to tracking apps for iPhone, research your options thoroughly by establishing your budget and going through reviews of the best iPhone tracking apps compatible with your device. If you have any questions, you can ask the app representatives in the instant chat available, for example, at SpyBubble.
Check out: How to Spy on WhatsApp Messages Without Target Phone