Top 11 Graphic Design Tools for eCommerce Sites
There are many elements to consider when developing a good eCommerce site. It isn't just about essential design features like color, typography, images, simplicity, and functionality. You can't ignore the ease of navigation, page layouts, mobile optimization, among other things.
You should understand that you have seconds to grab the consumer's attention. If a store's design doesn't attract visitors or isn't updated frequently enough, they are unlikely to stay longer to learn about your business.
It's no secret that it is easier for people to perceive information visually than to read endless product descriptions. For this reason, brands try to excel in the online competition by creating eye-catching visual content and reaching their audience on different headless commerce platforms.
Therefore, we have put together the top 10 graphic design tools for your online store that you can employ and increase your creativity.
[lwptoc]
10 Graphic Design Instruments for Creating Compelling Online Store Content
1. Canva
Canva is an amazingly simple online graphic design service. Here, you can create a letter, poster, business card, banner, screensavers on social media profiles, etc. The editing process and manipulations with a picture or photo take place on the site. You can register with your email or Facebook account to get started with building your design in Canva.
When you are ready, you can find all created projects automatically saved in the profile. Further, you can publish them and share them via popular social media such as Instagram, Facebook, Twitter, etc. Simultaneously, you can download the finished product to your computer in PNG, JPG, GIF, MP4, or high-quality PDF.
Screenshot taken on the official Canva website
The developers consistently increase the number of available templates. By the way, the service is free, but some of the elements, for example, finished photographic illustrations, are paid: from $1-2 per item. You can choose a custom picture size and not only proceed with ready-made shapes. The service, among other things, offers a large and varied selection of fonts in English.
2. Adobe Creative Cloud Express
The Adobe Creative Cloud Express application, first of all, suggests using the prepared templates on the main screen. Among them, you can find many exciting options. However, most clients crave originality, so using off-the-shelf templates will probably not work for you.
First, you need to select the image size, after which the editor will open. Next, you need to choose a background (3 options: your photos, free wallpapers, and filling). Notice that you can add multiple wallpapers at the same time. On the left, you can see the number of widgets that remind the Canva editor.
You can add a photo, text, icon, or logo to the poster. The button "Templates" displays the prepared design solutions for the attractive layout of the text and images. With the help of "Palette", you can change the color palette of the background filling and the text itself on the image.
Screenshot taken on the official Adobe Creative Cloud Express website
Spark Post is highly functional and helpful for those engaged in professional design and as a tool for eCommerce sites. However, it is also suitable for ordinary users who want to embellish life, at least to social media content.
3. Snapseed
If you fancy getting great pictures for iOS and Android, this free editor would be right up your street. First of all, Snapseed is pretty easy to utilize. Immediately after opening, the application will prompt you to select a photo from the gallery. And you will go to editing the image, where you will see three tabs: "Looks", "Tools", and "Export."
Looks are a collection of filters that you can apply to your photo. Unfortunately, you cannot customize styles manually in Snapseed. But they can be created. All you need is to edit the image and select the "Save settings" function.
If you'd like to share your style, you can apply the QR code. After scanning it, the device automatically overlays the saved style on the image. If you want to get the best quality when saving a picture, do not forget to select PNG or JPG 100% in the "Quality and format" item.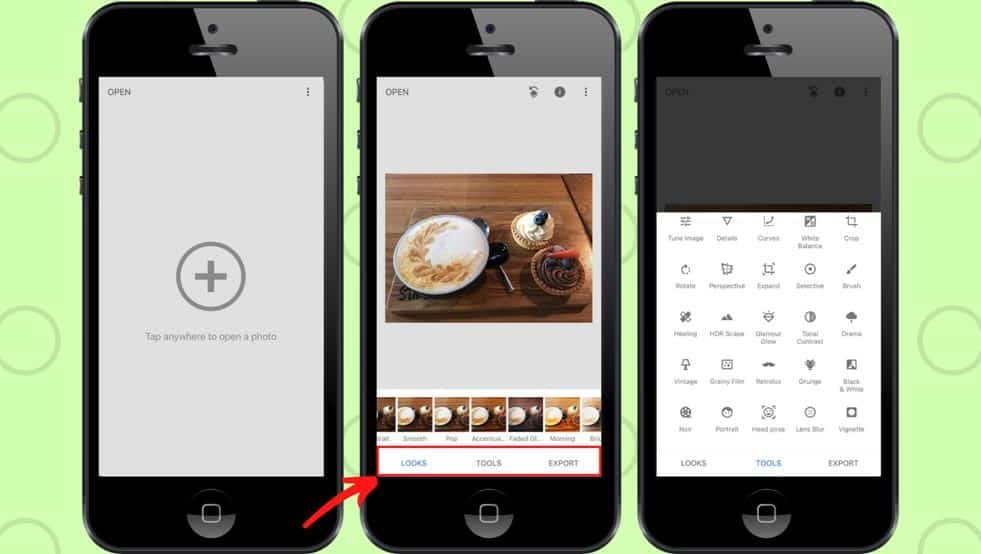 Screenshot taken on the official Snapseed mobile app
4. Pixlr
The Pixlr app is an online service that is used to edit photos and other pixel images. It is intended primarily for people who don't have extensive training and specialized knowledge in computer graphics. Therefore, the service has a simple interface and precise work algorithms. But at the same time, it allows you to perform a wide range of image manipulations.
Pixlr is a potent online photo editor that can replace popular Photoshop in some cases. It is noteworthy that it requires only a browser to be installed on your computer and nothing else. The functionality of the editor itself gives the impression of a professional tool for processing photos. It is a splendid graphic design instrument for eCommerce sites as it will help you upgrade your images for product pages, social media posts, or blogs to promote your brand.
Screenshot taken on the official Pixlr website
5. Figma
Figma is a cross-platform online service operated by front-end designers, marketers, managers, and web developers. It is available via Mac, Windows, and Linux. Designers can choose the free or paid version.
The development of interfaces occurs in an online application, where you can create an interactive prototype of the site and application, illustrations, vector graphics. Many designers who want to work flexibly with interface graphics make website layouts in Figma and transfer them to Tilda. Figma boasts two key features, namely access to the structure directly from the browser window and the ability to collaborate with multiple designers on documents in real-time.
Figma's strength is that it is a web application with general prototyping, auto-layout, and resource libraries. Figma, best defined as an interface design tool, provides an opportunity for various stakeholders to participate in managing results. In Figma, you can add as many team members as you like to be free spectators. They can leave feedback via comments on your project to make adjustments.
Screenshot taken on the official Figma website
6. GIMP
GIMP (GNU Image Manipulation Program) is a free program for working with raster and vector graphics. A group of volunteers is currently developing the program. There is a version not only for Linux but also for Windows and macOS.
GIMP was created as a handy tool for simple photo correction, creating graphics and logos, as well as retouching and converting images into various formats. But at present, its capabilities have been significantly expanded, including with the help of a system of installed add-ons.
The editing area takes the central place in the GIMP window. Here, all the changes you have made are displayed concurrently. The left and right panels contain tools, parameters of layers, history, color selection, and so on. You can configure their location, features, and behavior with a special menu. You can trigger it by clicking the triangular button next to each panel name.
Screenshot taken on the official GIMP website
7. Pixc
Pixc is a picture editing service that has been designed with eCommerce in mind. With it, you can create professional product photos on your online store. Consequently, you enjoy a better customer experience and sales conversion growth.
The essence of the service is that it removes the background and applies subtle reflections or drop shadows. The main goal of Pixc's development was to provide a service that would make any image look retail-ready.
It is cheap, simple to utilize, and allows integration with Shopify, BigCommerce, Magento, and other major eCommerce platforms. With speedy turnaround times, this image-enhancing service represents a platform to collaborate with all your team members.
In short, Pixc makes it easy to create images without backgrounds to fit many marketplaces. All you need to do is upload all your pictures to get an updated photo in 24 hours with a clean background and improved quality. You can try this service for free to see how handy this tool is for your store.
Screenshot taken on the official Pixc website
8. Promo by Slidely
Promo.com is a B2B product. It helps the eCommerce business grow with the power of video. This popular cloud-based video creation service allows marketers and designers to create videos from stock photos, music, and clips. It is a source of over 12 million templates from world-renowned partners, pre-edited licensed music, and a user-friendly interface.
Promo.com allows customizing messages and logos in a blink of an eye. Since its release, this famous video maker has enhanced hundreds of thousands of businesses with the tools and content. And in turn, Promo.com reportedly doubled staff and increased cash flow. With the help of it, enterprises promote their products and services across social media platforms.
Moreover, they create campaigns to increase traffic, build brand awareness, and boost engagement. Content creators can employ this service to edit and enhance their video campaigns with custom text, logos, and licensed music.
Screenshot taken on the official Promo.com website
9. Illustrator
Illustrator is a tool employed to work with vector graphics. Using this software, web designers can create logos, sketches, typography, icons, and even complex illustrations for video or mobile devices. With Illustrator, you can quickly and easily produce seamlessly aligned images and pixel-perfect shapes.
This program is also equipped with its own plugins. Some are designed for older versions and contain many additional features for newer versions.
For example, the Creative Cloud app that you can utilize on both desktop and mobile. As part of Creative Cloud, subscribers get access to a collection of software used for graphic design, web development, video editing, photography, along with some optional cloud services. It is an excellent graphic design solution for your eCommerce site to turn a blank web page into a great-looking one.
Screenshot taken on the official Illustrator website
10. Plotagraph
Plotagraph is software that, in its essence, resembles the cinemagraph technique. The cinemagraph takes a video clip and stops a part of the footage but allows others to continue playing. It gives the impression of a still picture with moving parts. In contrast to this technique, Plotagraph maneuvers an animation technique that makes still images move.
This option is better than cinemagraph because it doesn't require careful planning, tripod, and complex processing. The program adds animation to the part of the still image where you need it. Plotagraph is available in a lite version for iOS from iPad, iPhone, and Android.
It can be applied to create a looped video or APNG (Animated PNG) from a photo, illustration, or drawing that is animated using proprietary algorithms. It offers both a standard set of tools reminiscent of other graphic design programs and unique tools to regulate which elements to animate, which direction to animate it and at what speed.
Screenshot taken on the official Plotagraph Youtube channel
11. Crello
Crello is among the best and most user-friendly infographic makers on the market. You'll create impressive and professionally-looking infographics with its help: The extensive library of trendy templates and intuitive built-in editor is at your service even if you register a free account there.
Everything you need for designing an infographic in Crello is to choose a layout, drag and drop all the necessary elements (objects, texts, animations, etc.), and save it in a preferable format. You can also upload images, fonts, logos, or animations to the library and customize them accordingly.
Crello has a massive collection of professionally designed templates for everyone to craft all types of visual content online. Besides infographics, they offer instruments and layouts for any purpose: More than 50 formats are available, including those for social media, web, print, and ads.
Features​ of Crello
30k+ pre-designed, fully customizable templates
200M+ royalty-free stock files from Depositphotos
Library of audio and video files
10k+ animated designs
Drag & drop editor
Extensive photo editing: crop, blur, rotate, resize, flip, add frames, remove backgrounds, and more
50+ design formats to create visuals for any purpose
Export in different file formats
Pricing
Individual account for one user, free (some advanced features unavailable)
Pro accounts for $7.99/month.
To Sum Up
In the modern world, the speed of content consumption plays an important role. For this reason, it is necessary to create such conditions so that the visitor wouldn't face difficulties with perceiving this content. Companies struggle to increase page load speed, provide fantastic UX/UI across all devices, and saturate their eCommerce sites with informative images and videos.
The perks of visual content are tremendous since it tends to be much more shareable and riveting. Images and videos regularly get spread more virally, permitting you to expand the reach and viability of your content. So, there are a plethora of tools that you can take advantage of in the competitive sphere of eCommerce.
Related Post: Logo Makers to Try Out for Your Business!