Hunting Gear And Equipment: 8 Essential Items For Beginners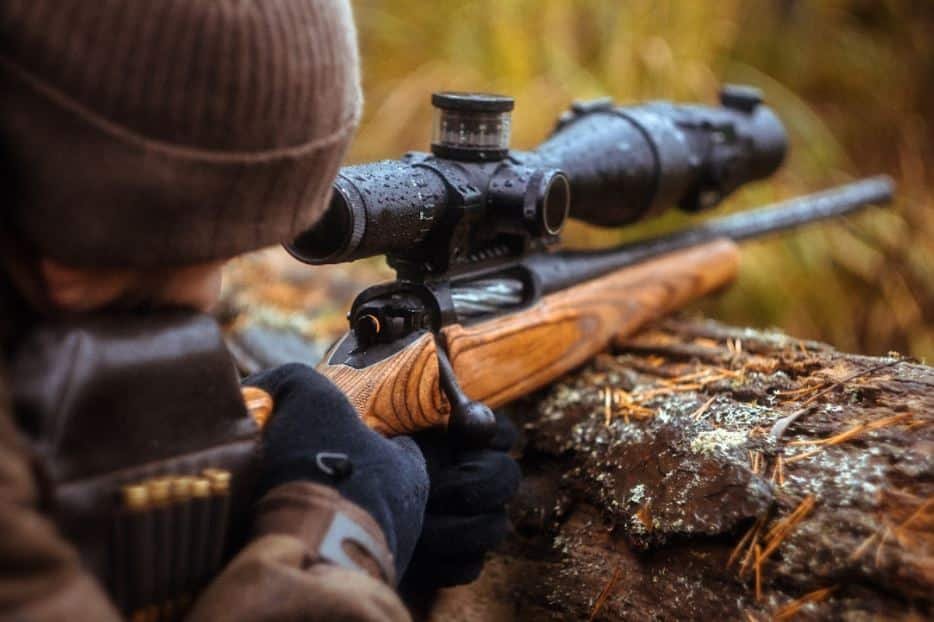 Nothing beats the thrill of your first hunt, whether you're 18 or 45. But regardless of your experience, preparation is crucial to making any hunting day a success.
Of course, you'll need to have your license with you, but what if your first hunt turns into your first kill? Will you have everything you need? Here's a list of things to consider bringing and using before going hunting for the first time:
[lwptoc]
The ideal hunting weapon for a beginner is heavily debated. Some say compound bows are the way to go, but mastering a bow takes more effort. You must also be within 30 yards of an animal to shoot it, which may cause anxiety in new and seasoned hunters alike.
With that said, it's a good idea for new hunters to begin with a firearm. First, learning to shoot a gun or rifle properly takes far less time. Second, these weapons have a longer effective range, increasing your chances of being able to place some hunted wild meat in your fridge at the end of the day.
One of the most popular hunting rifles at the moment is the AR-15. This can be equipped with AR 15 ammo and a variety of barrels and lengths ranging from 16" to 20", but if you want accuracy over any distance, you should go with the longest barrel you can obtain. If movement is restricted, however, a shorter barrel may be preferable to move the weapon and hit the target.
The upper and lower receivers must match your ammo and allow you to completely customize your firearm. You can get a high-quality 80 lower to complete your build and maximize the results you'll get from your rifle.
If you are going to be hunting waterfowl, then you'll be wanting to buy a 12g shotgun.  A shotgun can also be used to hunt medium-sized games with slugs, or with buckshot.  the Benelli M4 is a good and popular shotgun that can withstand all kinds of abuse from weather and hiking.  You can find some Accessories for Benelli M4 from Rx Arms.  They carry premium accessories for this shotgun to make it truly your own.
A GPS device is a must for today's hunter. The dense woods and trees on hunting grounds make it easy for anyone to get lost.
A handheld GPS will help you find direct hunting paths. This kind of gadget aids hunters in marking trails and timestamps. It'll also help you locate tree stands.
It'd be useful to compare your scouting findings to the GPS data you get. However, a map is a fine replacement in case your GPS fails should it get wet or run out of batteries, which would cause you to lose your trail.
Hunting Essential Clothing
Be prepared and comfortable throughout your hunt by keeping important hunting gear on hand. While every hunt is different, there are items you should never leave for hunting without.
Your attire should be comfortable no matter how the weather is. Walking long distances can cause you to feel hot, so wear light clothing. It's preferable to add layers of clothes as it becomes colder than to be too hot in overly warm attire. Remember to carry waterproof clothing such as a raincoat as well as a tarp in case it rains too much and you want to wait for it to go away. Along with your waterproof gear, layering is key to regulating your body temperature and keeping you comfortable throughout your journey. Investing in quality clothing will ensure you have a safe and enjoyable experience in the great outdoors so don't forget to pack appropriate gear like Everest hunting clothing.
Boots and gloves are equally useful in the cold. A camouflage hat could also make you feel comfortable while hunting.
Colorful clothing will expose your hiding spot even before you start hunting. Fortunately, there are numerous camouflage options available on the market. Camouflage clothing will help you approach your prey without alarming it.
Rifle Scopes, Binoculars, And Rangefinders
Rifle scopes and night vision scopes are required if you're not bow hunting. Night vision scopes are essential for hunting in the early morning hours before the sun rises. Binoculars are the go-to hunting gear for scouting terrain or spotting game from afar. After spotting your prey, use a rangefinder to determine its distance.
In spite of your fragrance or laundry detergent, the animals you're stalking to hunt will likely be able to smell you from a mile away. Use a scent-killing solution to wash your clothing before going hunting.
Include matches, a first aid kit, a whistle, disinfectant, ibuprofen or paracetamol, bug repellants, an emergency blanket, and a blister kit in your survival bag.
You'll need a durable and waterproof backpack of high quality. After all, it won't do you any good to have a strap or zipper fail in the middle of a hunt. Ensure that it's comfy, is padded well, and has a waist strap.
Hunting Knife And Game Bags
A good hunting or dressing knife is sharp, has a nonslip handle, and is of the right size and length for your hand. Although it's easy to sharpen stainless steel blades, they tend to dull more quickly than carbon steel ones, which are more difficult to sharpen. You can choose based on your needs and preferences.
Of course, after dressing your game, you must find a way to transport it, and this is where game bags come in. These are specially designed to hold meat after a hunt to protect it from flies and contaminants. Cotton game bags are affordable, but they're no longer useful when wet. Meanwhile, those made from synthetic materials are durable, can be washed, and prevent moisture from getting to the meat, though take note that they're pricier.
Conclusion
Each hunter has unique needs, which vary depending on the area, their goals, their preferences, and the current season. They should be well equipped to enjoy and make the most of the sport. Remember that safety gear is necessary in any situation. With the items above, your hunting success is almost assured, so see to it that you don't forget to add them to your checklist of essentials.