How to Make Regular Photos Look Amazing?
Ordinary cameras sometimes fail to deliver impressive pictures, which are also called regular photos. This happens due to poor lighting in the scenery or lower hardware quality. These regular images require treatment from post-processing software to make them look amazing. If you want to know how to make your photos look amazing, keep reading this article.
Vertexshare Photo Effects
This is a photo enhancement app, that's available for Windows and Mac OS for free. Simply download and install to get started. With this software, you can generate cool effects on your images very easily. You can use photo editing apps. You can crop images, change exposure and color settings, adjust white balance, apply filters, remove small imperfections, etc. Let's just say that it'll allow converting an ordinary picture into a stunning image with the help of built-in presets.
Advantages of Photo Effects
Photo Effects is very easy to use as it's designed for beginners. There's no need to possess heavy designing or editing skills to use this app.
You can get started super-quickly. Just download, install, and Voila!
Applying filters is as easy as eating an apple. Seriously! Just click on the filter, and the software will automatically apply it to your image.
The app uses sliders to adjust the color tone values. You'll see the results instantly.
It's lightweight software, that doesn't demand heavy hardware to run properly.
There are 15+ filters to choose from. This means you'll never run out of preset effects.
Using Photo Effects for Amazing Photos
The next thing you'd probably want to know is how to use Photo Effects to make photos look great. Let's cover that.
Download and install the app. The software offers the same features whether you're using it on Windows or Mac OS. Only the touch and feel changes due to the OS environment.
To upload the image from the file menu. When the loading completes, it'll appear in the center of your screen. That's called "Stage".
All the filters will be visible on the left. It's a scrollable list. You'll find the names along with the thumbnails.
Click on any filter and the effects will be visible instantly.
Each filter has its own set of exposure, shadows, highlights, tone mapping, etc. These are adjustable through sliders, which you'll find on the right of your screen.
Slide the slider to view results immediately.
If you're unsure about what a filter does, see the thumbnail. However, it's best to click and apply the filter to see the results more accurately. If you're not happy with the results, simply undo them.
After the editing work is done, finally, export the new image. For that, click on the yellow button on the bottom-right of your screen.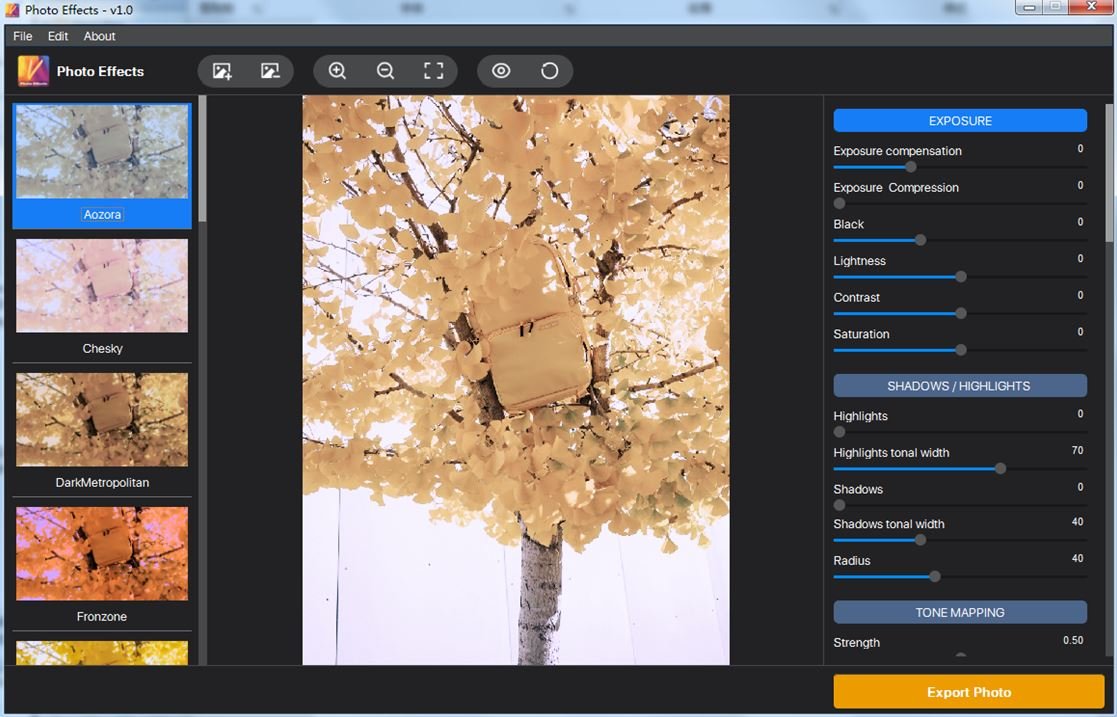 Using Photoshop For Amazing Photos
Just like Photo Effects, you can use Photoshop to make amazing photos. How? Let's see.
Download and install the free version.
Load the image from the File menu.
Again, go to the File menu and choose the "save as" option. Click Okay if prompted. That'll save a copy of your original image so that the real image stays untouched.
Image enhancement tools are present in the Filter menu. Click on it and choose the desired tool such as Pixelate, Sharpen, Noise-> reduce noise, etc. They all target to make your regular photos look amazing.
Adjust the brightness and contrast by going in the Image menu -> Adjustments, Brightness/Contrast. A pop-up window will appear. Slide the slider to adjust the brightness, or simply type the value in the textbox.
When the editing work is completed, save the file. Simply select the "save" from the File menu. You'll now have the original image (untouched) along with this newly edited image.
PicMonkey
PicMonkey is a professional photo editor that runs online through a web browser. Why's it a professional photo editor? That's because it offers 3 paid subscription plans to choose from based on your needs. Alternatively, you can start your free trial, but for that, you need to register on the website first.
Using PicMonkey To Make Amazing Photos
Wondering how to get started with this cloud-based photo editing tool? Here are the easy steps.
Visit https://www.picmonkey.com/
Click on the button that says to start your free trial.
Sign up with an email. Enter your email address and a password of your choice and register.
Within a few seconds, you must be logged in automatically and you'll be redirected to the interface.
A pop-up window will show up asking to select a paid plan of your choice.
Of course, you'd want to skip this step. So, click on "Skip it for now" on the top-right corner of the pop-up window. Do not proceed with a paid plan for now.
The interface will then ask what you want to do. It'll display a list of tools and activities that you can perform there. So, let's say suppose we want to enhance your image, in which you're not looking up to the mark. This means there will be a human in the image.
Click on "Touch up a photo". It must be 3rd
A window will open. Browse to your image location on the computer and click "open".
Let the tool upload your image on the server. Once finished, you'll be redirected to the editing screen.
On the left, you'll find tons of tools. They're categorized as "Skin", "mouth", "eyes", and "the rest". So, suppose you want to touch up the skin, select a tool from that category.
Play around with the tools. It's easy to use. When finished, find the download button on the top-right of the screen. It'll download your edited image on your computer.
Photomania.net
Photomania is another online tool that you can add some amazing effects to your photos. It has several components including the Artistic, Fun, E-cards, Overlay, and Valentines. You can find different styles and effects in the five components.
How to use Photomannian
The process is quite simple. You can follow the next steps and learn how to add effects to your general pictures.
Open your browser and go to its website. Wait for a while until the page load fully. As it is an online tool, you may need to wait based on your local network. And you should obey their policy to upload your images.
Upload your picture. In this step, you can drag and drop your image to the dashboard. Photomannian will accept and upload the image immediately.
When uploading finished, you can select the different styles and effects on the toolbar which is on the left of the screen. Click each of them and you will see the results instantly.
When finished, click the "Save as" or "Download" button. You will get the image downloaded from their server. Please note, these photos are watermarked.
Pros and cons
Photomannian works great and provides different photo styles that you can have a try. It is free and no registration at all. If you like its services and results, and not care about uploading your images, it is a good choice that deserves a try.
Moreover, it has already provided the Apps on Google Play and AppStore. It makes the process simple by uploading the photos from your iPhone or Android phone.
The only thing that you should note is the watermark. But you can try some third-party editing tools to remove the watermark.
ImageOnline.co
Imageonline.co is an online image editing tool, that allows free image processing and editing to enhance them. It offers tons of reliable and interesting features that you can use for your benefit. It's a great way for beginners to get comfortable in the image editing world.
Enhance Images in Imageonline.co
Visit the website, and you'll find the list of tools on the left. Select any one of them for example "pixelate image".
Upload or drag and drop the image. Use the slider to adjust the values. Now click on "Pixelate Image" and the cloud servers will take care of the rest.
Repeat these steps for other image-enhancing tools on the website.
Conclusion
There are several online and offline software to enhance your image. Photoshop is a tricky software and requires knowledge and editing skills in advance. However, other alternatives are extremely easy to use. You can even opt for the online cloud-based tools as they're user-friendly as well. Most photo enhancement tools nowadays are designed for beginners.
Please remember not to pay for any software unless you've used it for a while. All the tools offer a free demo or trial so that users can try it out for free. If you're satisfied with the product and need a paid plan, then you shall spend money on it.
Related Post: How to make a photo black and white? Two efficient ways