Modern Bathroom Ideas That Epitomize Luxury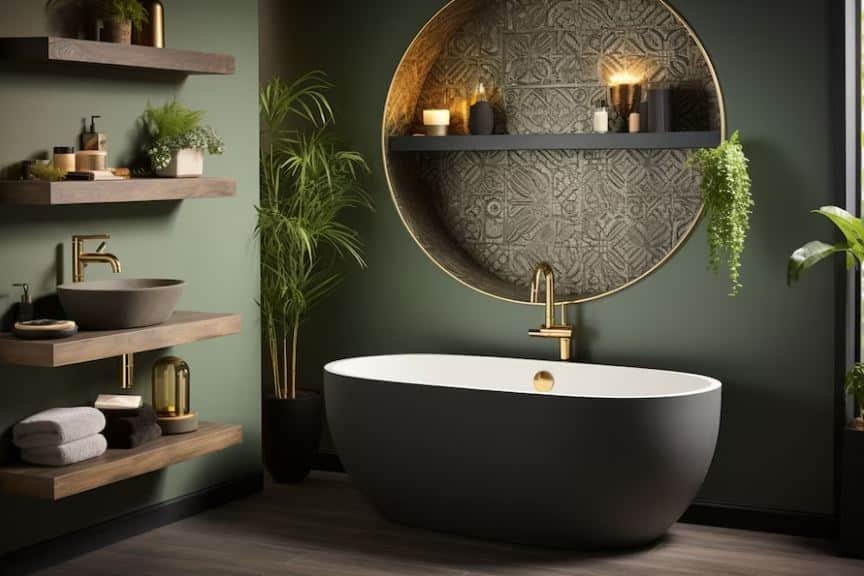 The development of the bathroom in the field of interior design has been nothing short of amazing. It used to be a practical area used only for hygiene, but it has now changed into a haven of luxury and tranquility. Modern bathrooms are no longer on the periphery of design concerns; they now play a crucial role in the development of opulent living spaces. A treasure trove of modern bathroom ideas awaits, each promising to immerse you in a setting that oozes refinement, whether you're starting an ambitious bathroom renovation project or simply looking for inspiration to improve your existing area. So, here are some of the most important things you need to know if you wish to turn your bathroom into a tranquil spa-like retreat.
High-End Materials and Finishes
The careful selection of high-end materials and finishes is the very basis of luxurious bathroom design. High-end materials like Carrara marble, granite, or premium ceramics must be taken into account if you want to design a contemaporary bathroom that oozes wealth. These materials guarantee that your bathroom will continue to be a symbol of luxury for many years to come in addition to their innate elegance and incredible lifespan and durability. The result is a bathroom that oozes refinement from every imaginable aspect, a space where every element reflects a devotion to excellent design and quality craftsmanship. These fixtures are typically coupled with elegant accessories in finishes like brushed nickel or polished chrome.
Soaking Tubs and Walk-In Showers
Freestanding soaking tubs or roomy walk-in showers are replacing traditional bathtubs for people who seek the pinnacle of bathing experiences. The deep and immersing bathing experience provided by soaking tubs, which are frequently made of materials like cast iron or composite stone, is reminiscent of the tranquil enjoyment found in upscale spas. However, walk-in showers with frameless glass enclosures, luxurious rainfall showerheads, and carefully placed built-in seating options offer a contemporary, spa-like setting. With their unmatched comfort and style, they provide you the chance to revitalize your senses, making each shower a getaway from the stresses of everyday life.
Smart Technology Integration
Luxury bathroom design has evolved beyond only aesthetic considerations in today's quick-paced society to include ease and utility. Here, the intelligent technology's smooth integration has a prominent role. Consider being able to easily adjust the lighting, temperature, and even your preferred music with a single touch or voice command. Imagine voice-activated mirrors that do more than just reflect your image; they also show the weather forecast and other information, giving your daily routine a futuristic feel. By hiring experts like Chiswick Plumbing Services, who can manage the challenges of smoothly incorporating technology into your bathroom design, you can ensure a seamless installation of these technological marvels.
Underfloor Heating
With the installation of underfloor heating systems, you can say goodbye to the agony of stepping onto chilly tiles on a frosty morning. In addition to keeping your feet toasty warm, these systems do away with the need for unattractive radiators or baseboard heaters, adding to the luxurious bathroom's signature sleek and uncluttered look. They give an extra layer of comfort and sophistication to your bathroom, transforming it into a haven of warmth and relaxation. They are not only understated but also amazingly energy-efficient.
Statement Lighting Fixtures
Statement lighting fixtures are essential to the creation of a unique bathroom design. As focal points, chandeliers, pendant lights, or strategically placed wall sconces can add a touch of glitz and refinement to your bathroom. These fixtures' warm, gentle illumination creates a very tranquil atmosphere that amplifies the room's overall sense of grandeur. Your bathroom may become a refuge of peace and aesthetic delight with the proper lighting, with every crevice bathed in a refined and welcoming radiance.
Custom Cabinetry and Storage Solutions
Optimizing storage with custom cabinetry also involves giving your bathroom a distinctive feel. Imagine a modern, wall-mounted vanity with built-in sinks that are perfectly tailored to your needs and tastes. Ingenious built-in organizers, soft-close drawers, and creative storage options are not only practical; they also guarantee that your bathroom is kept clutter-free, upholding the sense of richness and organization that is crucial in luxury bathroom design. To achieve a seamless fusion of usefulness and aesthetics, every little thing—from the materials chosen to the hardware design—is meticulously taken into account.
Minimalist Design and Clean Lines
The saying "less is more" usually rings true in the world of contemporary luxury. Adopt a minimalist style that is defined by clear lines and a simple color scheme. It is possible to create a quiet and beautiful ambiance that highlights the quality of the materials and fixtures by using colors like pure white, calming beige, and sophisticated soft grays. Consider using items like fluffy towels, beautiful vases, or even carefully chosen artwork to add a pop of color or texture. The success of minimalist bathroom design, where each element is carefully chosen for an elegant and opulent finish, depends on maintaining a unified yet opulent atmosphere.
Natural Elements and Greenery
Bathroom design is continuing to follow the trend of seamlessly fusing indoor and outdoor spaces. Create a spa-like refuge in your bathroom by incorporating natural materials like wood or stone. Think of the satisfying feel of wooden accents or the calming influence of stone surfaces. The space is given a breath of fresh air by adding potted plants or a vertical garden, which encourages relaxation and a strong sense of connection to nature. Beyond adding to the bathroom's overall opulence, these natural components help create a tranquil and restorative ambiance, turning your bathroom into a sanctuary of luxury and indulgence.
Spa-Like Bathroom Accessories
Consider adding spa-like furnishings to your contemporary bathroom to capture the true essence of luxury. A touch of opulence can be added with plush bathrobes and slippers, turning your daily activities into a vacation at a five-star resort. Purchase luxurious towels and bed linens, choosing supple, absorbent materials that will wrap you in comfort. To provide maximum enjoyment after stepping out of the bathtub or shower, place these items on towel warmers. The spa-like ambiance can be enhanced with upscale soap dispensers, fragrant candles, and even a carefully chosen collection of bath salts and oils, making every time spent in your bathroom a relaxing experience.
Personalized Touches and Artful Decor
If you want your modern bathroom to genuinely represent your distinct sense of style, think about adding individualized details and beautiful décor. Purchase original artwork or photographs that speak to you and go well with the color scheme of the bathroom. Introduce decorative accents that act as fascinating focal points, such as elaborate mirrors, exquisite mosaic tiles, or hand-painted sinks. Your bathroom can become a gallery of luxury with the addition of carefully chosen vases, sculptures, or even a strategically placed indoor fountain. Your bathroom is transformed from a simple practical area to a lavish setting by these unique and artistic accents.
Soundscaping and Entertainment
Think of including soundscaping and entertainment components to create a truly immersive and opulent bathroom experience. High-quality speakers that are covertly mounted in the walls or ceiling can fill the room with your favorite podcast, calming music, or even the sounds of nature. Imagine relaxing in your standalone tub while being surrounded by the tranquil sounds of the ocean or a classical symphony. Your bathroom will be transformed into a personal home theater when combined with a waterproof, wall-mounted TV or a smart mirror that serves as a screen for entertainment. With these audiovisual upgrades, your bathroom transforms into a haven for amusement and escapism from the stresses of the outside world in addition to a place to unwind.
Sustainability and Eco-Luxury
Consider adding sustainability to your bathroom design to achieve the look of contemporary luxury. In addition to lowering your carbon footprint, eco-friendly materials like bamboo cabinetry, low-VOC paints, and recycled glass countertops give your room a touch of ethical elegance. Utilize water-saving toilets and fixtures to save money without sacrificing performance. Reduce the need for artificial lighting during the day by strategically placing windows or skylights to take advantage of natural illumination. In addition, solar-powered water heaters may heat water while using less energy. By incorporating eco-luxury into your bathroom, you can contribute to a more sustainable future while simultaneously creating a haven of luxury.
The modern bathroom has evolved from a practical requirement to a place where comfort and luxury coexist together. Your bathroom may become a haven of indulgence by carefully choosing high-end materials, incorporating smart technology, and embracing attractive design aspects. There are numerous ways to design a bathroom that embodies luxury, whether you're drawn to the crisp lines of minimalist design or the coziness of natural components. Your bathroom may transform into a haven of luxury and relaxation with the proper elements and an unrelenting dedication to detail, providing you with a daily escape from the chaotic outside world.