Top 5 Tips for Designing your own Moissanite Diamond Jewelry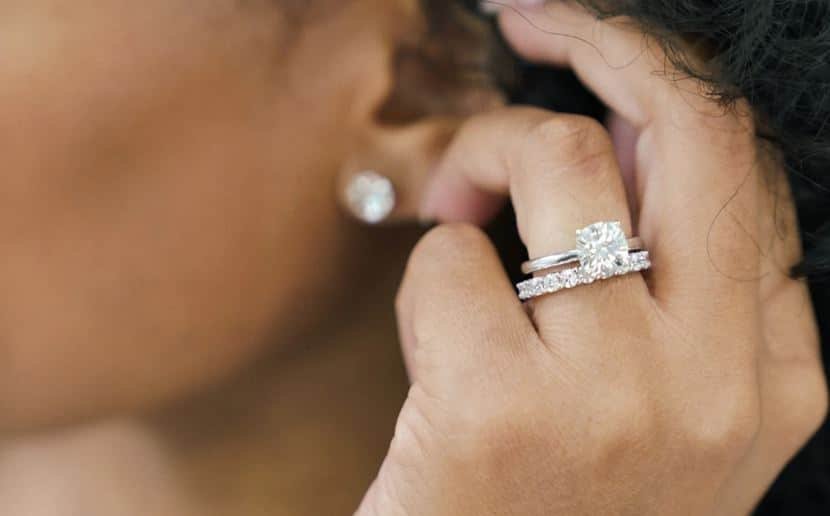 Designing your own moissanite diamond jewelry can be both exciting and daunting. We have some best tips for you to make your design process easy, whether you already have a design idea in mind or have been inspired by a jewelry piece that you have seen but would like to make adjustments to suit your own preferences.
You may be wondering why you need to create your own jewelry when there are millions of choices available. People may opt to design their own moissanite jewelry for a variety of reasons.
When people become unhappy with the designs that are available to them, they often switch to customizing their jewelry. People who want to recreate family heirlooms often opt for customization. Some people are unable to find the best wedding ring to complement their engagement ring. When they can't find the ideal design and size, people turn to custom moissanite wedding bands.
Top tips to make a perfect customized moissanite diamond jewelry
When you've decided to get personalized jewelry, compile a list of what you like and don't like. Although moissanite jewelry is pricey, well it is worth it. You have several options to choose from when it comes to daily wear jewelry.
Take your time when designing your own ring
You will require adequate time to design and decide what you actually require. Make sure to conduct detailed research before purchasing a moissanite bridal set or moissanite wedding bands. Choose the ideal size for the stone. If you are customizing a ring, you must also select a ring setting, which can range from modern to vintage-inspired designs. It is critical to choose the appropriate carat weight for your moissanite. Moissanite's value rises as its carat weight rises. Furthermore, other characteristics such as cut, clarity, and color contribute to the overall appearance of the moissanite.
Moissanite stone shape, size, and color
There's a variety of shapes available in moissanite stones. In addition, the most common cuts are round, oval, cushion, princess, radiant, and emerald. Also, Moissanite Forever Rings can be custom cut to any size. Moissanite comes in a variety of colors other than colorless and near-colorless. This includes moissanite in gray, yellow, and teal.
Read more: Why Ear Gauge Jewelry is the Best Gift?
Consider your budget when making decisions
It's critical to consider how much finances you have to spend on custom jewelry. With a limited budget, you cannot expect a large moissanite stone to be set in your jewelry. The more you spend, the more glamorous your moissanite jewelry will be. As a result, it is important to think about how frequently the ring will be worn, how it will be used, and the occasion.
Take your time to make a decision
For any bride, it is natural to be concerned about being late. If she rushes through the journey and attempts to do everything at once, she may end up regretting her decisions. Every bride wants everything to be perfect at her wedding. And a wedding ring is an important part of the entire event. Hence, do not hurry through the process and carefully plan everything. As a result, you can refrain from making any wrong decisions when selecting customized jewelry.
Make sure about the type of metal you wish to have
If you are on a budget or already have something in mind, make sure you choose the best metal for the best moissanite engagement rings. Every metal has its own set of advantages. In the end, however, it depends on one's own preferences. However, if you are still puzzled, here are a few examples for your ease:
Yellow
It is still the go-to option for many couples, due to its traditional and vintage appeal.
Moreover, it's suitable for almost every style and looks great on everyone.
It does not cause skin allergies.
White
It's less expensive than platinum.
It can be easily customized and can be blended with any style of moissanite jewelry.
Also, it is durable and can be used in daily wear.
Rose
They have a romantic appeal in their appearance.
They maintain their appearance and the color does not fade away
Compared to the other two types of gold metals, they are very durable and quite affordable.
Decide deadline
Once you've established a timeline, you can easily move on to designing your own perfect customized jewelry. Before purchasing customized jewelry, you should consider your timeframe. Assume you want to design moissanite diamond earrings; you must decide when you need your jewelry. When making this decision the delivery time and return policies must be considered. Also, remember to account for any unexpected delays that may occur throughout the process.
Check out: All you Need to Know About Pearl Jewelry