Pillow Back and Top Stitching Give Unique Flair to Vinyl Restaurant Booths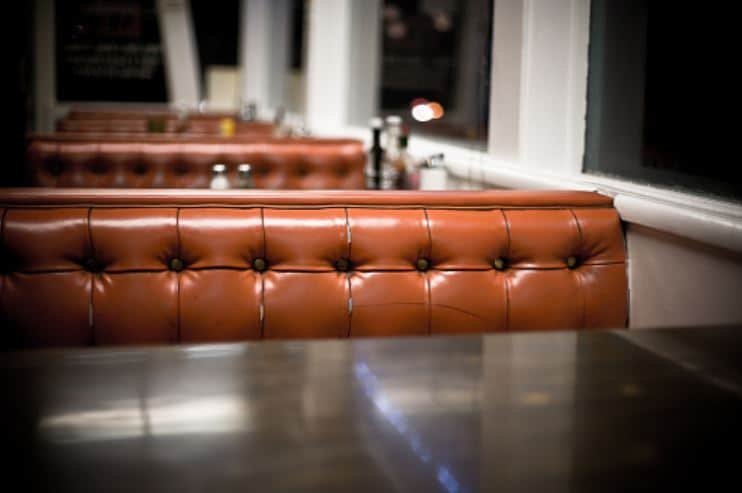 [lwptoc]
Unique Vinyl Restaurant Booths
Vinyl restaurant booths are quickly becoming a popular choice of furniture for commercial establishments. Not only are they cost-effective, but they also provide an easy-to-clean surface and can be customized to fit any theme or decor. In addition, vinyl restaurant booths offer unique advantages that other types of seating may not have.
These unique benefits include customizing the booth with various colors and textures and choosing from multiple sizes and shapes. Vinyl is also incredibly durable; it's resistant to scratches, scuffs, and stains while providing comfort and support for diners. Vinyl restaurant booths can be upholstered in custom fabrics or leather to match any interior design style. Vinyl is usually quite affordable compared to other materials such as wood or metal.
What are the Pillow Back and Top Stitching of Restaurant booths?
Restaurant booths are designed to maximize comfort while providing customers with a cozy atmosphere to enjoy their meals. Two of the most popular features in booth seating are the pillow back and topstitching. Both elements add style and comfort.
The pillow back refers to the look of the backrest on a booth seat. This type of seating has cushions filled with padded foam and covered in fabric, giving it a soft, fluffy appearance like a cushion or pillow. The top stitching is visible along the edges of the cushions and gives them an upscale look by making them appear even plusher than they already are. Topstitching also helps keep the fabric from fraying over time, making it more durable and long-lasting than standard upholstery techniques.
Benefits of Pillow back and top stitching Features of restaurant booths
Regarding restaurant booths, the pillow back and top stitching features offer a superior level of comfort for patrons. Not only do these features provide support for people sitting in the booth, but they also add an extra bit of style to any restaurant atmosphere. The benefits of incorporating pillow back and top stitching features into restaurant booths are immense.
The first benefit is that the pillow-back design offers additional lumbar support when guests are seated in the booth. It helps ensure that customers remain comfortable throughout their meal or gathering with friends, allowing them to stay longer and enjoy their time more. Additionally, this feature adds an air of luxury to any restaurant space. Plush seating can give off a feeling of sophistication and refinement that no other seating arrangement can achieve.
Design Options for Pillow Back restaurant booths
Designing restaurant booths with pillow backs can give an eatery a unique, cozy atmosphere. Pillow-backed restaurant booths provide comfort for customers and the opportunity to create a one-of-a-kind look that will set the restaurant apart from its competitors. There are many design options to choose from when decorating these types of booths.
Colorful fabrics, vivid patterns, and bold prints can match any dining room décor and make the space more inviting. The possibilities are endless, as people can use multiple colors, textures, and pattern combinations in their seating arrangements. To top off the look, pillows with tassels or fringe add a vintage touch to traditional upholstery.
Types of Vinyl Finishes Available for restaurant booths
Regarding restaurant booths, vinyl is a popular choice for its durability and ease of cleaning. Many types of vinyl finish available for restaurant booths can range in texture, color, and design.
The most basic type of vinyl finish is a solid color with no texture or detail. This type gives the booth a classic look that works well in any environment. The next level-up is a textured vinyl finish that adds dimension to the booth and provides more visual interest.
Customization Options with Color & Style of restaurant booths
Regarding restaurant booths, customization options are essential in creating a welcoming and comfortable atmosphere. With color and topstitching style, a restaurant business can create a unique look that fits the overall aesthetic of its space.
There are many ways to customize restaurant booths with fabric colors, patterns, and textures. It allows businesses to coordinate their booth seating with the other elements in their interior design scheme. For example, if there are already plenty of bright colors throughout the dining area, then neutral tones such as beige or grey on the booth help create balance within the room.
Cost Considerations for restaurant booths with pillow back and topstitching
When considering restaurant booths with pillow back and topstitching, there are some key cost considerations to keep in mind. The price of these booths will vary depending on the materials used and the upholstery style. Generally speaking, restaurant booths with pillow backs are slightly more expensive than regular booth seating because of the additional fabric and padding needed for comfort. It is also essential to consider if you want embellishments such as tufting or topstitching, which can add significantly to the overall cost.
Restaurant furniture plus offers a variety of vinyl restaurant booths at the best prices.
Check out: Stainless Steel Restaurant Equipment