Skip Bayless Twitter: FOX Analyst's Unfortunate Tweets
Skip Bayless knows how to captivate his audience with wildly entertaining arguments whether he will be with FOX Sports or ESPN. However, there are se thoughts that are shared on his Twitter that need to be addressed. Over the past few years,this analyst on FOX Sports has posted awful takes involving Patrick Mahomes, LeBron James, and a few other star athletes. Bayless also makes very biased remarks about the Dallas cowboy at different times. Skip Bayless's Twitter account has 2.9 followers in this current time but he is not following a single account back quite the power move, right? You may also find plenty of parody accounts on Twitter of Bayless but the only account he runs is "Real Skip Bayless".
[lwptoc]
About Skip Bayless
John Edward Skip Bayless was born on4 December 1951 is an American sports columnist, host, and television personality. He is generally best known for his commentary on ESPN2 and shows his first take with Stephen A. There is a show Smith which Bayless had left in 2016.He debuted his new show named "Skip and Shannon. He completed his education at Vanderbilt University USA. He went directly from Vanderbilt to Herald Miami, where for more than two years he wrote sports features, then In August 1976, he took a position in Los Angeles Times. There he was well known for his stories like,
Los Angeles Dodgers.
Steve Garvey.
Cindy.
Rams.
Carroll Rosenbloom.
Eclipse Award.
Triple Crown.
Further, He kept on attaining success and today he is well knownfor his commentary but nowadays his Tweets are also being discussed among people.
What Are Some Tweets Skip Bayless Had?
Bayless scrutinized LeBron James more than any other athlete. Even when he was winning the titles NBA. Bayless had a way to diminish the former's No.1 accomplishments. While there are several Skip Bayless Twitter tweets when it comes to this topic. No one can beat Bayless's comparison between LeBron James and Johnny Manziel. After 2014 when browning drafted Manziel to come back, Bayless was fired for an egregious take on the Cleveland sports. He wrote in his tweet that "Johnny football will one day be bigger in Cleveland than his buddy LeBron ever was". This tweet has more than 28,000 retweets and 24,000 likes. It can certainly be placed among the bad tweets ever made.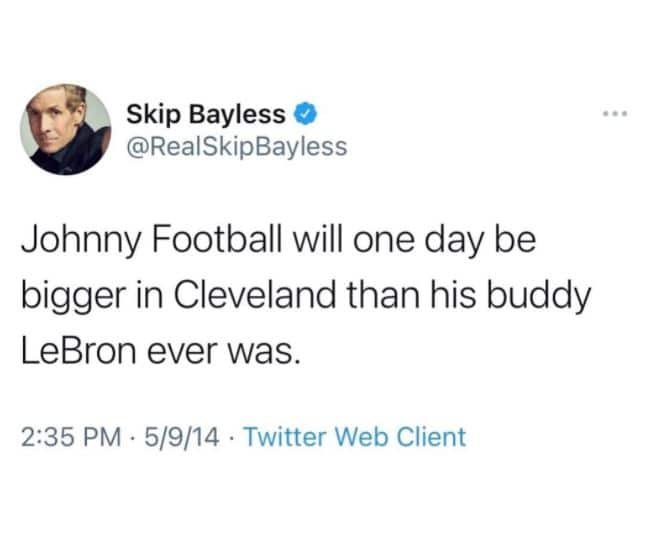 Bay less learned that its unwise to count out the superstar athletes all the time neither he did. In the last NFL season, he had a foolish take on Patrick Mahomes, the star quarterback for the city chiefs of Kansas. Mahomet missed time because he had a knee injury. So that the chiefs had to start a Matte Moore in his absence. Almost everyone was knowing that it was a downgrade for Kansas City. But he didn't get the memo. Matt Moore beats kirk's cousins as we predicted on undisputed. We didn't mean to say that Moore is better than Mahomes. But chiefs are providing more support to Mahomes.
Comments From Dallas CowboysBackfired On Bayless
Currently, Bayless is a believer in Dak Prescott, but he wasn't always sure about Mississippi state products. In fact, in his perception, Jerry Jones made a mistake selecting Prescott in the 2016 NFL draft. It is not only Bayless who was upset that Dallas missed out on PaxtonLynch in the first round of the 2016 draft, though Johns should have picked Cardale Jones instead of picking Prescott in the fourth round of it. Fortunately, Bayless doesn't control the personnel for the team of US. Here also Jerry Jones is covering the backside by referring that he hadn't landed Paxton lynch. He should be more concerned about choosing Dak Prescott over Cardale. You may also find many of these types of tweets and comments on Twitter where Skip Bayless has its account.
Bayless Arguments
Bayless is arguably experienced in the business when it comes to getting a reaction out of the fans. The main reason behind this is that he is not afraid of making bold predictions. It can carry this meaning that he will get exposed almost every month for involving in blasphemous. By judging his net worth Bayless is doing something good. Many people dislike his tweets, the veteran continuous to probe his hot commodity in the media and sports industry.
What Is The Net Worth Of Skip Bayless?
You believe it or not but celebrities' net worth lists show that Bayless has a net worth of $17 million that should increase over time since Bayless landed a lucrative extension earlier in 2020. He finalized a deal with FOX Sports that will pay him more than six $6 million per year. Bayless takes it as a nice raise because he is around 70 years of age. Additionally, he loves making millions by doing something. He appears very well with his wife Ernestine Sclafani.
Who Is The Wife Of Skip Bayless?
Although Bayless was not fortunate enough to witness cowboys add another collection to their super bowl ring on his finger in these recent times. The co-star of Undisputed put a ring on his finger a few years back. They were knowing each other for nearly a decade. They dated each other for 11 years including 6 years of engagement. In 2016 they take they added another step in their relationship and got married. Sip's passion for sports remains there even after their marriage but that also doesn't seem to be an issue for Ernestine as well.  She also published her book in 2019 about how to manage a relationship with someone obsessed with sports. She promoted her book during a live session of Undisputed. So far for Bayless, their marriage seems to be doing wonders for him, who had nothing but praise for her wife while talking about her wife last year.
Bottom Lines
Skip Bayless is a well-known commentator who is now captivating its audience with unfortunate tweets. You will find a lot of arguments about his tweets. This FOX sports analyst has some awful takes with some best-known athletes. Nearly 30 million followers he has on twitter so the fire runs when he tweets something awful and gets comments from his fans. So you can also follow him on Twitter and see his writings.
Also Check: What usually are Molly Jong Fast Twitter Posts?