10 Amazing Spooky Basket Ideas for Halloween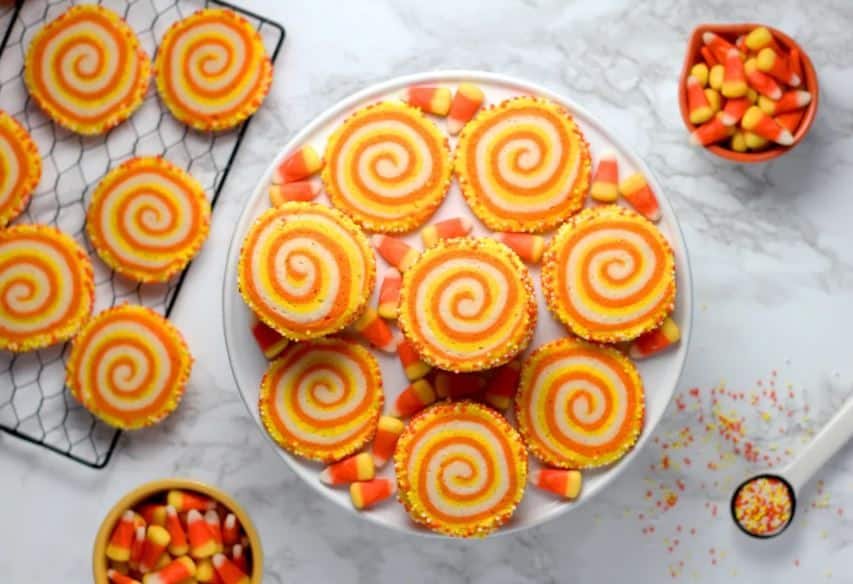 Halloween is at the door, and you are not yet done with the necessary preparations, right? No worries, we have got your back. This write-up is all about tricks, tips, and hacks for you to craft luxurious gifts and adornments for this event. These spooky basket ideas for Halloween would help you celebrate your day in a high-end way.
Halloween is a multinational holiday celebrated as a traditional norm on October 31 of each year. The event finds its roots linked with the ancient Samhain Celtic festival. On that day, people dressed up in a certain way and arranged bonfires to get rid of negative energies and ward off ghosts. To date, this practice has been used around the globe.
[lwptoc]
What does a typical Halloween Starter Pack look like?
By Halloween, the first thought that would cross your mind is a terrifying sight of night, ghost villas, and, more often, Pumpkin figurines with horrible faces and fire-filled eyes. Isn't it scary? Yeah, it is, but it could be fun to add a touch of DIY crafts to it and make it look attractive with spooky basket ideas.
Spooky basket ideas for Halloween
The preparations for Halloween start before it comes. People spend days and weeks creating magical things to make their events more delightful. You can always spice up your Halloween day by making elegant handmade delights and embellishing them with cute accessories. Have a look at how amazingly we have presented TEN wonderful ideas for Halloween baskets.
Pinkish Bliss Spooky Basket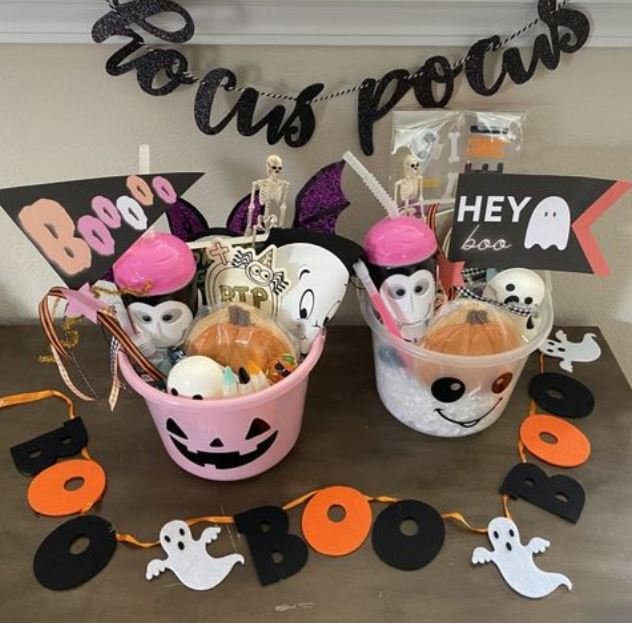 Now, here is the thing. Halloween doesn't have to be Orange. You can always invest your creativity in coming up with surprising stuff. A mini barbie basket crafted at home or bought from the supermarket can be filled with pink-toned toys, eatables, and pearls. It caters to little girls, kids, sisters, and girlfriends. Add her favorite valuables in the basket, and your Pinkish Bliss is Ready!
Chocolate Delight Halloween Basket
No matter what fest it is, chocolate is a darling. It can serve as the heart of your spooky basket. You can use a handmade wooden basket or cardboard box to be used as a base. Put inside the favorite chocolates of your loved ones and some lollipops and candies, and you are good to go. You can also grab a store-bought chocolate box and add it to the basket. Surprise them with this heartfelt basket and count on their happiness.
Orangey-orange Classic Basket
Here is a typical design of a Halloween basket but with a modern touch. You can use adorable handmade or readymade pumpkins as a space. Put inside the elements that you would love to give to your friends and family. If you want to use it as a decorative piece at the event, add in a few Halloween essentials, and BOOM!
Unicorn Rainbow Spooky Basket
Colors are life, and baskets full of rainbow colors are a true bliss. Getting along Halloween preps, you would love to create a unicorn basket filled with colorful accessories. Add some shimmering elements, mini metallic glitter glass containers, unicorn stuffed toys, and soft-colored marshmallows. The results will amaze you.
Scary Witch Spooky Bucket
Witch is an important character of Halloween. Grab a basket constructed of any material and fill it with witch hazel showers, handmade witch stuffed toys, a bottle of champagne, and some other witch essentials. You can also paste some witch stickers on the bucket's front and make it look more scary and real. If you are planning to scare your friends for fun, this basket is a perfect choice.
Read more: 4 Self-Care Ideas for a Night at Home
Spooky Halloween Wire Basket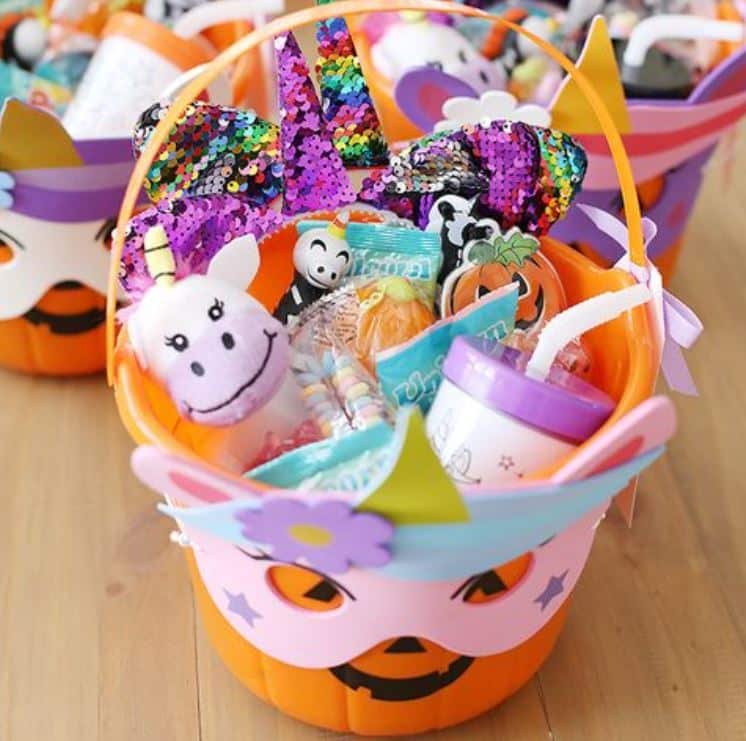 A wire basket has got lots of space to accommodate even large-sized accessories. Put in a heavy bottle of drink, a real pumpkin, and set adorable lighting all around. LED lights would also work perfectly. A boo-themed pillow will enhance the charm of this spooky basket. If you have a wire basket in your kitchen, this trick is a 3-minute hack.
Ghost Villa Halloween Basket
Make your festival more exciting by crafting thematic baskets. Here is a mesmerizing idea that we have brought to you to level up your Halloween party. Grab a dollhouse and empty it.  Paint it with Black color, and don't forget to add some spots of orange, so it manifests its real purpose quite perfectly. Now, add pumpkin toys, witchcraft, fireworks, and ghost figurines to make it look more real and spooky.
Disney Basket for Halloween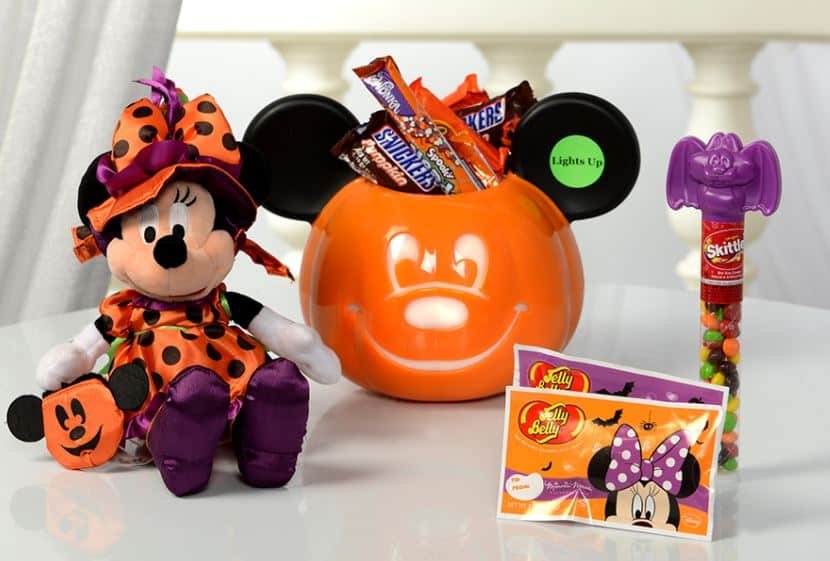 Disney is a wonderland, and no matter if you are catering to kids, children, adults, or oldies, Disney is the most appropriate theme to create some fun. A basket filled with Disney charms and icons will be perfect for Halloween. You can use a wooden or plastic basket to serve as the vessel. Do not forget to add a touch of Halloween colors or materials to make it theme-based.
You have been booed Basket
This phrase is a viral theme that is most frequently utilized on occasions like Halloween. To surprise your children or elders, you can grab a basket and fill it with random accessories. Put in some Halloween toys such as pumpkins and ghosts and paste a big sticker saying, "You've been booed."
Self-care Spooky Basket kit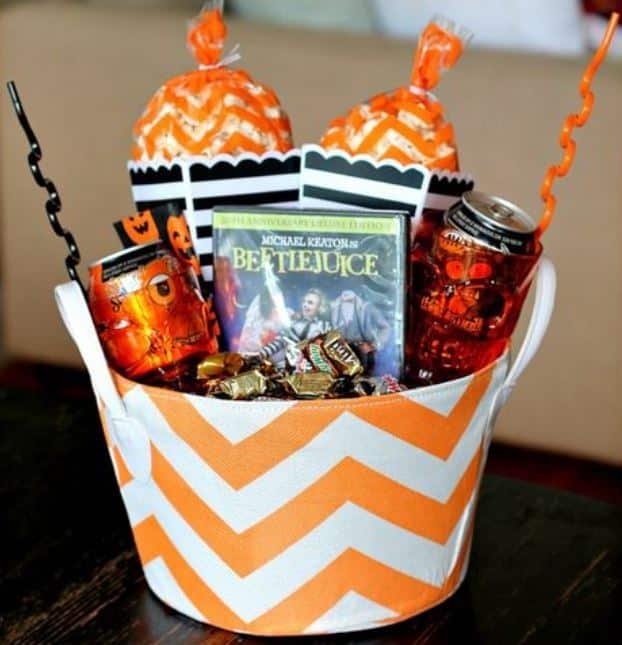 Self-care never goes out of trend. Also, it caters to everyone regardless of gender, age, and profession. If you plan to attend a Halloween party at your friend's place, you need to create some fine gifts to make them happy. In such a case, a Self-care kit based on a spooky Halloween basket would do perfectly fine. Add in all types of skincare products you will give them and put some Halloween toys and candies as icing to the cake. Your perfect Halloween basket is ready!
The Bottom Line
We have shared amazing spooky basket ideas for Halloween that you can utilize on this festive occasion and make it even brighter and more memorable. Also, crafts and embellishers add to the beauty of your event and make it look wonderful.
Read more: 5 Ideas For Improving Your Living Room