Sleek and Space Saving: A Guide to Floating TV Consoles for Modern Homes
Space is frequently scarce in contemporary homes. As a result, homeowners want furniture that looks excellent and takes up little room. The floating TV console is one such piece of furniture that has grown in popularity in recent years.
A floating TV console is a piece of furniture that is installed on the wall and contains your TV and other entertainment equipment. It is intended to free up floor space and give your living room or entertainment area a sleek and contemporary aesthetic.
Space-Saving Design
The primary benefit of a floating TV console is the amount of room it saves. There is more room for other activities because it frees up vital floor space. By mounting the TV console on the wall, you may give the room the appearance of more space and a more streamlined design. Each type of home can be used because it comes in various sizes and materials. To further maximize space usage, specific models include built-in storage.
Sleek and Modern Look
Another benefit is a floating TV console's sleek and contemporary appearance. It gives the living room or leisure space a neat and organized appearance. Thanks to the wall-mounted design, any room has a touch of sophistication and contemporary. The console's straightforward design also contributes to the perception of additional space, giving the space a lighter appearance. A floating TV cabinet is simple to match with any interior design because it comes in a range of styles, hues, and finishes.
Read more: How To Grow Your Business With The Help Of OTT/IPTV Platform?
Versatile Design
Their adaptable design makes floating TV consoles a great choice for contemporary homes. It is excellent for any room because of its wide range of sizes, patterns, and materials. The console can fit well with any home's décor because of its straightforward and elegant design. Some models also include built-in storage, adding to the available room for additional items. Depending on personal desire, the console can be positioned at various heights and distances from the seating area due to its wall-mounted construction. Overall, the adaptability of a floating TV console makes it a desirable alternative for house owners trying to maximize space and elegance.
Easy Installation
The method of installing a floating TV console is simple and quick. It is a simple installation because no intricate carpentry work is needed. Instead, installation requires simple instruments like a drill, level, and stud finder. The bracket must first be fastened to the wall before the console can be mounted to it during installation. Because the wall's strength is crucial for support, it's crucial to make sure the bracket is firmly fastened to the wall. Overall, a floating TV console is an accessible and simple furniture solution for homes due to the straightforward installation method.
Cable Management
Managing connections can be difficult with typical TV consoles, but concealing cords and wires with a floating TV console is simpler. Cables can be concealed behind the wall thanks to the wall-mounted design, which gives the space a more tidy appearance. You can also use cable ties and cord covers to arrange and hide cables. The aesthetics of the entertainment area are enhanced by proper cable management, which also lowers the risk of trip hazards and cable damage. The cable management capabilities of a floating TV console make it a useful and secure option for contemporary houses.
Placement
The TV's height should be considered when determining where to put your floating TV console. Make sure the TV is at a comfortable viewing height, which, while seated, is typically at eye level. To avoid eye strain, ensure the console is set back from the seating area.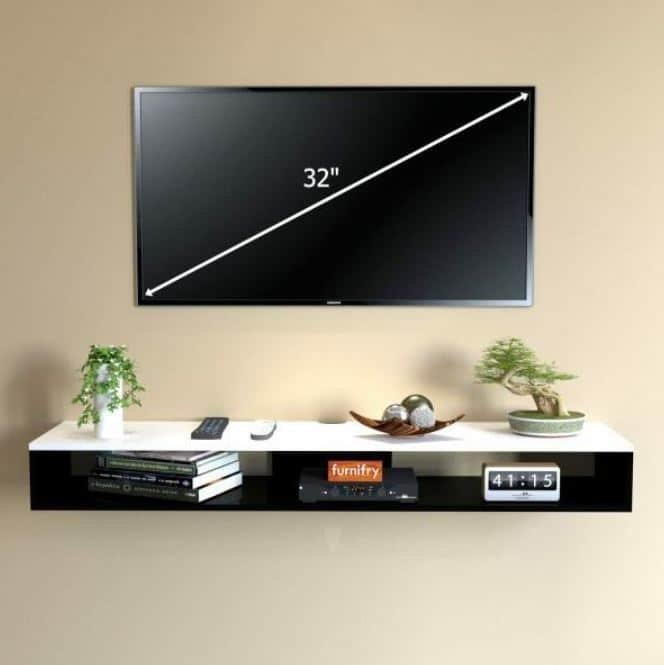 Maintenance
A floating TV console requires little maintenance. It may be cleaned with a gentle cloth, a little water, and mild soap. Avoid using abrasive cleansers or harsh chemicals, as they can harm the finish. It's also crucial to routinely inspect the wall anchors and brackets to make sure they're secure.
To sum up, a floating TV cabinet is a fantastic addition to any contemporary home. Thanks to it, your living room or entertainment area will have a more modern, sleek, and space-efficient appearance. In addition, it's adaptable design and simple installation allow you to pick a console that matches your needs and preferences. So, if you're trying to update your entertainment space in a fashionable and useful way, think about getting a floating TV console from Meble Furniture.
Read more: What is a Smart TV? Best Smart TVs in 2023