Bridal Style: The Most Popular Wedding Dress Type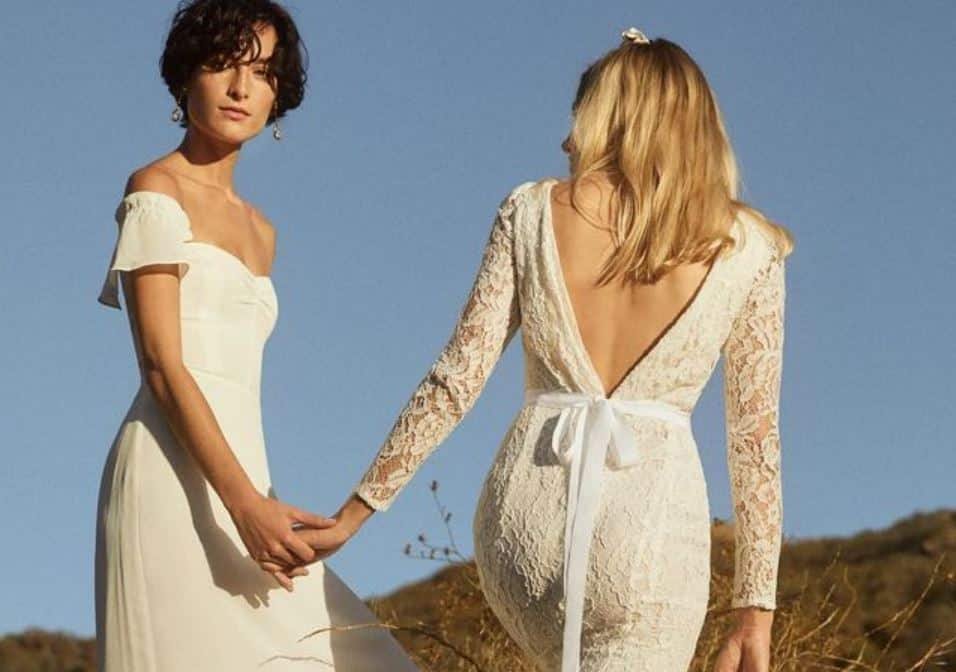 Every girl deserves a beautiful wedding. Each year, stylists offer a wide variety of dresses, from more classic options to custom designs. When choosing this or that model, you need to take into account not only the beauty of the dress itself but also how it will look on the figure, emphasizing the merits, Planning a wedding can be overwhelming, but in Avery Austin, they will guide you and help you to find the perfect gown for your big day without breaking the bank. And It will break down all the different types of wedding dresses like long train wedding dresses and explain which of them will look best on you.
On the basis of the most common and popular silhouettes, original models, and standard and non-standard cuts, various styles appear thanks to various decorative finishes. In order not to get confused among all this and to facilitate the search for that very dream dress, we will take a closer look at the main types of wedding dresses.
[lwptoc]
Dresses with open back
Many popular wedding dress designers unanimously agree that open-back wedding dresses are a great solution for an unforgettable bride look. Justin Alexander argues that open-back wedding dresses add lightness, airiness, and freedom to the bride's image. And although a dress with an open back cancels some traditional foundations in choosing an attire for a bride, it looks tenderly sexy and beautiful. On the other hand, an open back is inherent in many classic styles of dresses for special occasions. This means that this option is perfect for a wedding.
First of all, you can pay attention to the classic styles of dresses with an open back. For example, fluffy dresses or evening dresses with spaghetti straps with a medium-cut. Such dresses look elegant and rather restrained. At the same time, they perfectly accentuate the graceful curves of the female figure.
A-silhouette
The "A-silhouette" style is not less in demand among modern brides for many years, this dress is similar in texture to the letter "A", hence the name of this model of a wedding dress.
The skirt in such a model expands to the bottom and gently fits with folds, sometimes such a model has no folds, at all. The upper part of this bridal model is made so that it fits snugly around the chest, making it sexy enough.
Stylists believe that this model will look great on any female figure.
Greek-style dress
Like other wedding dresses, the Greek style dress has its own distinctive features. First of all, it is the high waistline, emphasized by the belt. Many brides, especially if they are overweight or pregnant, choose a Greek-style wedding dress.
Soft waves of flowing fabric fall down from the waist. This style makes the bride gentle and majestic at the same time. The wedding dress is complemented with embroidery and draperies, a light train, and a spectacular neckline.
This style of wedding dress is very popular as it successfully hides many of the figure flaws. Light airy fabrics will add airiness to the image, while smooth and shiny fabrics will add special elegance.
Related article: A guide To Create the Perfect Wedding Invites on A budget
Baby Doll
Until recently, short wedding dresses seemed like something strange and unusual, but for several years they have been popular among young and discouraged brides. Baby doll wedding dresses are dresses with an emphasized rounded neckline, open shoulders, high waist, and a fluffy short skirt, sometimes very short. The demonstrative "doll-like" style, which is emphasized by the airy textures of the fabrics, adds a slight provocation to the Baby Doll style outfits.
Princess Wedding Dress
This type of wedding dress – one of the most popular styles – is distinguished by a fluffy multilayer skirt (with a mandatory petticoat with rings) and a narrow, fitted bodice. The skirt can start right from the waistline, or the waist can be slightly lowered or high. This style is universal, and suitable for almost everyone, as it allows you to model individual details of the dress – neckline, cut-off sleeves, location of the waistline, length, and a fluffy skirt will successfully emphasize beautiful hips, visually add volume to narrow hips or hide wide ones, and will focus on a slender waist. For short brides, it is recommended to choose models with an English armhole or V-neck – this detail will visually add height. But such a silhouette is not recommended for full girls, since the figure may look shapeless.
Conclusion
Whichever style of wedding dress you choose, it is important to choose the right fabric and take into account all the features of the figure. Silk, chiffon, and satin are considered classic materials for sewing – they keep the given shape well and make the silhouette harmonious. You can add flavor to the dress with the help of original draperies, asymmetrical cuts, and bold cuts.
By listening to your inner voice and taking into account the recommendations of stylists, you can achieve an impeccable result, becoming the real queen of your wedding. It must be remembered that the dress should not only correspond to the style of the event but also reflect the character of the future newlywed.
Related post: 10 Ways to Pick the Perfect Wedding Ring