What you need to Study to become a Family Nurse Practitioner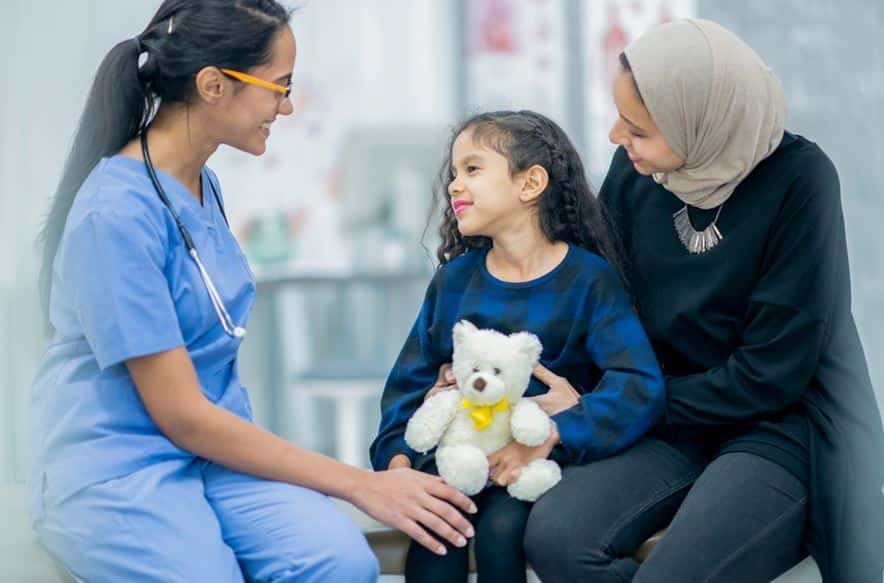 When considering any career within healthcare, it is important to think ahead and have an idea of what, if any field, you want to eventually specialize in. This may only become clear after initial studies and work experience, but knowledge of what kinds of jobs there are and the qualifications you may need will help you to plan for your future.
One possibility to consider is becoming a Nurse Practitioner. These are licensed nursing professionals with the additional responsibility and ability to provide treatments and diagnoses is beyond the level of a registered nurse. According to statistics, NursePractitioners currently provide more than '355,000 solutions to the primary care shortage in America'.
Within this career, there are various specialties, including that of a Family Nurse Practitioner (FNP), which is a consistently growing field that offers a good salary. These roles fill a critical need within health care. In 2021, about 89% of Nurse Practitioners went into primary care programs.
You will obviously need to become a registered nurse before embarking on a career as a Family Nurse Practitioner and focusing your studies on a more specific field. In this article, you will find general information on the role of FNPs, what you need to become one, and also the subjects that are often included in nursing courses to enable you to become qualified in the first instance.
[lwptoc]
The role of Family Nurse Practitioners
Before you become a Family Nurse Practitioner, you need to be a qualified nurse and then complete a specialist course. Once you are qualified, the day-to-day duties and responsibilities will vary depending on where you work but may include developing treatment plans, creating and contributing to care plans, performing physical exams, evaluating and interpreting findings, ordering diagnostic and lab tests, prescribing medication, providing health education, recommending positive lifestyle changes, offering patient counseling, referring for consultation and writing admission, transfer and discharge orders. The ability of FNPs to communicate clinical data effectively is a key skill.
There may be other duties you are expected to undertake which will depend on you having the right educational background and qualifications. These could be tasks such as performing lumbar punctures, bone marrow biopsies, fine needle aspiration, and suturing.
You may also be able to serve as a preceptor for postgraduate programs or conduct research on subjects such as the implementation of health policies in communities.
Skills required by Family Nurse Practitioners
When looking for the right course, it's important to bear in mind what skills you will need to become an FNP. According to the AANP, AACN, and the National Organization of Nurse Practitioner Faculties, essential nonclinical skills include leadership, compassion, critical thinking, excellent communication skills, strong core ethics as well as technological literacy, and a strong scientific foundation among other things.
Work environments for FNPS
Approximately 73% of nurse practitioners deliver primary care while24% work in private practice. Other areas that Family Nurse Practitioners work in include outpatient care centers, community housing, emergency relief services, private and public general, medical and surgical hospitals, specialty hospitals, offices of other health professionals, and private and public colleges, universities, and public schools.
Read more: How Family Nurse Practitioners Contribute To Healthcare
The qualifications you will need to become a Family Nurse Practitioner
If you want to focus on becoming a Family Nurse Practitioner, you will not only need a Master of Science in Nursing, but also a Family Nurse Practitioner certification. Bear in mind that it's vital to clarify what exactly is required within the state you are planning to look for work in. Family Nurse Practitioners deliver health care across a range of age demographics from infants to seniors and account for 65% of nurse practitioner certifications.
This extra qualification gives nurse practitioners a broad knowledge to undertake a variety of tasks including performing exams, diagnosing common primary care and medical problems, ordering lab work and prescriptions, and authorizing treatments.
General nursing courses
Before embarking on a career as a Family Nurse Practitioner, you will have completed a general nursing course to prepare you for your future studies. As is usual with any kind of educational qualification, there are things that differ slightly depending on where you complete the course and many things that are the same, especially in a field such as nursing.
Modules will include a lot of practical work, but there will also be a focus on skills such as time management and interpersonal skills, which are essential when you are working in such a responsible role caring for peoples' wellbeing.
Freshman orientation courses
Whatever your age or level of experience in different fields, right at the beginning of your studies,it could be useful to take an orientation course in order to help you navigate your way through the world of professional registered nursing and its requirements before you move on to the core studies.
Basic foundation skills will be useful whatever job you decide to do but will be particularly helpful when studying nursing and pursuing it as a career. Although rewarding, the courses are challenging and sometimes exhausting, and having these lessons to call on as you move forward could prove useful.
Areas that are covered may include teamwork and collaboration, goal setting and how to accomplish them, prioritizing work, studies and your own general wellbeing, and stress management as well as classroom and clinical competencies.
General core classes for nurses
One of the first classes you will take is the nursing fundamentals course, which gives students an overview of what it means to be a nurse, how healthcare works, and potential careers and roles for nurses. It looks at the basics of patient care and nursing skills and will also prepare you for advanced topics in more specialized areas.
It is very important as it sets the foundation for every other nursing class and clinical you will do and enables students to confirm whether committing to nursing as a career is a right choice for them.
Other core classes include ethics to help you to deal with the many difficult situations you will face in your nursing role. Topics such as professional conduct, conflict of interest, and diversity and inclusion will be covered, as well as health equity and appropriate responses to unethical behavior.
Clinical theory teaches the theoretical underpinnings of medicine and nursing, plus how practices are designed, tested, and applied. You will learn how different models of health, medicine, and healthcare applications to nurses and how to use them in your day-to-day work. A clinical study, also known as 'clinicals', requires many hours in clinical settings and will enable you to apply the skills and theory you have learned under the guidance of a preceptor.
Leadership management is usually taught later in the RN curriculum as it requires experience and knowledge about the general scope of nursing. Classes include management and administration, legal and ethical aspects of leadership, motivating staff, and strategic planning. It combines theory and case studies so students get a feel for how it comes together in practice.
Medical and science classes
As well as developing the skills to help you manage your workload and deal with both patients and colleagues, you will be required to take medical and science classes. These would cover concepts of nursing, dosage calculations, pharmacology, acute care nursing, medical surgical nursing, psychiatric nursing, maternal and newborn nursing and parent and child nursing.
You may also be expected to study science classes such as:
Nutrition: This would cover dietary guidelines and nutritional needs of the life cycle, general health, and nutritional therapy for a range of conditions, plus the function of lipids, proteins, carbohydrates, water, vitamins, and minerals.
Anatomy and Physiology with terminology: Areas of study include microbiology, pathology, and human anatomy and would involve laboratory time.
Microbiology: Studying would include areas such as microbial cultivation, metabolism, physiology, nutrition structure and genetics, and causes of human diseases.
Studying effective communication
Excellent communication skills are vital for any nurse, whether it is verbal or in written form. There are modules available that will assist in developing this skill, such as Principles of Communication, which will help guide those all-important interactions with patients, families, and other medical professionals. Taking a class in College Composition will also help you to fine-tune writing processes for both academic and professional purposes and instruct you in critical thinking skills to help put them into practice.
Check out: A Quick Guide to Looking After Your Family's Health
Steps to becoming a Family Nurse Practitioner
If you want to become an FNP, you must apply to the state licensing agency to take an exam to obtain an RN license in that state. You then have to earn a Bachelor of Science in Nursing (BSN) degree, which can take between two and four years.
Following this, you will need to study an accredited program for a Master of Science in Nursing (MSN) with a focus on preparing graduates for national certification as FNPs.
Alternatively, registered nurses with a Bachelor of Science degree can also go on to become Family Nurse Practitioners by undertaking a Doctor of Nursing Practice (DNP) degree.
You will then have to pass a national certification exam, such as the one offered by the American Nurses Credentialing Centre (ANCC), or the American Academy of Nurse Practitioners (AANP).
Following certification, candidates will need to apply for an FNP license in their state.
It is possible for BSN-prepared nurses to earn an MSN and FNP certification in tandem. This will equip you well for the national certification exam, by providing a combination of classroom, laboratory and clinical experience.
The coursework would include:
Healthcare policy and analysis
Pathophysiology
Leadership and ethics
Primary healthcare
Pharmacology
Physical health assessment and diagnostics
The time it takes to become an FNP varies depending on which certification you already have, but it can take between six to eight years. FNP exams are given on a rolling basis, so it's important to plan ahead so you can fit them into your studies and work schedule.
Completing a Bachelor of Science in Nursing and obtaining an RN license will take between two and four years. Then obtaining a Master's degree through an MSN-FNP program is a further two to three years. For students that have a BSN and RN license, it will take approximately three years, and if you have an MSN not focused on family practice, it's possible to earn a post-master's FNP certificate in 20 months.
FNP programs
Once you have made the decision to become a Family Nurse Practitioner, you can then think about the best way for you to complete your studies. It could be you prefer classroom tuition, but it may be a better fit for some to study online. It's ideal for students who need some flexibility in their schedules due to work obligations or family commitments. However, it may be necessary to attend campus-based classes or labs for some studies as there will typically be a clinical component to some of the studies.
FNP programs at Marymount University Online are designed with your schedule in mind and offer part-time learning led by faculty and mentors. They are CCNE accredited and 100% of Marymount graduates passed their certification on their first attempt.
Now that you are on your journey to becoming a Family Nurse Practitioner, simply ensure you know what qualifications you need in the area in which you want to work and sign up for the right course for you. Keeping on top of developments within education and the industry itself as you move forward is also an important tool – so that you are aware of any changes that may occur in requirements over time.