7 Tips for Choosing the Perfect Bridesmaid Dress for Every Figure & Personality
Unique Outline: Choosing the right silhouette
When it comes to choosing the perfect bridesmaid dress, there is no one-size-fits-all approach. That's why it's necessary to consider the figure and personality of each bridesmaid. No matter their bridesmaids' figures and personalities, there is a perfect dress for them. Hence, here are a few tips for finding the fitting silhouette and style for the bridal party.
1) Start by considering bridesmaids' figure types. Are they tall or short? Curvy or slender? Each silhouette will look different in a dress, so it's essential to find one that suits all of them. Specifically, start by taking their height and weight into account. This will help them choose a dress that fits well and isn't too tight or loose.
2) Then, consider their personality types. Do they like to stand out or stick to the crowd? Each bridesmaid needs a group of friends who can pull off any style, so make sure the bridesmaids have dresses catered just for them!
3) Be creative! There are no rules for choosing dresses for bridesmaids – go with whatever they think looks best on each individual!
Body Shape: Dresses for every figure
Choosing the perfect bridesmaid dress can be daunting; it is incredibly challenging if they have a body shape that falls outside of the traditional "hourglass" mold. Whether they have a petite friend or a plus-sized one, there are perfect bridesmaid dresses for their body shape.
If the bridesmaids are shorter than average, consider choosing a shorter style like a sequin-trimmed A-line or maxi dress. These dresses will elongate their figures and look great with high heels.
Empire waists and A-line silhouettes styles will elongate their figure while still wearable on any body type. Similarly, A line bridesmaid dress is always a popular option because it is versatile. They can be tailored to fit any figure type, and they also tend to be very affordable.
If the bridesmaids are taller than average, go for a longer style like a floor-length gown with a sweetheart neckline. This type of dress will highlight any girls' tall height and give them the fantasy of being tall and fashionable.
If their body is pear-shaped or broader at the hips, go for a fit-and-flare style dress. These styles will give them more breathing room and allow their stomach to look toned instead of bloated.
Go for a strapless or halter dress if their body is narrower at the hips. This type of dress will give them lots of curves while still flattering.
If their body is thin and/or long, use pleated skirts and layers.
Lastly, compare different dresses on racks and in catalogs. Don't be afraid to try on as many different dresses as they need to find the one that fits perfectly.
Best Garment: Fabric and detailing
When choosing the perfect bridesmaid dress, there are a few key factors to keep in mind. First and foremost, they'll want to choose a fabric that is both comfortable and stylish. Some of the best affordable bridesmaid dresses are made out of soft fabrics such as cotton or silk, which will make them feel comfortable on their skin and look elegant at the same time. Secondly, be sure to consider the details of their dress. Ensure that all of the seams are neatly finished and that the fabric is light but durable. Finally, consider their style when choosing a bridesmaid dress. Don't be afraid to experiment with different styles and colors until they find something that suits them perfectly.
A light tulle or lace material would be ideal for summer weddings, while heavier materials like wool and silk can be more versatile for autumn and winter weddings. But consider the temperature in the area before making a purchase. And when it comes to detailing, think about how traditional or modern they want their bridesmaids' dresses to look. A mix of both is always a good idea! Start looking at dresses that fit that style once they have figured out what kind of look they're going for.
Moreover, when picking out a bridesmaid dress, always consider the wedding theme. For example, if they have a rustic or vintage-inspired wedding, then go for dresses with elements of this style incorporated into them. Alternatively, if they have a more modern wedding with lots of bright colors and patterns, choose prominently displayed dresses. Just make sure that everything goes together well visually!
Color: The perfect hue and palette
Adding color to any bridal party look is always a great way to stand out and make a statement. Whether they want to keep things toned down or up the ante, a color palette is perfect for everyone. Here are five examples of how to get the most out of the colors:
1) Consider The Theme – If the event is themed around springtime, they might want to go with pink, peach, and light green shades. If the event is themed around fall or winter, they might want to consider darker colors like burgundy or navy. You can find more tips for spring here.
Choose colors that will coordinate well together. When picking colors, make sure they'll work together well for the event. For example, if they choose a pink and green color scheme, have other shades in their color palette available so that everything looks cohesive.
2) Keep in Mind the Skin Tone – Certain hues will look better on one skin tone than another. Hence, choose colors that complement their skin tone and hair color. For example, if their skin is darker than average, avoid light colors like whites or pinks; go for neutrals, like black or navy blue.
3) Sweet and feminine – Use soft shades like pink, peach, or lavender for the bridesmaids. This will create an elegant and feminine look.
4) Fun and flirty – Try using bright colors like yellow or orange for more fun and playful look. They'll add some life to their ensemble and make everyone stand out!
5) Sophisticated but straightforward – If they want to keep things classic but still add some edge, go with darker colors like charcoal or navy blue.
Extra Special: Adding Accessories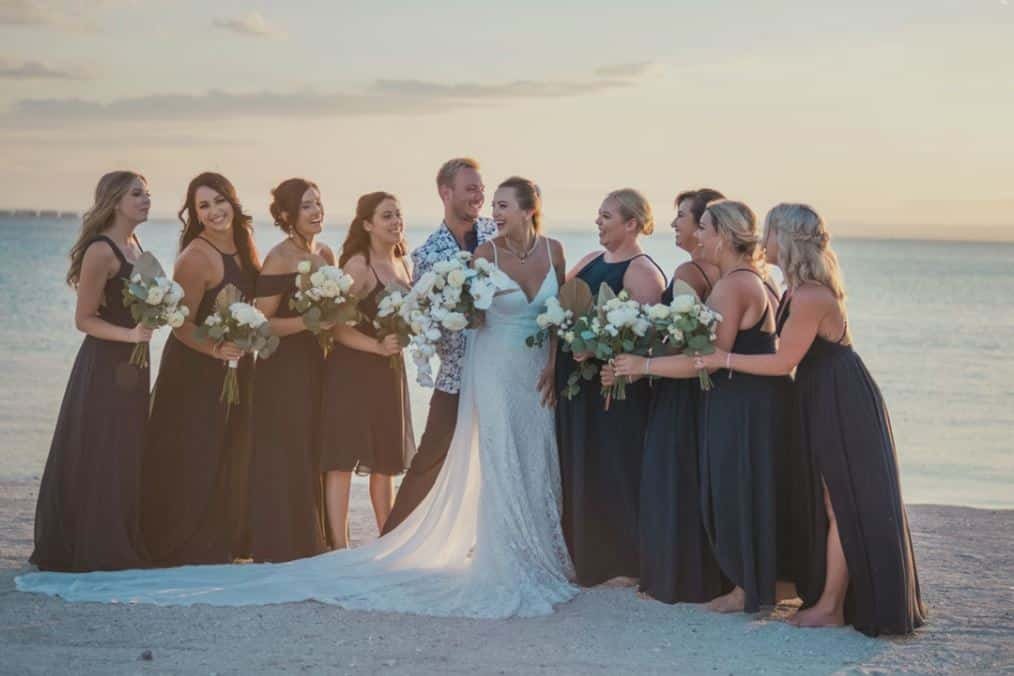 Accessories can add personality, vibrance, and flair to their bridal party. They can also help individual members stand out and create a unique look. Bridesmaids commonly wear accessories including veils, fascinators, flowers in hair, earrings, and necklaces. There are endless options for finding the right accessories for bridesmaids!
Budget: Don't break the bank
Many budget-friendly bridal styles will still look stunning on bridesmaids. Here are ideas to get started:
1) The first option is to go for a more classic look and choose dresses that are either floor-length or shorter than knee length. They can find dresses for under £100 at Cicinia, and they will be perfect for all types of body shapes.
2) Another option is to go with a coordi­nated look and have each bridesmaid buy a dress online from the same store. This way, they can be sure that all of the attendants will be wearing the same style and color, and it will save us time in choosing a dress since we won't have to search through multiple stores.
3) Consider using less expensive materials when assembling bridesmaid dresses. This could mean opting for a more inexpensive fabric or using a piece of lace instead of tulle.
4) Skip the high-priced accessories and go for something cheaper instead. Everyone can find great affordable options like earrings, necklaces, and bracelets at their local discount store.
5) Likewise, choose shoes that are on sale, or that can be bought in bulk cheaply. A pair of strappy sandals or simple pump shoes will work just as well as more expensive alternatives.
Time of Year: Dress according to the zodiac sign
Pay attention to the zodiac sign. Each sign has unique style preferences that they will want to consider when making their choice. For example, Aquarius women often prefer classic silhouettes like A-line skirts and fitted bodices, while Virgo women prefer more structured dresses like empire waistlines. Finally, don't forget about personality! Every bridesmaid is unique and deserves her individualized bridesmaid dress. So, mix and match styles until they find something that suits everyone's taste perfectly!
Conclusion
In conclusion, choosing the perfect bridesmaid dress can be a daunting task, but it can be easier with these seven tips. So, before they start stressing out about what to wear, take a deep breath and use these tips to find the perfect dress for the bridesmaids. By following these simple tips, they can find a dress that will look great on every figure and personality. Most importantly, have fun with it! So don't wait any longer; start shopping in Cicinia for bridesmaid dresses today!