5 Best Subscription Billing & Recurring Management Software with Free Trial
When you have a large number of clients, subscription management and manually invoicing can be time-consuming and an inefficient method.
In a subscription-based business, you will need to collect all of your customer information in one location, such as the plan they chose, their phone number, their address, how to produce invoices, and so on.
Does doing all of this offline with paper and pen ensure productivity and security?
Almost certainly not!
To effectively manage the massive amounts of data, you'll need subscription management software that can assist you by centralizing all of your data and handling every aspect of your subscription business.
The subscription billing software will also streamline the data extraction process, saving time and effort in managing payments, monitoring payment failure re-tries, and charging tasks.
I've covered 5+ Best Subscription Management Software with a free trial in this article, which automates the entire subscription journey, including billing and shipping.
[lwptoc]
Comparison of Best Subscription Billing Software:
1) INVOICERA
This most chosen and simple-to-use subscription billing software "Invoicera" is available at an incredibly low lifetime purchase price. Plus, it provides access to an infinite number of clients, invoices, and advanced features, as well as 24/7 live chat support, all of which are included at no extra cost.
As a subscription business owner, you can quickly produce online invoices for your client without using a single piece of paper by following a simple three-step procedure.
Some Attributes-
Real-time Report
The software can produce a range of client reports in real-time, such as unpaid invoices, payments earned, sum billed or charged, and invoice aging, to improve the customer management system.
Automated Billing & Payments
With this software, you can automatically accept customer payments electronically with the aid of an auto-billing profile. It'll even come in handy when the invoice is due, and you need to get paid.
Manage All Aspects Of Your Business..!
Furthermore, the recurring billing software helps business owners to submit bills to customers regularly, increasing the efficiency of the invoicing process.
Client/Customer Portal Integration:
Customers can view/update their account information, subscriptions and even cancel their subscriptions via the software's integrated customer portal.
How Does This Fit Your Billing Software?
Subscription billing software is designed to run on a variety of platforms, including mobile applications and websites. It's an excellent choice for a wide variety of consumers, from freelancers to larger businesses seeking to grow across several channels.
Invoicera is a hybrid service that includes a payment gateway, merchant account, and subscription management tool. If necessary, it can also work with your current merchant account.
Price plans:
Invoicera offers 4 pricing options as well as a free trial. You may also order a free demo to see how this app works.
Starter plan
The plan is entirely free for the rest of your life.
Pro Plan
Switch to the PRO package if you have 100 active clients and recurring profiles. Client/vendor portals, multiple language invoicing, automated invoice scheduling, 30+ international payment gateways, and much more are included for $15 a year.
Business plan
You would pay $29 a year for 1000 active clients. It includes features such as 10 clients, PDF security, an approval process, and much more.
Infinite plan
This package allows you to have an infinite number of clients and staff. You would pay $149 a year to get this.
Read more: Different Types of Speech To Text Transcription Software
2) CHARGEBEE
Chargebee is a safe and dependable recurring billing app that can manage even the most complex recurring billing and subscription tasks.
It also supports various payment gateways, including PayPal, Stripe, Authorize.Net, Braintree, and others.
How does this fit your billing system?
Chargebee's dashboard displays all of the important key metrics, such as MRR and CMRR, refunds, transaction patterns, signups & activations plan, and so on, that will assist you in determining the health of your business.
This subscription billing software keeps you up to date with all of your business's operations, ensuring that you never miss an important detail.
Pricing plan:
Chargebee offers 3 plans Go, Rise, & Scale plan with 30 days free trial.
Go Plan: You can budget up to $99 per month. If you go over this amount, you'll have to pay an additional 0.5 percent of your earnings.
Rise Plan: With the Rise Plan, you can handle $299 a month plus 0.6 percent of overage income.
Similarly, the rise package costs $329 for the additional sales.
Scale Plan: The scale plan requires you to pay $599 a month in exchange for $75000 in sales.
3) HIVEAGE
Hiveage is an online recurring billing and subscription management tool that streamlines all aspects of subscription management and provides payment analytics reports to help you run your business more efficiently.
This app also includes more than a dozen payment processors, such as PayPal, Stripe, Authorize.Net, Braintree, Razorpay, Securepay, Wepay, and others.
How Does This Fit Your Billing System?
The software helps quickly charge your customers on a regular, weekly, annual, or yearly basis. And grant various levels of access to your employees, managers, and contractors using this app.
By using Hiveage simple invoice status labels, anyone can easily monitor which of their invoices are sent to the customer, or they have been seen by a customer or not.
Price plans:
Starter Plan:- Starter Plan will charge you $19 per month
Basic Plan:- The basic plan costs you $39 per month
Studio Plan:- Under the studio plan, you would be charged $69 per month ($59 on an annual basis)
Company Plan:- Company plan will charge you $99 per month ($79 on an annual basis)
4) CHARGIFY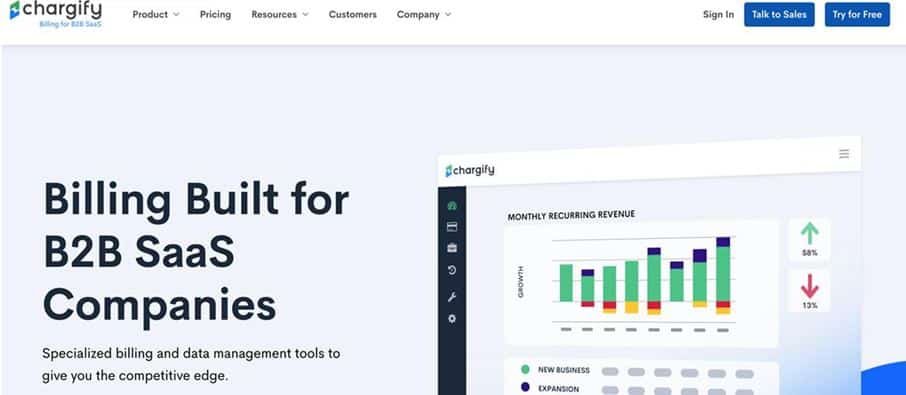 Chargify is a fantastic subscription and recurring benefit maximization software that takes care of all your complicated subscription tasks and provides you with detailed reports on your business activities.
All major payment gateways, including Stripe, Paypal, Authorize.Net, Braintree, and others, can be incorporated with this app.
How does This Fit in Your Billing System?
Chargify is a subscription management system that includes recurring billing, customer service options, and monitoring, among other things. The software integrates with 20+ gateways into a merchant account.
Price plan:
Essential Plan: The Essential Plan would cost you $149 a month plus 1.2 percent of your monthly income.
Advanced Plan: The progressive plan costs $299 a month and includes a 1.2 percent revenue fee.
Enterprise Plan: This is a customized plan; to create one, contact the Chargify sales team.
5) Zoho Subscriptions
You can simplify your subscription management with Zoho Subscriptions. It lets you create a free test account (without a credit card) and only charges you once you begin billing customers. The sandbox environment allows you to try out various pricing models to see what works best for you.
How Does This Fit YourBilling System?
Subscription management, instant and real-time report, and dunning automated payments are all included in Zoho Subscriptions. Multiple payment gateways are integrated into the product.
Customers can expect easy and transparent pricing from Zoho, as well as a free 15-day trial pack to test the service's functionality and performance.
Price plans:
Basic Plan, you need $49 per month. With 500 clients
Standard plan:
You will get a hosted payment page, multi-currency support at $99 per month for 2000 customers.
Professional Plan
you are required to pay $249 per month. This package is better for 5000 customers and includes all of the functionality of the Standard plan plus a lot more.
Choosing the Best Software for Your Business:
I hope this article helps you to find out the best subscription management and recurring billing software for your subscription business.
Above, I listed the top subscription management software with a free trial pack, so you can try out all of the software for free and see how it functions and how it can help you.
Now all you have to do is bring in half the effort. Make a list of your company's requirements, compare them to the resources available, and choose the best subscription management software for your company.
I hope you like this article!
Read more: Best 10 Last-Mile Delivery Software in 2021