Top 12 Best Children Beds with Mattress – 2023 Review
Every parent and guardian desires to provide as much comfort as possible for the kids — especially adolescents who can barely express any form of discomfort aside through streams of tears and heartrending screams.
Rollers, walkers, cribs, and of course, beds with mattresses are different ingenious solutions that have to be provided to make the growth of children pleasurable.
A significant way of providing cushion is by ensuring that when they sleep, it is with maximum comfort.
Hence, this product review article is centered on the top twelve best children's beds with mattresses in 2023.
As much as you would want to ensure your ward enjoys maximum comfort in bed, you very well agree that it is not advisable to just walk into any open or online store and purchase just any children's bed without some measure of education on what to look out and which brand or product will readily fit into your needs and of course, budget.
Our team has painstakingly filtered through high-quality children's beds with mattresses from the catalog present in the market as of now. These various products from different brands were carefully examined with your interest at heart, and we have drafted the top twelve best children's beds and mattresses that will give you value for your money.
Broadly, there are a few criteria the children's bed you're purchasing must meet before you can claim to have made a good purchase. By 'good purchase,' it implies that the children's bed and mattress must reasonably be;
Safe: Safety first. The subject of how secure the bed and mattress is is paramount to any parent because no one wants to wake up to an injured baby who rolled off the bed.
Durable: Durability talks of quality and longevity. The first is, what is the quality of the constituent materials used in making the bed and mattress? Secondly, for how long can the bed and mattress serve your purpose optimally?
Comfortable: Comfort is the reason you're not laying your baby on the linoleum or rug when asleep. It's the same reason you don't leave a 3year old baby in a crib. It is the reason you're spending an extra dollar to purchase a bed and a mattress. Therefore, a good bed and mattress must provide maximum comfort.
Affordable: Affordability is relative according to social class. Hence, a good bed and mattress should be relatively affordable, too, without shirking on quality or comfort.
All of these critical factors were put into serious consideration when analyzing the various brands of children's beds and mattresses on the market, and we can boldly present to you in this article, the top twelve best children's beds, and mattresses in 2023. Having highlighted these fantastic products, let's briefly walk you through the key features and advantages that make these beds and mattresses unique in their way.
[lwptoc]
Toddler Bed with Soft Tufted Headboard
First on our list is this masterpiece from Orville Trading. The toddler bed with a very soft tufted headboard. This is to provide some level of comfort for the parent to relax when trying to lull the baby to sleep. The constituent material used in the production of this bed are high-quality solid wood, for the bed frame and side rails and microfibre polyester for the headboard.
Key Features
The frame is made of high-quality and durable solid wood.
The headboard is made of microfiber polyester.
The whole frame is relatively lightweight, weighing about 27 pounds in all.
The frame is designed to use a standard crib-size mattress.
Pros
The bed is of outstanding quality.
It is easy to assemble; hence,e it doesn't require any form of expertise.
It comes with side rails to keep the toddler in check and safe.
The bed can support as much as a hundred eighty-pound weight. So it's okay if you occasionally fall asleep after putting your baby to bed.
Another advantage is that this bed frame is only about five inches off the floor when assembled.
This also minimizes the risk of a child rolling off or getting injured when coming off the bed.
Cons
The bed doesn't come with a mattress. Hence, the extra cost is incurred by purchasing the mattress.
The screws are gold in color and visible.
Athena Anna Sleigh Toddler Bed
The Athena toddler bed speaks of a perfect blend of creativity, simplicity, and utmost quality. This lightweight bed comes in a variety of colors, depending on your preferred choice. It is made from solid wood and a reinforced mattress platform that gives the frame a study quality.
Key Features
The bed is made of solid wood, specific pine of excellent quality.
It comes with a reinforced mattress platform with six legs.
There are guardrails to keep the baby safe.
The frame is lightweight about 22 pounds collectively.
Pros
The bed is made of quality materials.
It provides you with value for your money.
The guardrails ensure the child is safe in bed.
The bed comes in different colors to choose from.
Cons
It is not so easy to assemble.
The bed requires you to purchase a mattress.
The middle reinforcement isn't as sturdy as the other four legs.
Dream On Me Toddler Day Bed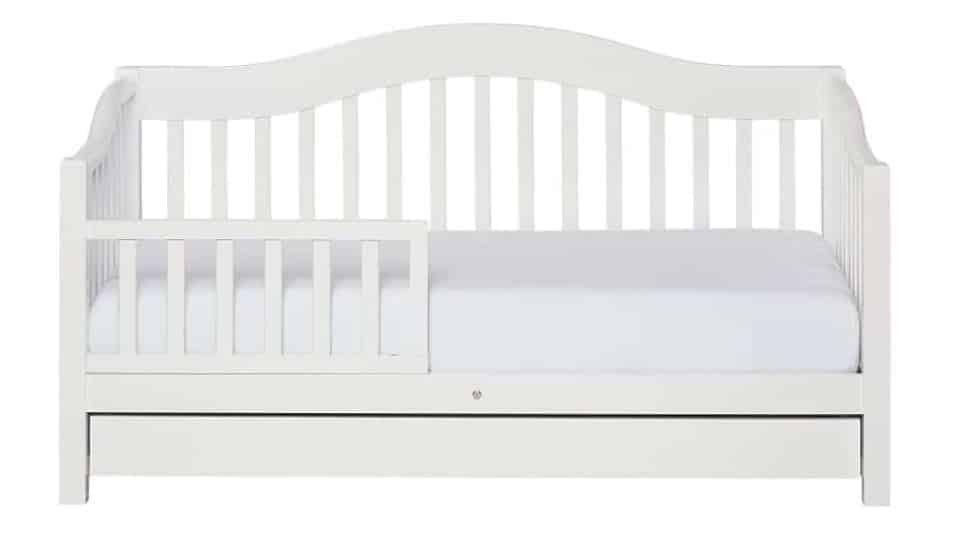 The Dream on Me brand is reputed for churning out amazing designs that the safety of children and merges perfectly with beautiful aesthetic finishes. Little wonder the toddler bed from the company made it into our top twelve best children's beds and mattresses in 2023.
Let's go through the details of this product that makes it just fit for your child.
Key Features.
The frame is made of solid pine wood of the best quality.
The bed comes with detachable guardrails to prevent the danger of rolling off.
There is an attached drawer at the base of the bed for storage purposes.
All the tools required to enhance easy assembling are included.
Weighs about 40 pounds and can support up to 50 pounds weight at a time.
Readily accommodates the standard mattress, which is sold separately, though.
Pros
Overall, the bed is of good quality.
The guardrails prevent accidental falls while asleep.
The bed is pretty close to the floor for more convenience for your child.
The bed comes in different aesthetic finishes you can readily choose from.
The attached drawer provides room to store your baby's items of clothing.
Cons
The mattress is sold separately.
It needs an extra hand for the more effortless assemblage.
Portland 3-in-1 Convertible Toddler Bed
The attractive, stylish 3-in-1 toddler is the best product for your babies. You don't have to worry that your child will be out of bed. This is an extremely relaxing bed. And also, you are free of tension.
Key Features
Firstly, it is the best soft bed for your child, and it doesn't disturb sleep of your child.
Secondly, it can be converted into two babysitting chairs. Chairs also have safety and softness.
Thirdly, it has two more legs in the center for more support and safety for your child.
Pros
It can be converted into chairs
It has two supporting legs in the center.
It is made up of pure wood, and the mattress is fully soft.
Cons
It is only available in pink color.
It does not have support in the middle.
Big Oshi Contemporary Design, Toddler & Kids Bed
The Big Time Contemporary Design Toddler Day Bed is built of solid and elegant wood that protects your child. Toddler bed comes to compete with two side safety rails and makes a perfect transition for toddlers
Key Features
Firstly, it is fully safe for your child, easy timing to get into or out of bed, and lower ground.
Secondly, it is made up of high-quality pine wood for more safety of your child.
Thirdly, it can be assembled and dissembled with little effort, including a heard board.
Pros
The metal frame enhances the durability of the bed.
The guardrails at the top bed ensure the safety of your child while asleep.
It is a versatile design with a convertible futon bed at the lower layer.
It relatively saves space in the room.
Cons
The mattress and the futon mattress are sold separately from the bed.
Assembling takes time, although every required tool to assemble comes with the package.
Little Seeds Monarch Metal Toddler Bed
A toddler Bed is a perfect size for your growing child. The grey powder coat on the arched metal frame gives the bed a classic look that can be added to your existing decor. It should be assembled before being used.
Key Features
Firstly, it is perfect for babies of all ages. It is not age-restricted, but adults should not use it.
Secondly, it is made up of non-toxic powdered metal and words, which makes it tough and long-lasting.
Thirdly, the Curved side rails and low profile keep your child safe while they sleep.
Pros
Curved side and low profile keep your child safe.
Sturdy mattress support keeps the mattress safe from sagging.
It can be moved to another place and can be torn into small pieces.
Cons
It is only available in grey color.
It has no support on the bottom.
Zinus Lorelei 12 Inch Platforma Metal Bed Frame
This bed will give your bedroom a refresh with clean lines and a sleek finish. It is constructed from a durable steel framework, providing the best of ease and relaxation to your child at a low cost.
Key Features
Firstly, it consists of metal slats designed to support your foam that protect your foam from drooping.
Secondly, it facilitates a spring mattress without a box spring, which provides you with softness.
Thirdly, you can easily assemble and have years of enjoyment.
Pros
It has a large mattress foundation.
Durable featured ten metal slates.
It ships in one box with all the necessary tools.
Cons
The steel will not resist longer.
Mattresses are sold separately.
Linon Home Decor Linon Folding Bed
The name is a folding bed that can be folded anytime by losing its center grip. It is the best type of bed for children and adults. It provides comfort, and it consumes less space. It is the best kind of bed with four supporting legs.
Key Features
Firstly, it consumes less space, and we can take it anywhere. It also frees up the space of your room on a large scale.
Secondly, if you want to buy more beds, then this bed is perfect because it is less costly.
Thirdly, these types of beds always provide comfort to everyone in every sense, soft, relaxing, and many other facilities.
Pros
4" supportive foam mattress topped with a memory foam layer.
Four covered caster wheels for easy mobility.
Small and compact enough to store in almost any closet.
Cons
It will not take a long time for you.
It has no supports on its sides.
Regalo My Cot Portable Toddler Bed
The Regalo My Cot is a child's size portable sleeping cot with so many uses. It's great for the home, grandma's house, sleepovers, camping, the beach, or daycare. It has a durable steel frame with a reinforced canvas bed liner.
Key Features
Firstly, It has a durable steel frame with a reinforced canvas bed liner.
Secondly, Super portable with a folding steel frame and lightweight design.
Thirdly, a Machine washable fitted sheet is included. 48 "L x 26 "W. So sturdy, it supports up to 75 pounds. For ages two and up
Pros
It is convenient: No setup is required.
It is made with an all-steel frame that is lightweight and will hold up to 75 pounds.
Lightweight for travel.
Cons
It has no support on the sides.
The sheeted bed can damage at any time.
Dream Tents Bed Canopy Shelter
Designed with the utmost in comfort life, Leeder Bed Tent offers high levels of ventilation and privacy, allowing you to enjoy a purer sleep at the night. It is enhanced with advanced color schemes and quality fabrics to add more fun to your life.
Key Features
Firstly, this bed is designed for ultimate security and is perfect for kids who suffer from anxiety while sleeping.
Secondly, the zip and mesh sides circulate air, so the tent breathes well and can be partially opened if you need a source of light.
Pros
Easy to setup
Four windows
It has five color options.
It has ample interior space.
Cons
The mattress needs to be placed inside.
Can get warm inside the tent.
Disney Cars Rusteze Racing Team 4 Piece Toddler Bed
This bed revved-up toddler set includes a quilted bedspread, fitted bottom sheet, flat top sheet, and standard-size pillowcase. The fitted bottom sheet features a pattern of Cars logos in bright blue. This is the best kind of bed for children
Key Features
It consists of a quilted bedspread, fitted bottom sheet, flat top sheet, and standard-size pillowcase.
It is made up of soft polyester fiber, which increases the bed's softness and relaxation.
This revved-up toddler bedding set features Lightning McQueen, Cruz Ramirez, and other characters,
Pros
4 Piece Set Includes
Fits a standard-size toddler/crib mattress.
Standard size pillowcase 20" x 30".
Cons
It is not for adults.
It has no support for kids.
Zinus Lorelai 14 Inch Metal Platform Bed Frame
This bed is a strong and clean-lined frame that seamlessly blends with the style of just about any room. Crafted with a modern, minimalist silhouette, the Lorelai doesn't skimp on stability.
Key Features
It has 13 inches of under-bed space, perfect for stashing your extra storage bins and boxes
Crafted with a modern, minimalist silhouette, the Lorelai doesn't skimp on stability.
After it's delivered straight to your door accompanied by a 5-year warranty and everything you need to assemble it.
Pros
Has Strong and Durable Steel.
14-inch platform.
Worry-free 5-year limited warranty included.
Cons
It is not strong enough.
There are no supports for the child.
The primary objective of this product review is to equip you with the requisite information to make an educated choice when next you want to buy a bed and mattress for your child.
Any of the top twelve reviewed products above can meet your need for a safe, durable, affordable, and high-quality bed and mattress.
Read more: